Galaxy Nexus NFC Feature Requires Original OEM Battery
In order to use the NFC capabilities of the Samsung-made Google Galaxy Nexus, users will have to use the original OEM battery that came in the box or buy one made by Samsung as third-party batteries would likely not work with the phone's NFC feature. The reason being is that the NFC chip is wired into the battery, so only a Samsung-made battery at this time would work.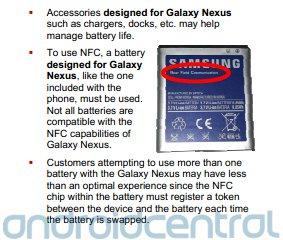 Additionally, leaked training materials from Verizon Wireless for the smartphone suggests that using more than one NFC-equipped battery may cause problems:
Customers attempting to use more than one battery with the Galaxy Nexus may have less than an optimal experience since the NFC chip within the battery must register a token between the device and the battery each time the battery is swapped.
There are several capabilities of NFC right now on Ice Cream Sandwich, but not all of them will work with the 4G LTE version for Verizon Wireless. One of which is Google Wallet, a digital wallet where the smartphone is used for payment of physical goods in retail stores. However, NFC for sharing information between two NFC-capable devices would still work on the Verizon Galaxy Nexus.
Via: Android Central

As an Amazon Associate I earn from qualifying purchases.