Galaxy Nexus Pre-Orders Sell Out at Sprint
Before today, it was unclear how large of a demand there would be for Sprint's upcoming Samsung Galaxy Nexus for its 4G LTE network. Now that pre-orders of the device has sold out at Sprint, it's clear that there is quite the demand for the Android 4.0 smartphone.
Sprint has confirmed, through the Galaxy Nexus page on its website, that pre-orders for the upcoming device have sold out. Those hoping to get the device will now have to find it through another retail website.
The Galaxy Nexus for Sprint is set to go on sale on April 22nd for $199.99 on-c0ntract.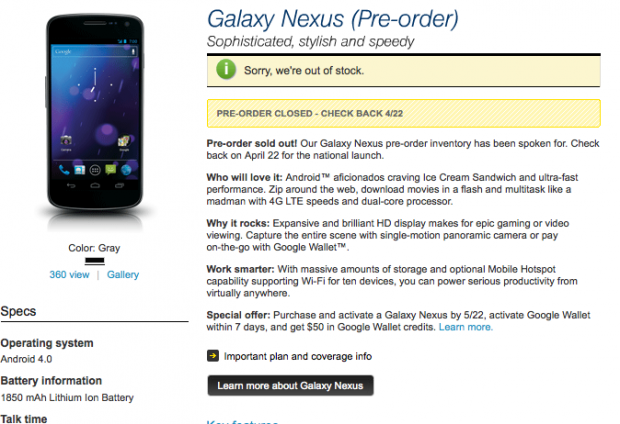 Read: HTC EVO 4G LTE vs. Sprint Galaxy Nexus.
The Samsung Galaxy Nexus is one of two 4G LTE devices that Sprint will be launching on April 22nd. The other is the LG Viper 4G LTE which is an eco-friendly Android device that will be launching with a relatively inexpensive price tag of $100 on-contract.
Sprint has also announced a third 4G LTE smartphone in the HTC EVO 4G LTE, a device that on paper rivals the Samsung Galaxy Nexus, although it has yet to give that phone a firm release date.
The Samsung Galaxy Nexus is widely regarded as one of the best Android phones to date. Since it launched back in 2011, it has only been available on Verizon Wireless' 4G LTE network.
In addition to Sprint, AT&T has been rumored to be getting the Galaxy Nexus for its 4G LTE network at some point as well.
The arrivals of the Galaxy Nexus and LG Viper 4G LTE will usher in a new era at the Now Network and close the chapter on another as the carrier bids adieu to 4G WiMax.

As an Amazon Associate I earn from qualifying purchases.