The Galaxy Nexus on Verizon represents a number of firsts. The Galaxy Nexus is the first Android 4.0 device, the first 4G LTE Nexus device and the first of the Nexus line to launch on Verizon.
All of these features come together to deliver one of the best Android experiences we have seen to date, wrapped up in a sleek, attractive design.
The Galaxy Nexus isn't the perfect phone, but it is the best Android phone we have used to date, which is why it is an Editor's Choice award winner.
There was hesitation, and internal debate over giving the Galaxy Nexus an Editor's Choice award due to the poor battery life, but in the end the positives were too large to ignore.
If you plan to buy the Galaxy Nexus, save yourself a trip to the store and purchase an extended battery when you buy the phone.
Why is the Nexus line such a big deal?
Why was the Galaxy Nexus so highly anticipated that four of the GottaBeMobile staff purchased the phone the day it launched?
In short, it's the bleeding edge of the Android platform and something we didn't want to miss out on.
Google takes special care of the Nexus phones, giving them the latest features, keeping pre-installed apps and skins off the phones and ensuring that they get the newest versions of Android first. This means the Galaxy Nexus will age better than most Android phones.
Pros
The large HD display offers a wonderful viewing experience, while Android 4.0 and the internals come together for snappier performance. The Galaxy Nexus also has good call quality, a worthy camera and the promise of fast upgrades.
Cons
The large display and 4G LTE combine to burn through battery life. Voice recognition is still behind Siri, and there are still occasional lags while using the device.
Galaxy Nexus Hands On Video
Galaxy Nexus Design and Hardware
Say what you will about Samsung, we've had our gripes in the past, but you can't dispute the fact that the company puts out fantastic hardware. Verizon's Galaxy Nexus is no exception.
The first thing you'll notice about the Galaxy Nexus is that it's a massive phone. If you're coming from an iPhone your jaw might hit the floor.
If you're switching to the Galaxy Nexus from a phone that's 4-inches like the Droid Incredible or 4.3-inches like the HTC EVO 4G, you're still going to notice the Nexus' massive footprint.
How big is the the Galaxy Nexus exactly? It sits at about 9.37mm thick and it boasts a screen that is 4.65-inches in size. It's also fairly heavy and by our estimates weighs around 149 grams.
Still, it's not bad for a phone that houses a large 1,850mAh battery. It's heavy but not so heavy that it becomes a burden to hold or carry around in a pocket.
The second thing you'll notice is the device's beautiful design. We can't stress this enough, plastic and all, this is a stunning phone.
Verizon's Galaxy Nexus only has two physical buttons. One, the power button, rests on the right side of the device, just below the top and the other, the volume rocker, sits in the middle of the phone on the left side.
Samsung has placed everything else on the very bottom of the Galaxy Nexus.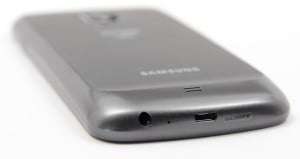 Right smack in the middle-bottom is the device's micro-USB port where you'll plug in to charge or to transfer files. And to the far right of the micro-USB port is the 3.5mm headphone jack.
The placement takes some adjusting to, especially if you're used to your headphone jack being on the top of your device, but it actually works out quite well, both in portrait and landscape modes.
Verizon's Galaxy Nexus employs two colors. Black and gray. Up front, the areas surrounding the display, speakers and front-facing camera are black while the back and sides are gray.
The backing of the Galaxy Nexus is textured which helps with grip. It also prominently displays both the Samsung and Verizon logos. Google's name is no where to be found.
In the top-middle of the back rests the device's 5MP camera with LED flash and above that is a small groove that allows for easy access to the Galaxy Nexus' innards which include the usual goodies in a SIM card and battery.
Popping the back on and off is a painless process.
Also found inside the Galaxy Nexus is an NFC (near-field communication) chip, although, you won't be able to take advantage of Google Wallet. In fact, it's possible that Verizon Galaxy Nexus owners may never be, officially, able to use Google's mobile payment platform.
Display
The Galaxy Nexus has a large 4.65" Super AMOLED HD display, that dominates the front of the device, in fact it's the only thing on the front of the device. The new Android buttons are part of the screen, which means they disappear for added screen space when watching movies.
The display has several defining features, including a curved face. This allows the phone to conform to your face while making calls, and protects the glass if you set it screen down on a hard surface. The slight curve doesn't interfere with viewing angles or using the touchscreen to navigate or game.
One of the best parts about this display is the resolution, which is 1280 x 720. You might be most familiar with the 720P term used on most TVs. That's right, the Galaxy Nexus has an HD display. This is great for watching movies, but also helps out all across the board.
Thanks to the higher resolution, you can fit a lot more on the screen at once. This means less scrolling in the web browser, easier browsing in emails and more text on the screen when reading an eBook.
The display has almost the same pixel density as the iPhone, which is to say it is almost a Retina display. Looking at the iPhone 4S display and the Galaxy Nexus display side by side we had trouble picking a clear winner for photos or video, but not with text.
The iPhone 4S' Retina Display still delivered a slightly crisper and easier on the eye experience when it came to reading.
While the Galaxy Nexus display looks good on its own, if you place it next to the iPhone 4S, you will immediately notice that the iPhone colors pop a bit more and the whites are true white, as opposed to the bluish white on the Galaxy Nexus.
Performance & Call Quality
Inside the Galaxy Nexus you've got a dual-core processor and 1GB of RAM, which is typical for high-end superphones like this. However, those other devices don't yet have Android 4.0. Does the Nexus hold up even with a newer, fancier OS on board?
Basic answer: Yes. Given that the Nexus is sporting stock Android and isn't burdened with a skin or a lot of fancy eye-candy, it's not too surprising that the robust hardware under the screen easily handles the operating system.
No matter what task we threw at it — surfing the globe in Google Earth, video chatting with friends in Google+, playing games, browsing the web, shooting then editing HD video — the Nexus continued to feel snappy and responsive. Though other reviews report that non-Google apps slowed them down, we didn't experience that. Surfing in Dolphin Browser HD was just as smooth and speedy as the stock browser, for instance.
If you do decide to restore your apps from a previous Android phone, let them download and then do a restart before you go much further. We experienced some lag after loading all of these apps onto one of our review phones, but a restart fixed the issue.
Owners will also get good speed from the network thanks to Verizon Wireless' 4G LTE. In San Francisco we saw average speeds of 15.32 Mbps down and 11.57 Mbps down, in Columbus, Ohio we saw 10 Mbps down and 11 Mbps up, and in New York City we saw 9.14 Mbps down and 9.74 Mbps up.
Verizon promises 5 – 12 Mbps down and 2 – 5 up, so the Galaxy Nexus generally meets or exceeds the standard. You can see a Galaxy Nexus speed test in the video below to get a look at how fast it is.
For consumers who want a phone to stream movies or to use as a mobile hotspot, this is a key attribute, and the Nexus delivers.
Call quality is also excellent. We tested in San Francisco, central Ohio and New York City. Voices on our end were very clear and never garbled, plus volume was decent, even when on a noisy street. Speakerphone volume also proved quite loud, though when turned all the way up voices buzzed and got a bit fuzzy. On the other end, callers reported good clarity. Background noise wasn't much of an issue unless it was extremely loud.
Battery Life
Thanks to the 1-2 punch of power-hogging 4G LTE and a large 4.65-inch display the Galaxy Nexus doesn't so so well in the battery life department.
Most of our testers used the phone heavily the first day and found ourselves having to recharge once or twice before the day was out. A peek at the battery usage utility showed that the display hogged a lot of battery. Chris saw up to 62% of his juice went to the screen alone.
Setting the screen to auto brightness or just turning it down low — which doesn't affect things much when indoors — resulted in a better showing for some. However, K. T. noticed that her battery was down to 38% after just 6 and a half hours off the charger with medium usage. The display still ate up half the battery even though brightness was set to 20-30%.
Given what we've seen on other Verizon LTE phones, the speedy network likely shares part of the blame. The bottom line: you should consider investing in the extended battery for this phone. We really hope that Samsung or Verizon offers a larger extended battery to help this phone get through heavy usage days.
The Galaxy Nexus' extended battery doesn't add noticeable thickness. That's a far cry from what we've seen from other Verizon 4G LTE phones, such as the HTC Thunderbolt and Droid Bionic, both of which have extended batteries that change the phones' profiles significantly. The problem with sticking with a relatively thin battery is that it only packs an extra 13.5% or so of juice compared to the standard battery.
Android 4.0
Ice Cream Sandwich builds on both the most recent Android operating system for phones (Gingerbread) and the version made specifically for tablets (Honeycomb) to create a versatile OS that will conceivably work for both types of devices. The Android team also made usability and design a high priority, resulting in a more streamlined UI.
The Galaxy Nexus is well-suited to handle this multipurpose OS thanks to the big 4.65-inch screen. Because of this, elements don't feel so crowded on the Home screens even though there's a lot to contend with, including the ever-present navigation icons (Back, Home, Recent Apps), favorite app dock, and persistent Google Search box.
You can see many of these new Android 4.0 features in the video below.
The visual user interface overhaul for 4.0 is attractive and borrows heavily from the Tron-inflected Honeycomb. The emphasis on solid block-based design seems to be partially influenced by Windows Phone 7's Metro interface and the updated designs rolling out across Google's desktop apps.
Elements ported from Honeycomb work well even on a phone. The Recent Apps function makes switching between and killing apps much easier. In Notifications you can now dismiss individual items with a swipe and access the settings menu. Though it would be nice if quick access to Wi-Fi, Bluetooth, and GPS radios was also available here.
In general, Ice Cream Sandwich tries to put more of what users need or want to use right at their fingertips instead of making them work for it or dig through menus. Sometimes the OS errs too much on the side of simplicity, missing the mark.
For instance, the Menu button. It's not there next to Home and Back at all times as it is on pre-ICS phones, but instead shows up in context if an app calls for it, just like in Honeycomb. Except the Menu button is now three vertical dots that show up somewhere on the screen. It may be up top or at the bottom. So far we've only seen it on the right. It doesn't look the same in every instance. And will all users understand what it is?
Android 4.0 is a step in the right direction for usability and interface design but doesn't yet approach iOS levels of simplicity.
Apps
With Nexus phones you not only get the "pure" and unskinned Android experience, you also don't have to put up with CRAPPS — pre-loaded apps most people neither need nor want. There are only two non-Google apps on board the Galaxy: My Verizon Mobile and VZ Backup Assistant.
My Verizon Mobile provides information on your account, including how many minutes and texts you've used in a month along with how close you are to your allotted data cap (if you have one). A nice tool if you don't have unlimited everything. The backup tool only does contacts — not sure how that's necessary for an Android phone.
Otherwise, owners get a nice range of Google offerings:
Books
Browser
Calculator
Calendar
Camera
Clock
Earth
Email
Gallery
Gmail
Google+
Latitude
Maps
Messaging (txts)
Messenger (group G+ chat)
Movie Studio
Music (cloud and on-device music playback)
Navigation
News & Weather
People
Places
Talk
Videos
YouTube
Along with the general 4.0 UI changes, Google also made some changes to Android's core apps. Calendar, Gmail, and People got major upgrades, while other apps saw more minor (but still welcome) tweaks. For most there are now small icons along the bottom or sides for oft-used functions that used to hide under the menu button.
The stock keyboard is a big improvement. Basic typing is more accurate, even for those of us who aren't super precise tappers. This is another feature where the larger display on the Galaxy Nexus provides a benefit. Thanks to the phone's width it's easier to type two-handed in portrait mode than on a narrower phone.
The auto-correct is also more accurate and now offers just three word choices up top. Even if you misspell a word and the phone doesn't catch it, Android now underlines it in red so you can go back and get spelling suggestions.
Voice input now lets you see words almost as you speak instead of waiting until you pause to try and translate. This allows users to stop and correct individual words instead of having to start all over. We saw mixed results with this — some testers experienced high accuracy with this feature, others low accuracy. The translation engine appears to like American "neutral" accents best.
Taking Pictures and Video
As mobile phone cameras go, the Galaxy Nexus doesn't take the best pictures or video on the market, but it can boast fast speeds. Taking pictures is nearly instantaneous when you tap the button unless the flash is on, then it takes about a second. Plus, you can launch the camera from the lock screen. No more missing great shots because they passed you by.
Check out a demonstration of the fast shutter, panorama and quick access in the video below.
The fast shutter speed has some disadvantages if you have trouble holding still when taking pics — the lighter the camera, the more of a problem this is. Otherwise, it's very impressive.
Picture quality from the rear camera (5MP) isn't super but also not embarrassing. The photos are good enough for quick snapshots and sharing online. Low-light shots, such as those taken inside, have noticeable noise unless the lighting is particularly good. Outdoor shots don't pop with color.
Though autofocus and tap to focus are available, close up shots tended to the fuzzy (partially due to tiny movement). Owners will get some help creating better shots from the camera app which offers some basic settings, such as Scene Mode (action, night, sunset, party), Exposure settings, and White Balance. The digital zoom isn't so useful, as it just makes images noisier and fuzzier.
The flash didn't blow out images too badly, though it's not very helpful in medium dark rooms.
The Panoramic mode is pretty sweet and helped us capture some nice pictures of tall buildings in NYC. Just press the start button and slowly move the Nexus — the app can meld it all together even if you don't do a full stop every few inches.
The camcorder takes videos in 480p, 720p and 1080p. Aside from the same white balance settings, the video app also includes the ability to add fun effects while filming, including putting a background on the scene.
The resulting videos are again good enough for sharing online or with friends and family. Even though 1080p shooting is available, the quality isn't that great on a larger screen. There aren't likely to be any summer blockbusters filmed on this.
In front a 1.3MP camera isn't so exciting, but they rarely are. Unless you're in good light you won't be able to get a very good self portrait. Even at that the results are middling.
K. T. had a fun time chatting with friends in a Google Hangout and others in the room reported that the image was very obviously blocky, but not unrecognizable. Framerates were smooth enough that lip movement matched up with audio for the most part.
Sample video taken on the Galaxy Nexus in NYC:
Sample Galaxy Nexus video, outdoors:
The Competition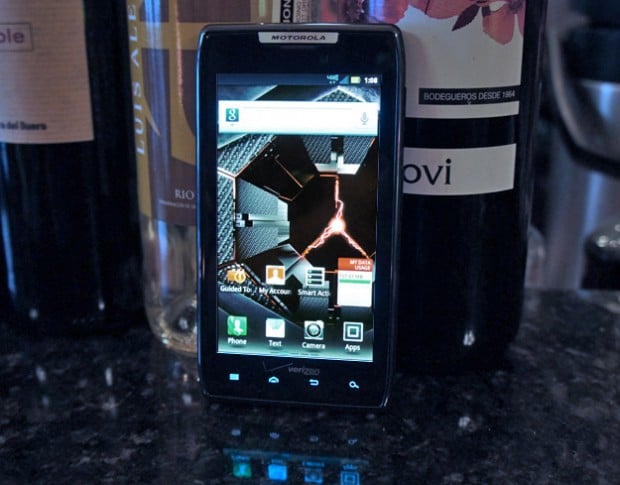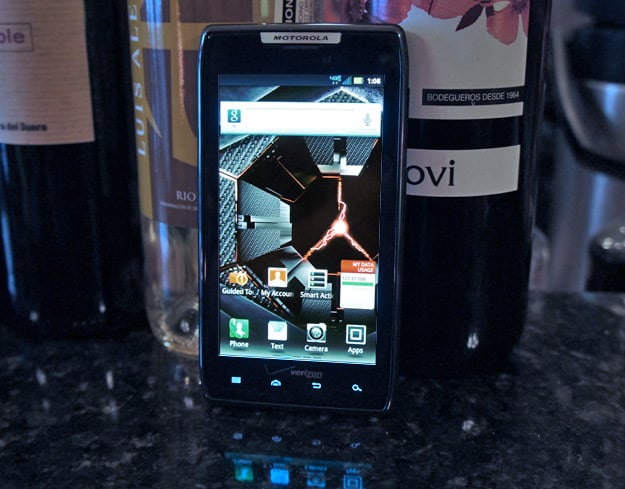 | | | |
| --- | --- | --- |
| | Samsung Galaxy Nexus | Motorola Droid RAZR |
| OS | Android 4.0.2 | Android 2.3.5 |
| Display (size/res) | 4.65-inch / 1280 x 720 | 4.3-inch / 960 x 540 |
| CPU | 1.2-GHz TI OMAP 4460 (dual core) | 1.2-GHz TI OMAP 4330 (dual core) |
| RAM | 1GB | 1GB |
| Internal Memory | 32GB | 16GB |
| Expansion | None | microSDHC |
| Mobile Data | 4G LTE | 4G LTE |
| Radios | Wi-Fi 802.11 a/b/g/n; Bluetooth 3.0; GPS | Wi-Fi 802.11b/g/n; Bluetooth 2.1 EDR; GPS |
| Camera (rear/front) | 5 MP / 1.3 MP | 8 MP / 1.3 MP |
| Size | 5.3 by 2.7 by .37 inches | 5.2 x 2.7 x 0.3 inches |
| Weight | 5.2 ounces | 4.5 ounces |
| Ports | microUSB; 3.5mm headphone | microUSB; 3.5mm headphone |
At first glance, there aren't many differences between the Motorola Droid RAZR and the Samsung Galaxy Nexus. However, if we dig a little deeper, we find that the Galaxy Nexus has some distinct advantages over its Verizon 4G LTE counterpart.
The first, the difference in screen resolution. The Galaxy Nexus not only has a bigger display but its screen also have a higher resolution than the Droid RAZR's. This makes the Galaxy Nexus better suited for things like Netflix.
The Galaxy Nexus also is running Android 4.0 Ice Cream Sandwich out of the box. The Droid RAZR will be waiting until early 2012 to get its upgrade and even then, nothing is guaranteed. The Droid RAZR also has MotoBlur on board, Motorola's UI over Android, and while it's much improved, it's not as good as the pure Google experience found on the Nexus.
In addition, the bootloader on the Droid RAZR is locked and thus far, there is no method to get it unlocked. The Galaxy Nexus? Well, it's a Nexus device and that means that it's not only easy to root but its bootloader can be unlocked in a flash as well. That allows Galaxy Nexus to harness more control over their device.
Motorola's Droid RAZR does have some advantages though. It's the thinnest 4G LTE smartphone in the land, checking in at a skinny 7.1mm, and it also has a slot for microSD expansion, something that the Galaxy Nexus lacks.
Samsung Galaxy Nexus vs. HTC Rezound
| | | |
| --- | --- | --- |
| | Samsung Galaxy Nexus | HTC Rezound |
| OS | Android 4.0.2 | Android 2.3.4 |
| Display (size/res) | 4.65-inch / 1280 x 720 | 4.3-inch / 1280 x 720 |
| CPU | 1.2-GHz TI OMAP 4460 (dual core) | 1.5-GHz Qualcomm MDM9600 (dual core) |
| RAM | 1GB | 1GB |
| Internal Memory | 32GB | 16GB |
| Expansion | None | microSD |
| Mobile Data | 4G LTE | 4G LTE |
| Radios | Wi-Fi 802.11 a/b/g/n; Bluetooth 3.0; GPS | Wi-Fi 802.11 a/b/g/n; Bluetooth 3.0; GPS |
| Camera (rear/front) | 5 MP / 1.3 MP | 8 MP / 2 MP |
| Size | 5.3 by 2.7 by .37 inches | 5.0 x 2.6 x 0.54 inches |
| Weight | 5.2 ounces | 6 ounces |
| Ports | microUSB; 3.5mm headphone | microUSB; 3.5mm headphone |
While the Droid RAZR may be lacking in the screen resolution department, the HTC Rezound's display is on par with the Galaxy Nexus'. The display is a tad smaller then the Galaxy Nexus' checking in at 4.3-inches. As we've said, the Galaxy Nexus is a big device, possibly too big for some of you, so if you're looking for an HD screen that's smaller than 4.65-inches, the HTC Rezound is a phone to look at.
But again, the Nexus is a Nexus device. That means faster updates. You may have seen the debacle that happened with the HTC ThunderBolt, another 4G LTE device on Verizon. That won't happen with the Nexus.
The Rezound also has HTC Sense, HTC's user interface, over Android. It's better than MotoBlur, but it still is a resource hog.
HTC's device does have one advantage over the Droid RAZR though. HTC has committed to unlocking the bootloaders on their phones. Currently, the Rezound's bootloader is locked, but at some point HTC will make an unlock method available which will allow for, again, more customization and control.
The Rezound is also a Gingerbread devic and that means that you'll be waiting until 2012 to get your hands on the Android 4.0 update.
Samsung Galaxy Nexus vs. iPhone 4S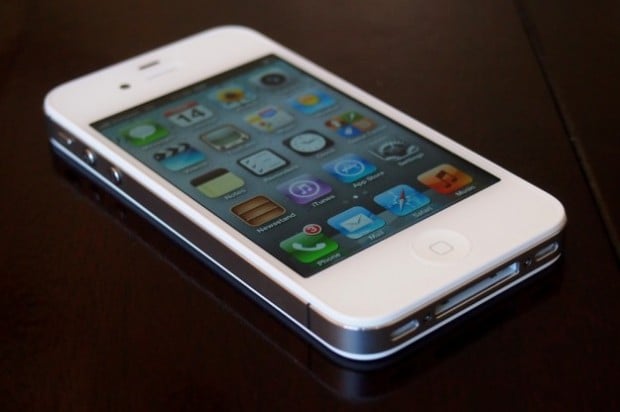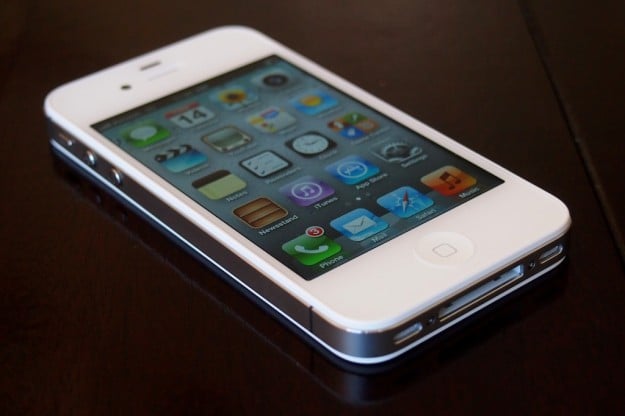 | | | |
| --- | --- | --- |
| | Samsung Galaxy Nexus | iPhone 4S |
| OS | Android 4.0.2 | iOS 5.0.1 |
| Display (size/res) | 4.65-inch / 1280 x 720 | 3.5-inch / 960 x 640 |
| CPU | 1.2-GHz TI OMAP 4460 (dual core) | Apple A5 (dual core) |
| RAM | 1GB | 512MB |
| Internal Memory | 32GB | 16GB/32GB/64GB |
| Expansion | None | None |
| Mobile Data | 4G LTE | GSM/EDGE/HSDPA |
| Radios | Wi-Fi 802.11 a/b/g/n; Bluetooth 3.0; GPS | Wi-Fi 802.11 b/g/n; Bluetooth 4.0; GPS |
| Camera (rear/front) | 5 MP / 1.3 MP | 8 MP / VGA |
| Size | 5.3 by 2.7 by .37 inches | 4.5 x 2.31 x 0.37 inches |
| Weight | 5.2 ounces | 4.9 ounces |
| Ports | microUSB; 3.5mm headphone | Dock Connector; 3.5mm headphone |
Verizon's Galaxy Nexus has the edge on both the Rezound and the Droid RAZR, Android 4.0 is a big part of that, but how does it fare against Apple's iPhone 4S? Let's take a look.
Obviously, the trump card that the Galaxy Nexus has to play is the fact that it's a 4G LTE device while the iPhone 4S is not. 4G LTE data speeds are around 10 times faster than regular old 3G speeds. 4G LTE is the future and even if it's not available in your area just yet, it likely will be next year.
Second, the Galaxy Nexus has a much larger screen than the iPhone 4S. The iPhone's display is a mere 3.5-inches while the Galaxy Nexus is 4.65-inches.
The iPhone's display is a mere 3.5-inches while the Galaxy Nexus is 4.65-inches. Size isn't everything, which is why the Galaxy Nexus also packs in HD resolution and near Retina Display pixel density.
Stay tuned for a more detailed comparison of the iPhone 4S and the Galaxy Nexus, where we will delve into the performance and differences in iOS 5 and Android 4.0.
Galaxy Nexus Gallery
Adam Mills, Chris Leckless, Josh Smith, and K.T. Bradford contributed to this review.