Galaxy Nexus Sign Up Page Goes Live on Verizon
Verizon Wireless is now making the sign up page for news and information about the next-generation Google Nexus smartphone available for consumers. Users interested in the Samsung-made Galaxy Nexus, which will debut with Android 4.0 Ice Cream Sandwich, can visit a dedicated page on Verizon's website to submit their email address to receive additional news and information when the carrier makes them available.
The version arriving on Verizon Wireless will most likely support the carriers's 4G LTE network and will be a thicker variant of the smartphone.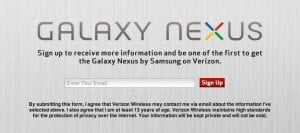 In addition to OS-level changes that will evolve and enhance the user experience on Android, the Galaxy Nexus will also bring a 720p HD Super AMOLED display, though the curved glass screen on the smartphone won't be utilizing Gorilla Glass' scratch-resistant technology.
Via: Droid-life

As an Amazon Associate I earn from qualifying purchases.