Review: 10 Reasons the Galaxy Nexus is Better Than the iPhone 4S
The best Android phones are arguably the Nexus devices which get special treatment from Google. These phones have the latest software, the best features and often the best looks.
The Galaxy Nexus continues this tradition on Verizon's fast 4G LTE network, bringing an HD display and Android 4.0 to the table.
Read: Galaxy Nexus Review
While the iPhone 4S has a number of nice features, the Galaxy Nexus bests Apple's latest iPhone in a number of ways.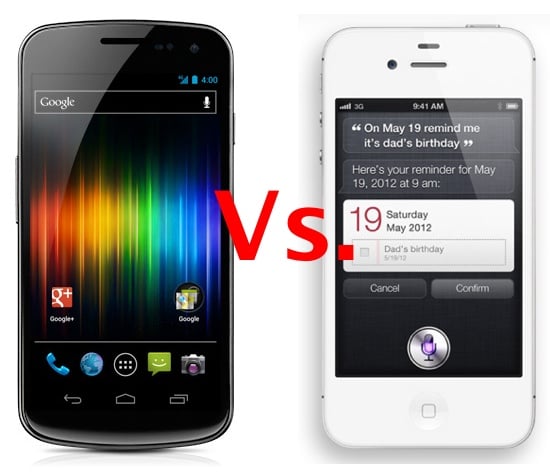 4G LTE
The Galaxy Nexus on Verizon comes complete with 4G LTE connectivity for blazing fast download an upload speeds, up to 10 times faster than 3G on the iPhone 4S. These speeds range between 5-12 Mbps down and 2-5Mbps up.
This is fast enough to play Onlive games, download huge apps like Grand Theft Auto III, stream Hulu Plus, Netflix and much more. Connect your laptop to the Galaxy Nexus with a personal hotspot and you'll be able to work almost anywhere.
Below you can see a video of 4G LTE vs. 3G on the iPhone 4S. While the phone shown is not the Galaxy Nexus, you can expect similar speeds.
Large HD Widescreen Display
The Galaxy Nexus adds an inch of screen size to your mobile phone, and brings a 720P HD resolution that makes watching HD videos or gaming a real treat.
Even browsing the web, reading email and reading eBooks is a nicer on the large screen. The higher resolution means you can see more on the screen without constantly scrolling.
The software buttons at the bottom of the display will disappear in compatible apps, giving you a larger widescreen viewing experience.
Google Voice Integration
Google Voice is the best way to manage your phone calls, texts and voicemail. I love the service because I use multiple phones, but even if you have one phone it is worth using. You can block callers just like you block spam emails, and you can set do not disturb hours so that calls don't wake you up late at night or interrupt you.
Google Voice is ten times better on Android than on the iPhone. After installing the free Google Voice app, you can set the phone up so that every call is routed through your Google Voice account, or if you prefer you can se it only for international calls.
On the iPhone, you have to open up the Google Voice app to use the service, which means extra taps and no easy way to return calls from the history section of your iPhone.
Google Maps Navigation
Once again, Android beats the iPhone when it comes to using a Google service. This time it is Google Maps. Unlike the iPhone 4S, you don't need to find an app to get turn by turn directions with spoken street names on your Galaxy Nexus.
Having the built-in Google Maps Navigation makes it easy to get where you are going, and it is simple to open up addresses from the browser or your contacts into Google Maps so you don't waste time typing an address.
NFC for Sharing and Paying
https://www.youtube.com/watch?v=NKuUzNnb8aQ
The Galaxy Nexus also includes NFC, or NEar Field Communication, which allows you to use the phone to share information and files with other Galaxy Nexus owners using Android Beam. This tool is pretty cool, but the real promise is in the form of making payments.
Google Wallet is not officially supported, but you can install Google Wallet on your Galaxy Nexus and get $10 to try out the service. With NFC and Google Wallet, you can make payments at PayPass locations by holding your phone up to the card reader.
The closest you can get on the iPhone is using a special case that adds NFC abilities, and those aren't available for the average user.
Open Platform
The Android platform is more open than the iPhone, and this is very evident on the Galaxy Nexus running Ice Cream Sandwich.
At a high level, this phone can be unlocked, rooted and customized with a new ROM to completely change the user experience. Unlike the iPhone and some locked down Android devices this is relatively easy to do.
The other great thing about this open platform is the ability to sideload apps that aren't purchased from the official Android Market. This means you can find apps on the GetJar or Amazon app stores at lower prices.
Additionally, Google is more open to letting apps on to the Android Market. While Apple rejects many apps, Google allows almost any app on the Market. The downside is that you can run into malware, but if you exercise smart downloading and installing this isn't a major issue.
Choose Your Own Keyboard
If you don't like the iPhone 4S keyboard you don't have any other options, but if you don't like the default Android 4.0 keyboard, you have te freedom to choose your own keyboard.
Going back and forth between the two devices I find that the ability to use SwiftKey X on the Galaxy Nexus is much nicer than the iPhone 4S keyboard, even with the autocorrection.
With SwiftKey X, you can do many things not possible on the iPhone including
Long press for a symbol.
Swipe right to left to delete a full word.
Predictions from Gmail, Facebook, text messages and Twitter.
Prediction that knows what you plan to type next.
Swipe down to hide the keyboard.
There are many other keyboards available such as Swype, SlideIT and TouchPal.
Flash Support

While you may not love Flash, there are still a number of websites that rely on Flash. When it comes down to it, the ability to watch a video or load a website beats getting a "please download the latest flash player." message on the iPhone.
On some sites, you can stream network TV shows and in others you can watch clips that wouldn't be available on the iPhone without a dedicated app and a cable subscription with a participating .
Better Gmail
Android phones have always handled Gmail better than the iPhone competition, but with the Android 4.0 update that comes standard on the Galaxy Nexus, the iPhone is left int eh dust. The new Gmail app is designed to handle multiple accounts with ease, and makes great use of the large screen.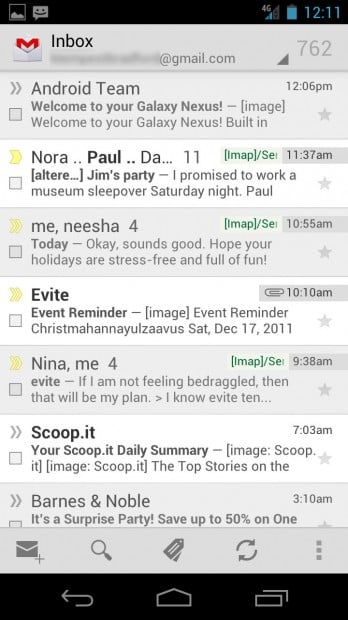 Some of my favorite features of Gmail on the Galaxy Nexus include;
Great handling of multiple accounts.
Priority Inbox support.
2-line preview shows first line of your message
Support for Priority Inbox notifications
and more.
If you rely on Gmail, and want the best experience around, Android is still the best game in town. With Android 4.0 on the Galaxy Nexus it's even better.
Home Screen
The Galaxy nexus also wins out in home screen layout and customization. Two features standout to me on the Galaxy Nexus — Widgets and Folders on the Favorites Tray.
Android still has a leg up on the iPhone when it comes to widgets, and the Galaxy Nexus takes advantage of new Ice Cream Sandwich features to make widgets even better. In addition to smarter built-in Gmail and Calendar widgets, you can customize the layout of most widgets with a drag and drop to fit the way you want your home screen to look. This is much nicer than looking for the right 4×1 widget in settings. Widgets provide fast access to information like weather, traffic, your inbox and much more.
The new Favorites Tray may look like the iPhone's dock, but it is much nicer in my opinion. In addition to your four favorite apps, that can include a folder, you have one touch access to your app screen.
Conclusion
While the Galaxy Nexus is a great phone, and does many things better than the iPhone 4S, it isn't perfect. There are still a number of things the iPhone 4S does better than the Galaxy Nexus. Stay tuned for a followup of reasons I think the iPhone 4S is better than the Galaxy Nexus and still earns a spot in my pocket when I leave the house.
Right now I carry both an iPhone and a Galaxy Nexus when I leave the house, but sooner or later I'll choose one phone as my primary device. Android 4.0 and the Galaxy Nexus are giving the iPhone 4S a run for its money.