Galaxy Note 4 Android 5.1 Release: 5 Things to Know
The Samsung Android 5.1 release is starting to come together as the company looks to update its flagship phones with new features and fixes. Today, new Samsung Galaxy Note 4 Android 5.1 release details have emerged and it's time to take a look at what we know about Samsung's next big release for its big flagship phone.
When Samsung's Galaxy Note 4 arrived back in September it was running Android 4.4.4 KitKat, an update that was soon replaced by a brand new operating system dubbed Lollipop.
Earlier this year, the company finally rolled out Android 5.0 Lollipop to replace the KitKat update. Lollipop for the Galaxy Note 4 is a substantial update and one that continues to roll out to Galaxy Note 4 users all over the world.
It appears that the company is working on a new Lollipop update for the Galaxy Note 4 that will go beyond a standard bug fix upgrade. Samsung itself hasn't confirmed anything but trustworthy sources report that a Galaxy Note 4 Android 5.1 release will emerge in the days ahead.
With that in mind, we take a look at what we know about Samsung's unreleased Android 5.1 update and the Galaxy Note 4 Android 5.1 release.
Galaxy Note 4 Android 5.1 Release Date
Samsung and its carrier partners aren't talking about the Galaxy Note 4 Android 5.1 release just yet. The only confirmed Samsung Android 5.1 release detail comes from Canadian carrier Rogers who says that it will be rolling out Galaxy S6 Android 5.1 and Galaxy S6 Edge Android 5.1 updates in June.
According to SamMobile, those two updates will be followed up by a Galaxy Note 4 Android 5.1 Lollipop update before the end of July. A specific date hasn't been called out as release dates are heavily dependent on the testing process behind the scenes. The publication says that this is what Samsung is "currently" planning which leaves the door open for changes down the road.
It's not clear who this release window applies to though Samsung is well known for its staggered Android update releases. Historically, updates have pushed out to international devices at random before heading to carrier-branded models in the United States and elsewhere.
Android 5.1.1
According to this rumor, the Galaxy Note 4 Android 5.1 release will actually be based on Android 5.1.1, Google's newest version of Android 5.1. This lines up with a Galaxy S6 Edge Android 5.1.1 leak that we saw a few weeks ago and it makes sense given what Android 5.1.1 fixes. Android 5.1.1 is a small update but it tackles some glaring Android Lollipop problems.
Guest Mode
Over the past few weeks, we've started to learn about Samsung's Android 5.1 update that's being developed behind the scenes. While it's expected to deliver bug fixes, it's also expected to come with new features including Guest Mode.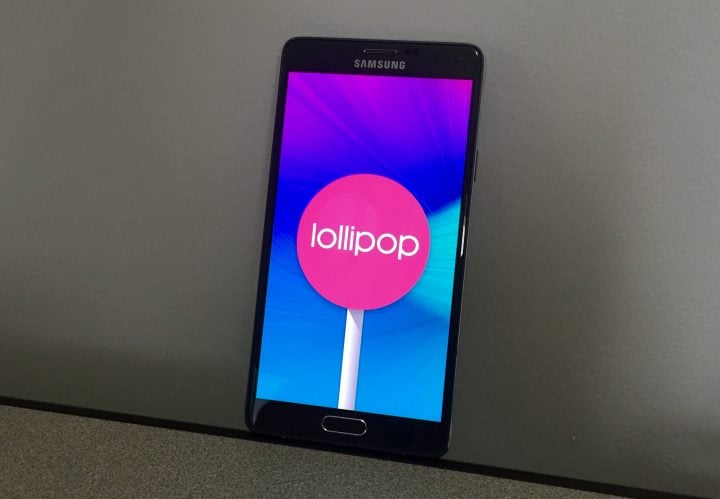 Guest Mode will allow Galaxy Note 4 owners and owners of the Galaxy S6/Galaxy S6 Edge to make use of separate user profiles. Guest Mode should enable a stripped down version of software that's perfect for those that don't want prying eyes looking at certain files, apps or photos.
Camera Features
That's not all. A new report from SamMobile claims that Android 5.1.1 is set to bring iPhone-like exposure control to the stock camera application used by the Galaxy S6 and Galaxy Note 4.
The Android 5.1 update's camera app will reportedly allow users to adjust the exposure in the viewfinder simply by sliding a finger up or down.
The publication also believes that Samsung will pack in a few other notable camera features including "support for RAW image capture and shutter speed control."
Android M
Android 5.1 will beat the Galaxy Note 4's Android M update to the punch, by several weeks at least.
Last week at Google I/O 2015, Google announced plans to deliver an Android M update in Q3 of this year. Q3 spans across July, August and September which means that updates for Nexus devices should take place in September at the very latest.
Nexus Android M release rumors currently put the release in August though that remains unconfirmed. Galaxy devices are typically a few weeks and sometimes a few months off the pace.

As an Amazon Associate I earn from qualifying purchases.