Samsung Galaxy Note 4 Deals Cut Price for Cyber Monday
Cyber Monday Samsung Galaxy Note 4 deals cut the price on one of the best Android smartphones money can buy.
Samsung's all new Galaxy Note 4 is an impressive smartphone and one that comes loaded with high-powered specs including a 5.7-inch Quad HD display, a brand new 16MP camera with Optical Image Stabilization, a new S Pen stylus, Android 4.4.4 KitKat software that's backed by TouchWiz, and a brand new design that comes with both plastic and metal materials. Those features come with a cost though, a $299.99 Galaxy Note price that many people simply can't afford.
We haven't seen too many Samsung Galaxy Note 4 deals lurking about in the weeks after its October release which is what makes today's deal from Amazon extremely important. Amazon's shaved a ton off the Galaxy Note 4 price for Cyber Monday giving prospective Galaxy Note 4 buyers a deal that's worth looking at.
The retailer's offering Cyber Monday deals for the AT&T Galaxy Note 4, Sprint Galaxy Note 4, and Verizon Galaxy Note 4. It does not sell the U.S. Cellular Galaxy Note 4 or the T-Mobile Galaxy Note 4. These Galaxy Note 4 deals are similar in that the carrier is taking $100 off the on-contract price of the three it does have on sale. What this means is that the AT&T, Sprint and T-Mobile models are now $199.99 on-contract instead of $299.99. It's not clear how long the deal will last so those who've waited for Galaxy Note 4 deals will want to think about making a move in the coming hours.
Off-contract pricing for the three remains on par with what the carriers are offering though Amazon is still offering a bit of a discount on the AT&T version of the device. AT&T charges $826 for the Galaxy Note 4 off-contract, Amazon charges a flat $800. The retailer is also offering several different promotions with these models including bill credits and waived activation fees.
Samsung's Galaxy Note 4 is arguably one of the best smartphones on the market but it's also one of the most expensive. This deal drops the price of the Galaxy Note 4 down below its top rival, the iPhone 6 Plus, and to the same price point as the 16GB iPhone 6. Apple's iPhone 6 Plus retails for $299.99, same as the Galaxy Note 4, while the smaller iPhone 6 costs much less.
The Galaxy Note 4 is still far more expensive than top of the line Android phones like the Moto X and LG G3 but these new Galaxy Note 4 deals for Cyber Monday make it a little more attractive next to its opposition. It also drops the price of the Galaxy Note 4 well below that of the Samsung Galaxy Note Edge, Samsung's curved version of the Galaxy Note 4.
The Samsung Galaxy Note Edge is a unique version of the Galaxy Note 4 as it comes with a curved Quad HD display. It also comes with a price tag that's far and away more expensive than the Galaxy Note 4's. The Galaxy Note Edge is available at AT&T, Sprint and T-Mobile but it's still not available on U.S. Cellular or Verizon Wireless in the United States.
Samsung Galaxy Note 4 deals will continue to emerge as the device gets older but for now, Amazon's Cyber Monday deal for the Galaxy Note 4 stands as the best offer for one of the world's best Android smartphones.
5 Exciting Galaxy Note 4 Cases
Samsung Galaxy Note 4 S View Case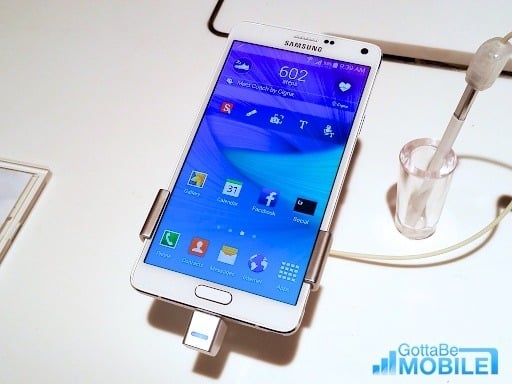 The official Samsung Galaxy Note 4 cases include a Galaxy Note 4 S View case with an opening on the front that shows notifications, the clock and other details like the weather and pedometer infromation.
When you get a call or text it will show through the small window so you can accept or ignore. You can also activate a quick camera that takes a square photo. When you answer a call you can leave this closed to prevent grease or makeup from getting on the display.
Samsung offers the Note 4 S View Cover in eight color options including white, smooth white, charcoal black, smooth black, gold, smooth pink, pink, plum and mint.
The best place to buy the Galaxy Note 4 S View Case so far is MobileFun where it is $54.95 and expected to ship in 3-5 days.

As an Amazon Associate I earn from qualifying purchases.