Galaxy Note 4 Release Confirmed by Samsung Invites
The Samsung Galaxy Note 4 launch date is now confirmed for September 3rd thanks to a new invite that invites the media to an upcoming Unpacked event in New York City. The Unpacked event, which teases a Samsung Galaxy Note 4 release, will take place just six days before Apple is expected to launch its new iPhone 6.
Today was a big day for two of the year's more heavily rumored smartphones. Earlier today, the iPhone 6 launch date was all but confirmed for September 9th and now, we have a solid lead on the Samsung Galaxy Note 4 launch date and the media event that should produce the company's next Galaxy Note and iPhone 6 competitor.
A media invite sent to Gotta Be Mobile confirms a Samsung Unpacked event for September 3rd. An image that accompanies the invitation confirms that it will be a Samsung Galaxy Note event and thus, a Samsung Galaxy Note 4 launch event. Galaxy Note 4 launch date rumors pegged the event for September 3rd and this invite confirms those whispers.
The company will be hosting its Unpacked 2014 Episode 2 launch event in three separate cities including New York City, Berlin, and Beijing. The United States, Europe and China are all key battlegrounds for smartphone manufacturers and it appears that Samsung is going to be taking the fight to companies like Apple in those key areas.
Samsung says that its Unpacked event for the Galaxy Note 4 will be live streamed so that prospective buyers can view the announcement from the confines of their home or desk. Per usual, the company will offer a live feed on YouTube that will go live on the day of the event. The festivities are set to kick off at 9AM EST or 6AM PST.
The confirmation comes just hours after a report from Recode all but confirmed the iPhone 6 launch date, expected to take place at an undetermined location on September 9th. The launches follow in the footsteps of the Galaxy Note 3 and iPhone 5s launches which took place just a few days from each other back in 2013.
It's still not clear when the iPhone 6 release date or Galaxy Note 4 release date will take place. Rumors suggest that the iPhone 6 release could come on September 19th, a date that fits in with Apple's iPhone release patterns, but that remains unconfirmed. Galaxy Note 4 release rumors have pointed to a quick arrival in an effort to take on the iPhone 6 though a date remains out of reach for the time being.
Apple's iPhone 6 is expected to debut with larger screen sizes including a 5.5-inch model that could challenge the Galaxy Note 4 in the phablet space. Apple's iPhone has traditionally been much smaller than Android devices like the Galaxy Note though it appears that will change in 2014. The company is also expected to deliver a 4.7-inch iPhone 6.
Both devices are rumored to be powerful smartphones with the Galaxy Note 4 expected to come equipped with a number of high-end features to challenge the competition.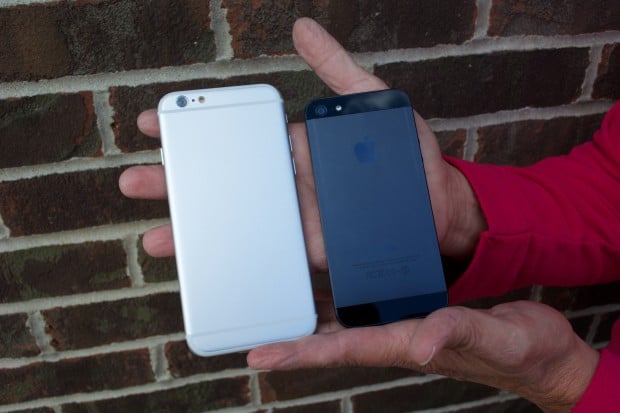 Galaxy Note 4 rumors suggest that it will feature a 5.7-inch QHD display, a brand new design that could feature metal, an upgraded camera sensor with image stabilization technology, brand new software, a fingerprint reader, and more. The device is expected to launch on AT&T, Sprint, T-Mobile, U.S. Cellular and Verizon in the United States.
As for the iPhone 6, it's expected to come with a brand new thin design, Touch ID, a new A8 processor with better performance, better screen resolution, and the company's iOS 8 update. Apple's iOS 8 update is expected to be released for older devices sometime in mid-September after the company takes it out of its beta program for developers.

As an Amazon Associate I earn from qualifying purchases.