Missing Galaxy Note 4 Release Date Details Emerge
Missing Samsung Galaxy Note 4 release date details have emerged today just ahead of the Galaxy Note 4 release date that's scheduled to land for most countries by the end of October.
Samsung's all new Galaxy Note 4 is an impressive smartphone as it comes loaded with high-powered specs including a 5.7-inch Quad HD display, a brand new 16MP camera with Optical Image Stabilization, a new S Pen stylus, Android 4.4.4 KitKat software that's backed by TouchWiz, a brand new design that comes with both plastic and metal materials, and a whole lot more. It's a true iPhone 6 and iPhone 6 Plus competitor and one of the more intriguing smartphones of the year.
The Galaxy Note 4 will replace the current Galaxy Note 3 and it will be joined later in the year by a brand new Samsung Galaxy Edge, a high-end flagship that is also coming to the United States and a number of other select countries. Most consumers are focused on the mainstream Galaxy Note 4, Samsung's well know flagship and the device that's just days away from arrival.
In the weeks since the Samsung Galaxy Note 4 announcement in early September, we've seen a ton of new Galaxy Note 4 release date details emerge for buyers in the U.S. and all over the world. The past three weeks in particular have been exciting as we've seen Galaxy Note 4 release dates confirmed, Galaxy Note pre-orders begin, and Galaxy Note 4 price information touch down. And as we approach the Galaxy Note 4 release, we're still seeing missing details trickle out.
Today, UK retailer Clove became one of the first places to start taking pre-orders for the Galaxy Note 4's unique Gear VR virtual reality accessory. The retailer will be charging £169.99 inc VAT which makes the Gear VR one of the more expensive Galaxy Note 4 accessories that money can buy. This is a preliminary price point and the price could fluctuate, for better or worse, once the device arrives.
The retailer still doesn't know exactly when it will get the Gear VR in stock or how much stock it will have. In other words, it looks like the Gear VR release date will likely miss the Galaxy Note 4's October 10th release date in the United Kingdom. The retailer alludes to a release date in November, weeks after the Galaxy Note 4's release, but again it's not specific.
Details regarding Samsung's unique Galaxy Note 4 accessory have been non-existent in the build up to the Galaxy Note 4 event and thankfully, with just days to go, we finally have some concrete details to latch onto. Of course, these details are for the United Kingdom. We still don't have any for the U.S. though we would expect a key market like the U.S. to get the Gear VR fairly early in the game.
Clove's price amounts to about $270 U.S. though that probably won't be the official price point in the United States. Samsung and its partners have yet to confirm a firm price for the Gear VR in the U.S. but it looks like it could be fairly expensive.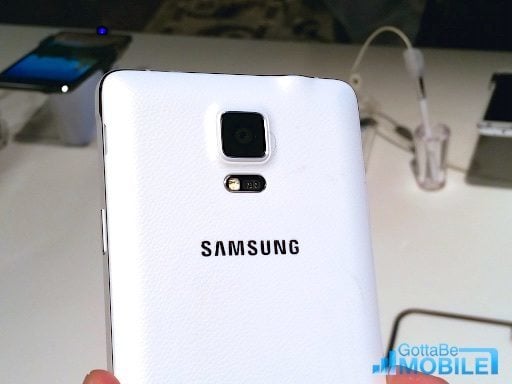 Samsung's Galaxy Note 4 release date is confirmed for October in 140 countries and it will be heading to the United States on October 17th. AT&T, Sprint, T-Mobile, U.S. Cellular, and Verizon will all offer up the Galaxy Note 4 and all four major carriers are currently taking pre-orders ahead of the Galaxy Note 4's release.
The Galaxy Not 4 will be available in 32GB form in the United States and it will come in both black and white, at least at the start. The pink and gold Galaxy Note 4 models still don't have release dates in the U.S. though like the Gear VR release date, we should see that information arrive in the weeks ahead.

This article may contain affiliate links. Click here for more details.