How to Prepare for the Samsung Galaxy Note 4 Release Date
With a Samsung Galaxy Note 4 release date rumored for September, consumers are starting to prepare for Samsung's next Galaxy Note. And while its release could still be several weeks away, there are some things that consumers should consider doing in the weeks leading up to the inevitable Samsung Galaxy Note 4 release date.
For months, we've heard rumors about Samsung's Galaxy Note 3 successor, a device that is currently without a name but is being called Samsung Galaxy Note 4 ahead of launch. Samsung Galaxy Note 4 rumors have been rampant in recent weeks as they attempt to unveil Galaxy Note 4 specs and Galaxy Note 4 release date details ahead of Samsung's Unpacked event.
With an iPhone 6 release date also rumored for September, there's no question that the Samsung Galaxy Note 4 is in the cross hairs of many consumers in the United States and around the world. And while the device is unofficial, rumors continue to point to a device that will offer some significant upgrades over the Samsung Galaxy Note 3.
Galaxy Note 4 rumors point to a device with an upgraded 5.7-inch display that features QHD resolution, design changes including a fingerprint sensor for added security, a new processor with added firepower, a powerful camera with Optical Image Stabilization, familiar carriers, 32GB of storage space, and more. The Galaxy Note 4 isn't confirmed but many features have firmed up ahead of time.
Rumors also have hinted at the Samsung Galaxy Note 4 launch and Galaxy Note 4 release date. And while Samsung's brand new Galaxy Note 4 may not be official or available, there are some things that we think consumers can do to better prepare for its inevitable launch later on this year.
Here, we offer up a number of tips to prospective Samsung Galaxy Note 4 buyers ahead of the Galaxy Note 4 release later on this year. These tips come from years of experience and should help those who are interested in Samsung's Next Big Thing.
Research Competitors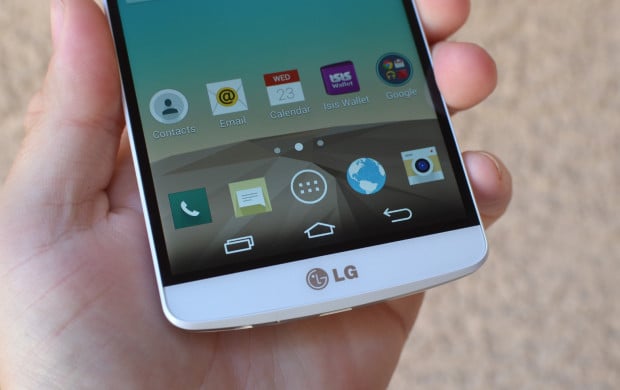 No matter how many times we tell people to do their research ahead of time, we still see people panic after a smartphone is announced. Consider this another public service announcement to all of you procrastinators out there. Do your research ahead of time and the Samsung Galaxy Note 4 release is going to go far more smoothly.
Your first bit of research should pertain to Samsung Galaxy Note 4 competitors. This means that you should absorb as much information as you can about devices like the LG G3, Samsung Galaxy S5, HTC One M8, iPhone 5s, and yes, the rumored iPhone 6. These are just the tip of the iceberg but these are likely going to be a few of the top competitors for the Galaxy Note 4.
Now, to do this, you'll need to do two things. First, read up on these devices. We'll get you started with a few of our latest reviews. These will help you get a sense of these devices prior to the Galaxy Note 4's announcement. (If you're interested in the iPhone 6, be sure to catch up on the latest rumors as we head deeper into the year.)
The next step is to physically leave your place of residence and head down to your nearest retailer or carrier store and play around with these devices. Get a feel for them and spend some time playing with their software. Even though they both use Android, HTC's software is much different than the software found on Samsung's Galaxy Note 3. Apple's iOS is different than Android and Microsoft's Windows Phone OS is different than the software found on Android and iOS.
You absolutely must go hands-on with this software ahead of time and now is a great time to get into a store, get a feel for what you like and don't like, and narrow down your options. Trust us, it will help make things a lot easier come September.
Do Your Homework and Set Expectations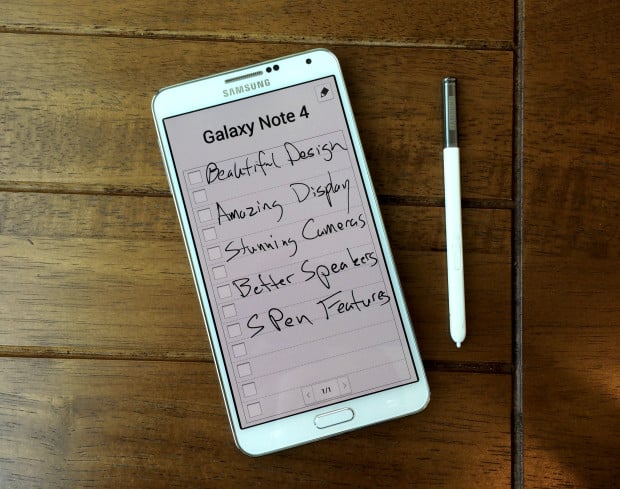 The next step in your research involves looking at the Samsung Galaxy Note 4 itself. The Galaxy Note 4 is still very much in the rumor mill but as we've noted, there are a number of Galaxy Note 4 rumors that have firmed up well ahead of its launch. Other Galaxy Note 4 rumors are still extremely flimsy and it's those rumors that you need to be careful of.
Samsung's Galaxy Note 4 is still very much a set of moving parts and Samsung has been known to strip out parts in the weeks ahead of the public launch. That's worth keeping in mind as we push towards its launch and as wild rumors regarding retina scanners, flexible displays and metal design start to surface. While we'd all love for it to come with a dream list of specs, including a way to print money, you must keep your expectations at a reasonable level otherwise you're going to be extremely disappointed come September.
Keep an eye on the Samsung Galaxy Note 4 rumor mill. Most times, if a spec or a date is repeated over and over again, there is a good chance that it'll arrive on board the real deal. An example this time around? The Galaxy Note 4's display. Rumors have continually pointed to a QHD display and there is a wealth of evidence to back it up.
A metal design? Not so much. Set those expectations, folks.
Research Data Plans & Carriers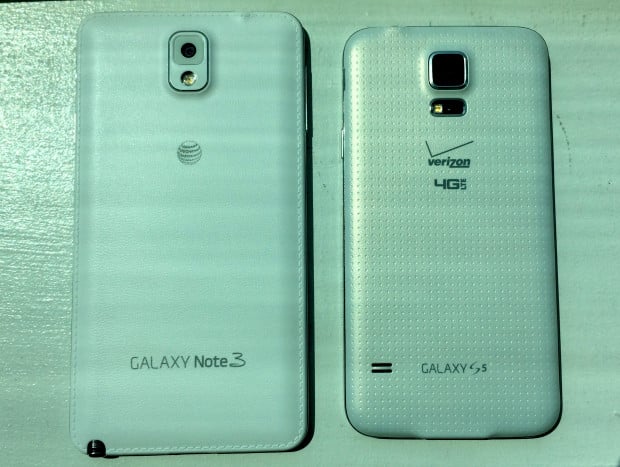 You need to investigate your carriers and your data plan options. This is going to be a no-brainer for some people but for others, it's going to be one of the keys to a smoother ride once the Galaxy Note 4 is released.
Here's the rub. Data plans and network capabilities are not created equal. For instance, T-Mobile currently has its LTE-A network in place in several regions while other carriers lag behind. LTE-A provides faster data speeds than the ones found on your typical LTE network. T-Mobile also uses a fast secondary HSPA+ 42 network where LTE is not available. Other carriers rely on slower HSDPA speeds.
Finally, U.S. Cellular, the nation's fifth largest, is limited to certain parts of the country. These are all things you absolutely should know in the lead in to the Galaxy Note 4 release.
You'll certainly want to take a look at how coverage is in your area and a simple Google search will yield some solid results from customers who have been on these networks for years.
That's not all either. Data plans are also vastly different. Sprint, for instance, still offers unlimited data. T-Mobile, unlike its competitors, does not offer on-contract data plans. You must buy your device off-contract.
You'll obviously want to take a look at overall cost. Carriers make smartphones appear cheap but they're actually very expensive investments. We're talking, thousands of dollars over the course of two years. So, you'll want to know what you're getting into before you buy.
Start Saving
Plain and simple, start saving your money now. Smartphones like the Galaxy Note 4 are not cheap. The Samsung Galaxy Note 4 could potentially command a price up to $299.99 on-contract. That's $100 more than your typical flagship smartphone and a price that Samsung has stuck with for several years now.
That of course is on top of any taxes you might incur, activation fees, ETFs, and Galaxy Note 4 accessories that you might want to pick up on the day you get your phone. That includes cases and potentially wearables like the Gear Fit, devices that tap into the smartphone and provide easy access to messages and your health while on-the-go.
You're not going to have an exact amount, the Galaxy Note 4 price is still out of reach, but estimate how much you're going to need to pay when the Galaxy Note 4 comes out.
Galaxy Note 4 Deals
The Galaxy Note 4 is an Android smartphone and that means that we'll likely see some big time deals emerge the day that it comes out. Retailers like Amazon typically offer day one discounts with more substantial price drops coming in the days after launch. Need an example? Take a look at the LG G3, a top Android smartphone that has already dropped to $99 on-contract, just days after its release.
Prepare for a September Launch, Fall Release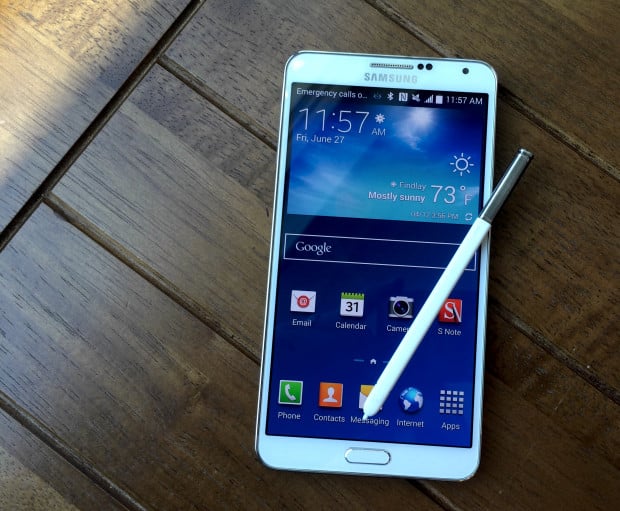 At this point it's pretty clear, at least to us, that the Samsung Galaxy Note 4 is going to launch in September and more specifically, at IFA 2014 in Berlin, Germany. Rumors continue to point there and Samsung executives have confirmed a Galaxy Note 4 launch for the fall multiple times. Everything has lined up at this point.
Samsung's release dates are a little unpredictable. While they usually happen in a 3-6 week window after launch, there's no telling how long it will take the Galaxy Note 4 to arrive on shelves. Our guess is that it will land in September so that it can properly challenge the iPhone 6 but that's not set in stone at this point.
We know that carriers typically release devices during the working week, Monday thru Friday, and that they will often take a staggered approach to release dates, at least when it comes to Android devices. So don't go into this expecting to have all your options available in the United States on day one.
Don't Stress About Pre-Orders
The Samsung Galaxy Note 4 will be a popular smartphone but we're pretty sure that you're not going to have to pre-order. Android devices rarely sell out ahead of release. Carriers will likely offer a pre-order and those that want the Galaxy Note 4 a day or two ahead of its official release date will want to take advantage. Others probably won't need to pre-order.
Make a Decision About Your Current Phone
The last bit of homework we have for you involves making a decision about your current phone. Prior to the Samsung Galaxy Note 4 release date, it would be wise to have a plan in place for it.
Prior to the Galaxy Note 4's arrival, come to a decision. Maybe you give it away to a friend, family member or charity. Maybe you sell it on a site like Gazelle, or perhaps you hold onto it as a relic and future antique. Whatever the case, decide well ahead of time and come up with a plan.
If you're set on selling your current smartphone, we highly suggest keeping an eye on sites like Gazelle and NextWorth because prices will start to fluctuate as we push closer to the Galaxy Note 4 release. You can also check out eBay and Craigslist though mileage is going to vary on those two sites.

This article may contain affiliate links. Click here for more details.