Samsung Galaxy Note 4 Release Date Inching Closer
The Samsung Galaxy Note 4 release date is still uncertain but that doesn't mean that the Galaxy Note 4 isn't inching closer. In fact, the highly anticipated release continues to make progress and it appears to be on track for an October clash with the iPhone 6.
Earlier this month, Samsung confirmed the Galaxy Note 4, a successor to the Galaxy Note 3 and a device that will challenge Apple's upcoming iPhone 6 release during the fall and during the holidays. On stage, Samsung confirmed many of the key Galaxy Note 4 details including its specs but the company failed to confirm many of the important specifics including the Galaxy Note 4 price and the specific Galaxy Note 4 release date.
The Samsung Galaxy Note 4 release date is confirmed for October, globally and in the U.S., but Samsung still hasn't attached a specific release date to the device. Galaxy Note 4 release rumors have singled out October 10th as a potential release date for the popular smartphone but that date comes from European retailers and not Samsung itself.
As rumors swirl though, the Galaxy Note 4 release continues to make progress as the device has been spotted cruising through the proper certifications and approvals ahead of release.
Earlier this month, the AT&T Galaxy Note 4 was caught cruising through the FCC. We also noticed a number of Galaxy Note 4 models passing through their Bluetooth certifications. Today, three more Galaxy Note 4 models have been spotted passing through the FCC which means that they're now one step closer to their release date.
Blog of Mobile tracked down three Galaxy Note 4 models that recently got approval. The SM-N9109W is expected to be a variant for Chinese carrier China Telecom. The SM-N910U looks like it could be an international model though specifics remain unknown at this point. And finally, the SM-N910G also received its approval though it's not clear what it entails either.
Passing through the FCC is a necessary hurdle that smartphones must pass before they can be released. So while this news doesn't confirm the Galaxy Note 4 release date, it does mean that one is inching closer which means that we're getting closer to an official announcement from both Samsung and its official Galaxy Note 4 carrier partners.
Samsung's Galaxy Note 4 release date is now rumored to be in and around October 10th thanks to several retailers in Europe. Galaxy Club, a Dutch site, reports that several Dutch retailers including GSMWijzer, Student Mobile and Cool Blue expect the Galaxy Note 4 release to arrive on October 10th. Another retailer in the Netherlands, BelSimpel, expects it to arrive five weeks from now, or, in and around that October 10th date.
We should note that these appear to be estimates for the Galaxy Note 4 release date. While they could be based on inside information from Samsung, October 10th is not the confirmed release date for the Galaxy Note 4 in the Netherlands or in any other region around the world. Like Samsung, U.S. carriers remain mum about a specific Galaxy Note 4 release date in the United States despite the presence of an iPhone 6.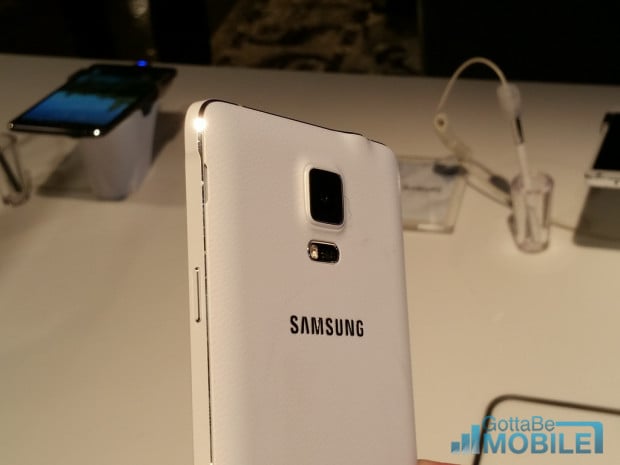 The Samsung Galaxy Note 4 will be loaded up with new features including a new 5.7-inch Quad HD display, Snapdragon 805 processor from Qualcomm, 16MP camera with Optical Image Stabilization, new design that features plastic and metal, 32GB of storage, Android 4.4.4 KitKat, new software, and a brand new S Pen.
And while it looks to be a powerful smartphone, it will have to contend with the iPhone 6, a device that's expected to feature 4.7-inch and 5.5-inch displays combined with a sleek metal design. The iPhone 6 is rumored to be coming out in September, ahead of the Galaxy Note 4, though at the moment, that remains unconfirmed.
Apple is set to take the stage today during a launch event and confirm all of the important details. It's an event that prospective Galaxy Note 4 buyers will want to keep an eye on.