5 Things Galaxy Note 4 Buyers Need to Know Right Now
With pre-orders now live in the U.S. and a Samsung Galaxy Note 4 release date just weeks away in the U.S., prospective buyers are starting to absorb as much information as they possibly can in the build up to the device's arrival. Today, we've weeded through all of the noise to bring you the five most important Samsung Galaxy Note 4 details that buyers must know about right this very second.
At the beginning of the month, Samsung hosted an Unpacked 2014 Episode 2 event wherein it announced a slew of new products including the Gear S watch, Gear VR headset, Galaxy Note Edge smartphone, and the Samsung Galaxy Note 4. The Galaxy Note 4 is the Galaxy Note 3's replacement and it's a device that consumers have their eyes on as we head into the month of October.
The Samsung Galaxy Note 4 is an impressive smartphone and it comes loaded with high-powered specs including its 5.7-inch Quad HD display, its brand new 16MP camera with Optical Image Stabilization, its new S Pen, its Android 4.4.4 KitKat software that's backed by TouchWiz, its new design that comes with both plastic and metal materials, and a whole lot more. It's a true iPhone 6 and iPhone 6 Plus competitor and one of the more intriguing smartphones of the year.
In the past few weeks we've seen a ton of Galaxy Note 4 information pour out of carriers, Samsung and sources working behind the scenes. As is the case with most big name smartphone launches, there is a ton of pre-release information that consumers must digest before making a decision to wait for a smartphone's release date.
Samsung Galaxy Note 4 release details have been very active in the last week and many of you don't have the time to absorb them all. It's our job to ensure that you're as prepared as possible for the upcoming Galaxy Note 4 release and that's why we want to outline the five most important Galaxy Note 4 details that you need to know, today, ahead of its arrival.
Galaxy Note 4 Release Date (U.S.) Should Stick
The Samsung Galaxy Note 4 release date just landed in Korea and we just got a look at our first Galaxy Note 4 unboxing video that showcases the Galaxy Note 4 in all of its glory.
https://www.youtube.com/watch?feature=player_embedded&v=KJpq2q7EE4E
Just because the Galaxy Note 4 arrived early in Korea doesn't mean that it's going to arrive early in other parts of the world. U.S. carriers recently confirmed an October 17th release date for the Galaxy Note 4 and there's a very good chance that the five carriers involved (AT&T, Sprint, T-Mobile, U.S. Cellular, and Verizon) will all stick to that date.
We very rarely see release dates shift after they're announced and we're expecting carriers to keep the Galaxy Note 4 release at a safe distance from the iPhone 6 and iPhone 6 Plus release that took place last week and will be ongoing for the next few weeks.
Circle that date in pen and know that this should be the first day that you'll be able to go hands-on with the Galaxy Note 4 unless you're traveling in Korea. In that case, you should be able to find it in the flesh at select retail and carrier locations.
Galaxy Note 4 Pre-Orders Live for Big Four
Today marks the start of the fourth and what could be final Galaxy Note 4 pre-order in the United States. Sprint is now, for the first time, taking pre-orders for the Galaxy Note 4. Sprint is the last of the big four to take pre-orders.
If you're looking to buy the Galaxy Note 4 on U.S. Cellular, the nation's fifth largest carrier, you are going to have to wait it seems. U.S. Cellular still hasn't announced pricing or Galaxy Note 4 pre-orders and it's not clear if it plans to make them available ahead of the Galaxy Note 4 release date on October 17th. It might but it looks like an announcement will come late.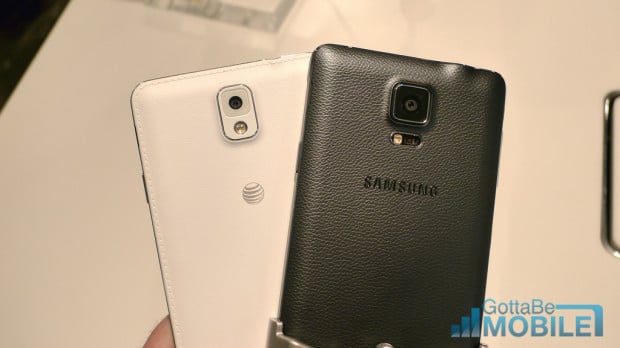 Those of you that do place a pre-order for the Galaxy Note 4 could wind up getting the Galaxy Note 4 a bit earlier than its street date. AT&T, for instance, says that it plans to ship its device out by October 14th which means that it has a chance to arrive before October 17th. It's a little incentive but it's one that serious buyers will want to consider.
You Don't Need to (And Probably Shouldn't) Pre-Order the Galaxy Note 4
If you want the Galaxy Note 4 on October 17th, you don't need to pre-order. Shipping times haven't moved and that's a sign that we probably won't see a sell out here in the United States. While pre-ordering might sound appealing to some of you, we highly recommend avoiding a pre-order for the Galaxy Note 4.
Maybe the biggest reason to avoid Galaxy Note 4 pre-orders is so that you can take advantage of Galaxy Note 4 deals. There is no reason to pay full price for the Galaxy Note 4 when all you have to do is wait for October 17th to roll out around. Retailers like Amazon always have day one deals available and while they won't knock hundreds off, they'll be appealing nonetheless.
As we'll soon point out, the Galaxy Note 4 is not a cheap phone and that makes Galaxy Note 4 deals that much more important. Unless you're made of money and can't see yourself buying anything else, avoid these pre-orders.
Top Competition is Mostly Out, Go Hands-on Now
We recommend going hands on with the Galaxy Note 4 before buying. It's a large phone and it's experience is heavily based on the S Pen stylus. You may not even need the stylus in which case, a device like the LG G3 would be more suitable.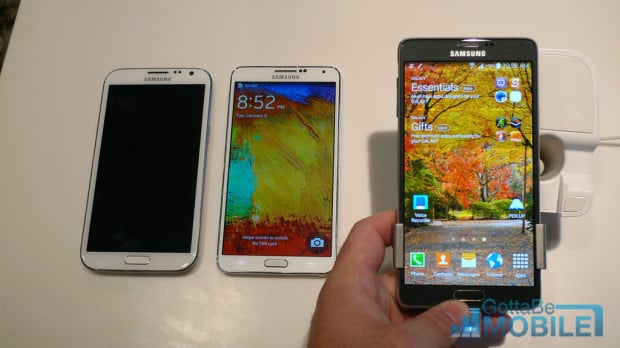 Take the time between October 17th to go hands on with it biggest competitors. Phones like the LG G3, new Moto X, Samsung Galaxy S5, HTC One M8, and the new iPhone 6 Plus. Do not go into the Galaxy Note 4 release date unprepared and blind. This is how people walk out of stores or release days with a phone that they end up hating after a few weeks. We know people that have done that, you probably do too.
The only device that isn't out is the rumored Nexus 6 from Motorola and Google and even that device is expected to be out in a few weeks. All the more reason to skip pre-orders and wait to go hands on with both the competition and the Galaxy Note 4 itself.
Galaxy Note 4 Price is Steep
The Galaxy Note 4 looks like it's an excellent phone. However its features, which include one of the biggest and best displays ever and a bundled S Pen, come with a cost.
AT&T and Verizon are both charging various prices for the Galaxy Note 4. On-contract, they'll charge you $299.99. Off-contract, Verizon will charge $700 off-c0ntract while AT&T charges a whopping $826 off-c0ntract.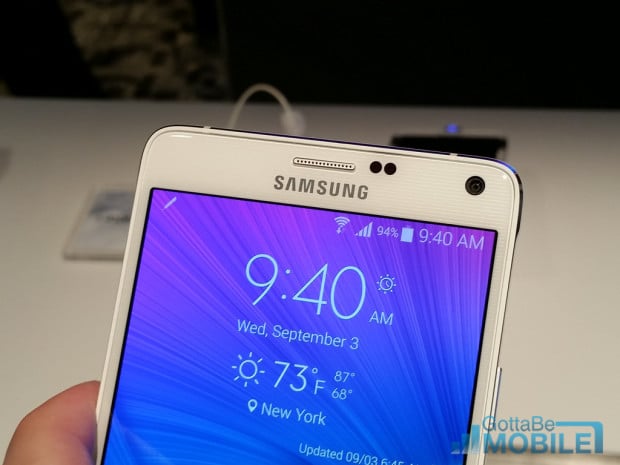 We should also point out that Sprint is charging $350 on-c0ntract, or, $50 more than the competition. It did the same thing last year with the Galaxy Note 3 and it took a lot of heat for it. Seems it didn't learn its lesson.
This is not a cheap smartphone especially when you consider the fact that top devices like the LG G3 and iPhone 5s are a mere $100 on-contract. You'll want to be sure about the Galaxy Note 4 before you drop $300 or more for it.

This article may contain affiliate links. Click here for more details.