Galaxy Note 4 Predictions: Release Date, Specs & More
With the Samsung Galaxy Note 4 launch date just hours away, we want to make some final predictions regarding the Galaxy Note 4 release date, Galaxy Note 4 specs, and more.
For months, Android enthusiasts and consumers interested in a new smartphone have had to contend with Samsung Galaxy Note 4 rumors. Galaxy Note 4 rumors regarding the Galaxy Note 4 release, specs, price, and more have been rampant in recent weeks as Samsung makes it final preparations for launch. Tomorrow, Samsung will confirm its next Galaxy Note and affirm or squash many of the Galaxy Note 4 rumors that have been swirling around in 2014.
The Samsung Galaxy Note 4 launch will take place tomorrow at an Unpacked 2014 Episode 2 launch event in Berlin, Germany. The event, which takes place ahead of IFA 2014 in Berlin, will be joined by satellite events in New York City and Beijing, China, key battlegrounds for Samsung and its Galaxy Note series of smartphones.
Samsung still hasn't said what it will be announcing at the event but thanks to a new ad campaign, it's clear that the Galaxy Note will be the star of tomorrow's show. And with that in mind, we want to take a final look at what we expect from the Samsung Galaxy Note 4 and all of the details that will accompany it to shelves later on this year.
After months and months of rumors, we want to take one last look into our crystal ball and make some bold predictions in regards to the Samsung Galaxy Note 4 release date, Galaxy Note 4 specs, Galaxy Note 4 price, and more. These educated guesses are based on credible Galaxy Note 4 rumors, Samsung's history, and on gut feelings.
Galaxy Note 4 Launch Date Reveals Just About Everything
Tomorrow, Samsung executives will take the stage to announce the new version of the Galaxy Note. Samsung uses these events to market their new products to consumers around the world and thus, it typically discloses key elements pertaining like the release date, specs, and more. There have been times where Samsung fails to announce key information but we don't think the company can afford to do that this year.
With an iPhone 6 launch date set for September 9th, and with larger displays rumored to be on tap for this year's iPhone release, Samsung can't drop the ball at this Unpacked event. It needs to relay as much information as it possibly can so as not to give the iPhone 6 any advantages. That means we expect the company to fill consumers in on the exact Galaxy Note 4 release, all of the device's key specifications, and a ton of the smaller details including price and carriers.
There's simply no room for error here with the iPhone breathing down its neck and we expect Samsung to deliver during the Galaxy Note 4 launch event. We expect consumers to be pleasantly surprised by the amount of information given during tomorrow's event. Just another reason why those interested should tune into the live feed.
Galaxy Note 4 Release Date in September
With an iPhone 6 release rumored for September and with Galaxy Note 4 release date rumors hinting at a quick release in September, we're confident that the Galaxy Note 4 will hit shelves sometime during the month of September.
Samsung's devices typically emerge just a few weeks after their announcement dates anyway and with the pressure on the Galaxy Note 4, we have a good feeling that we'll see the Galaxy Note 4 arrive on shelves within the confines of this month.
Galaxy Note 4 rumors have singled out the week of September 15th so it could be that we see it emerge in mid-September instead of last year's Galaxy Note 3 release that landed in late September, after the arrival of the iPhone 5s.
A specific date is extremely hard to predict but we should see it emerge during the working week (Monday-Friday).
U.S. Release Just Weeks Away
The United States is a key battleground for Samsung and we expect its release date to be close behind the global release, if it doesn't fall on the global release date itself.
In the past few years, we've seen Samsung put an emphasis on the U.S. market. First with the Galaxy S4 launch that took place in NYC and the release that landed in around the global release. We also saw the Galaxy Note 3 release arrive just days after the global launch and the Galaxy S5 release in the United States take place around the global release earlier this year.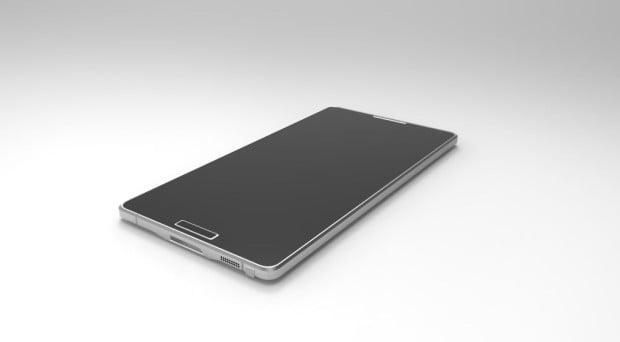 With an Unpacked event slated for New York City and given the Galaxy Note 4 rumors that point to a high-end smartphone, look for a high-end market like the United States to be among the first to get the Galaxy Note 4.
Apple will almost certainly include the U.S. among the first iPhone 6 release regions so there's another good reason why Samsung might want to at least think about getting the Galaxy Note 4 out in the U.S. within a reasonable amount of time.
Same Carriers
We expect the Galaxy Note 4 to arrive on the carriers the Galaxy Note has called home since 2012. That means we expect a AT&T Galaxy Note 4, Sprint Galaxy Note 4, T-Mobile Galaxy Note 4, U.S. Cellular Galaxy Note 4, and a Verizon Galaxy Note 4. We're not expecting smaller carriers to hop on board with a niche, high-end smartphone.
Familiar Galaxy Note 4 Price
The Samsung Galaxy Note is already one of the more expensive flagship smartphones on the market. All previous versions of the Galaxy Note arrived with a $299.99 price tag attached to them. The price comes courtesy of the bundled S Pen, high-res display and all of the other big time hardware features that Samsung tacks on board its powerful smartphone series.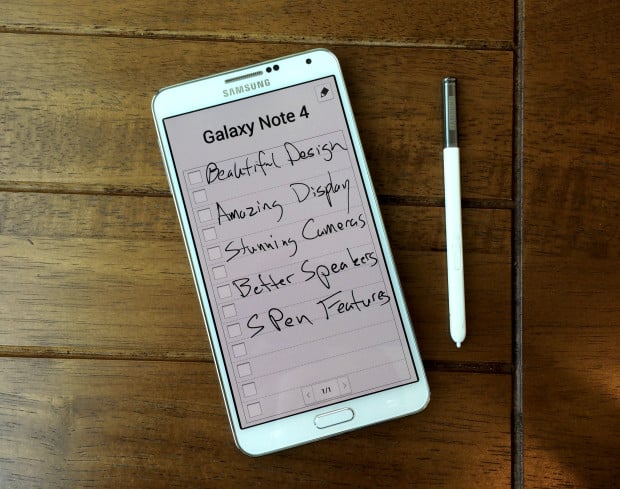 We've see one Galaxy Note 4 price rumor emerge and it lines up with what we're expecting from the Galaxy Note 4 price point. We think Samsung and its carrier partners will keep the Galaxy Note 4 at its $299.99 price level. That price is what consumers are expecting and it will keep the Galaxy Note competitive with high-end rivals like the iPhone 6.
Immediate Price Drop
We're expecting at least a couple of deals on the Galaxy Note 4 release date. Retailers like Amazon typically will knock $20-30 off the starting retail price so we would not be surprised if we saw a few day one price cuts emerge for the Galaxy Note 4. We wouldn't expect anything drastic, like say $100, but look for the Galaxy Note 4 to be a little more affordable at Amazon.
New Design
The Samsung Galaxy Note 4 should come with a new design. Samsung always changes up its flagship designs every year so there's a good chance that the Galaxy Note 4 will come with some major differences.
Rumors out of Korea suggest that the Galaxy Note 4 could come with a metal frame. This is something that was recently backed up by an alleged Galaxy Note 4 photo-op that shows a device with a textured back with metal edges. We're still a bit skeptical but Samsung's recent Galaxy Alpha launch shows that the company is indeed committed to using new materials. Perhaps that device was, and is, a foreshadow of what's to come.
Design rumors also point to a fingerprint sensor and an IP67 certification (dust and water resistance) like the Galaxy S5. The fingerprint sensor has been all but confirmed thanks to a series of detailed and credible leaks while the IP67 certification is a little more flimsy. We're not completely sold on the dust and water resistance but we'd be a little surprised if Samsung didn't include it on board, especially since it would give the Galaxy Note 4 an advantage over the iPhone.
The Samsung Galaxy Note 3's design was nicer than the Galaxy Note 2's but it simply couldn't match the iPhone or other high-end devices like the HTC One. Look for the company to tweak the design, just like it did with its Galaxy S design and the Galaxy S5.
QHD Display
This year, it's all about Quad HD resolution. We've seen it arrive on the LG G3, a device that can be seen in action in the video below, and we're expecting it to emerge for the Samsung Galaxy Note 4′s display as well.
Samsung's Galaxy Note 4 is heavily rumored to be coming with a large 5.7-inch QHD (Quad HD) display. The new resolution will offer better looking games, something that's key on a device of this size, and it will also sharpen the look of movies, television shows and other content. This is another potential advantage over the iPhone and we expect Samsung to capitalize.
It also helps that Galaxy Note 4 rumors have almost universally pointed to the arrival of a 5.7-inch QHD display on board. Look for Samsung to keep the display size between its Galaxy S and Galaxy Mega and tack on improved resolution for this multitasking juggernaut of a smartphone.
Improved Camera
Companies can no longer keep cameras around for two years. (That's what Samsung did with the original Galaxy Note and Galaxy Note 2.) So, we expect Samsung to change things up with the Galaxy Note 4 camera.
The Galaxy Note 4 is expected to feature a larger sensor at 16MP with Optical Image Stabilization, auto-focus and dual-LED flash. More specifically, it appears that Samsung will equip the Galaxy Note 4 with a 16MP Sony IMX240 camera sensor with OIS technology. This all makes sense.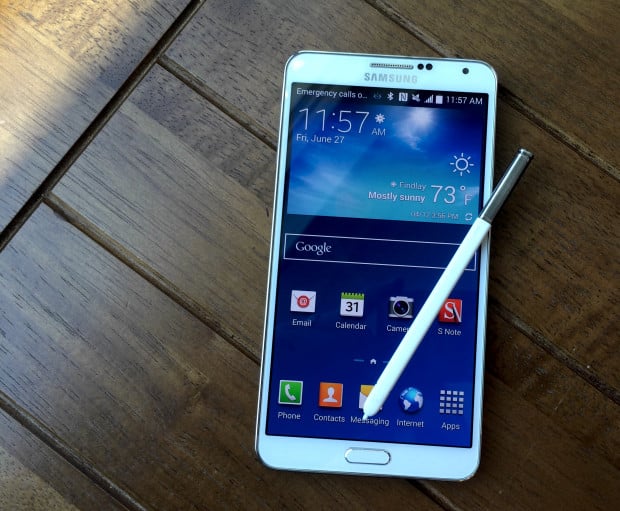 The Galaxy S5 features a 16MP sensor so we can see Samsung bringing the Galaxy Note up to speed. And competitors like the LG G3 and Nexus 5 feature OIS so it makes sense that Samsung wants to tack on the feature in an effort to be competitive. Throw in the fact that the iPhone 6 is rumored to be coming with an upgraded sensor with image stabilization technology and you can see why we think the Galaxy Note 4's camera will be extremely solid.
Snapdragon 805 Processor
We're also expecting a new processor inside the Galaxy Note 4 and it's looking like that processor will be the Snapdragon 805 from Qualcomm. According to Qualcomm, the Snapdragon 805 comes with a number of added benefits including a brand new Graphics Processing Unit (GPU):
The new Adreno 420 GPU in the Snapdragon 805 processor is the first commercial mobile GPU to introduce hardware tessellation and geometry shaders, which provide greater detail for visually stunning, realistic scenes and objects in a manner that requires less memory bandwidth and lower power consumption.
Translation: Better gaming and perhaps, better battery life for a series that's already known for excellent gaming and all day battery life. The processor would also help to deliver great looking photos, multitasking, and fast download speeds thanks to a new modem.
We've seen Galaxy Note 4 rumors and benchmarks all point to the Snapdragon 805. And with it being the leading processor from Qualcomm at the moment, we're expecting it inside the Galaxy Note 4.
32GB Storage
We expect the Galaxy Note 4 to have at least 32GB of internal storage. If it comes without a microSD card slot, it needs to have at least that to remain competitive. If it does come with a microSD card slot, 32GB will likely be its sweet spot.
Color Options
Expect Samsung to detail a few color options for the Galaxy Note 4. Rumors suggest that we could see black, white, gold and blue and to us, those make the most sense. It mirrors the Galaxy S5 and it provides two basic colors, a gold option, and a blue color option that we absolutely loved on the Samsung Galaxy S5.

This article may contain affiliate links. Click here for more details.