New Galaxy Note 4 Rumors Focus On Design
New Samsung Galaxy Note 4 rumors bring some focus to one of the Galaxy Note 4's biggest mysteries: Its design.
It has been six months since Samsung's Dennis Miloseski all but confirmed the Galaxy Note 4's arrival this fall. Since then, we've seen Galaxy Note 4 rumors and leaks attempt to fill the gaps ahead of launch and fortunately for those interested in the Galaxy Note 4, they'd done a pretty stand up job.
Samsung Galaxy Note 4 rumors have firmed up in recent weeks and point to a number of different upgrades including big time changes to its processor, to its display, to its camera, and to its software. While these features haven't been confirmed, they've been rumored to the point where consumers can feel comfortable about many of the Galaxy Note 4's specs.
There are, however, some big Galaxy Note 4 mysteries that remain. One of the biggest is the Galaxy Note 4 design, a design that Samsung is likely keeping under lock and key as we make our way closer to the fall and closer to the Samsung Galaxy Note 4's launch date.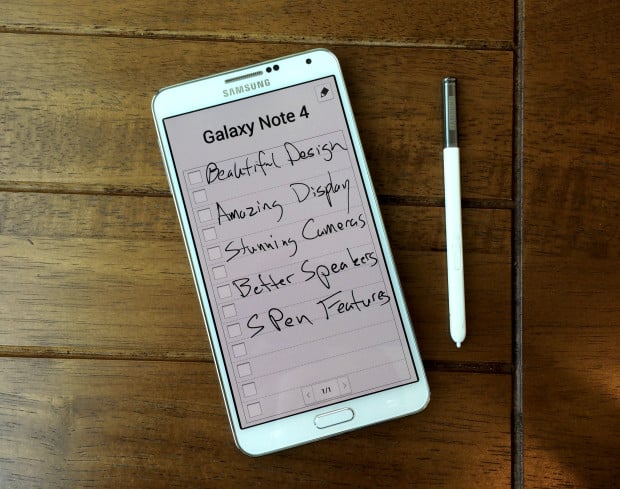 Samsung is well known for keeping a tight lid on its smartphone designs. While bits and pieces often emerge ahead of time, very rarely do we see the whole design leak ahead of time. Take the Galaxy Note 3 for example. While fragments of the design leaked out prior to its launch last September, we did not know how the device would look until Samsung showed it off on stage.
Samsung Galaxy Note 4 design leaks remain scarce though they have started putting together a potential list of specs. Galaxy Note 4 rumors point to a fingerprint sensor, perhaps improved over the one found in the Galaxy S5, and an IP67 certification that would provide dust and water resistance to the Galaxy Note 4's form factor. The Galaxy S5 also features an IP67 certification.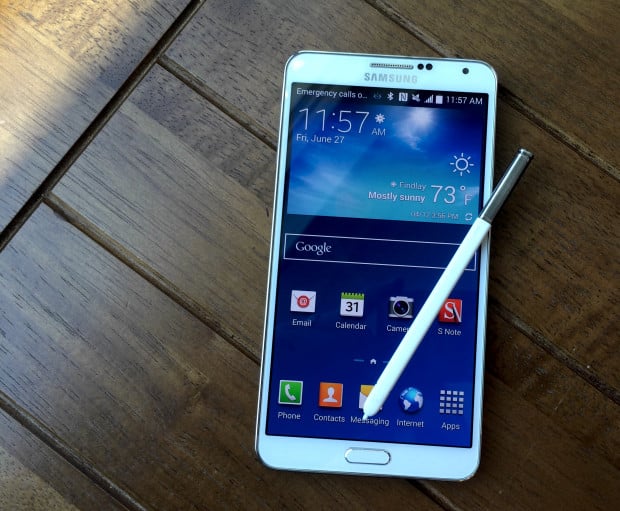 Today, another piece of the puzzle appears to have emerged. The well known evleaks claims that the Samsung Galaxy Note 4 design will mirror the Galaxy S5's, in at least one way.
He says that the Samsung Galaxy Note 4 design will come in the same four colors that we saw Samsung apply to the Galaxy S5 back in February. The Galaxy S5's colors include black, white, blue and gold. While the black and white versions of the Galaxy S5 were available on launch day, the gold and blue Galaxy S5 models trickled out to consumers in the United States. It's not clear if Samsung will take this staggered approach with the Galaxy Note 4.
While nothing is confirmed, this is how the Galaxy Note 4 stacks up so far:
Fingerprint sensor
32GB of storage hints at MicroSD card slot
IP67 certification for dust and water resistance
Four color options
Samsung executives have said that the company will introduce a new form factor with the Galaxy Note 4. Rumors point to the arrival of a curved, three-sided display. Rumors suggest that that model will be limited in scope and that the flat Samsung Galaxy Note 4 model will be the model that is produced for the mass market.
Galaxy Note 4 rumors point to a variety of changes. The device is expected to boast a new 5.7-inch QHD display, a 12MP to 20MP camera with Optical Image Stabilization, a brand new processor that could be a Exynos chip from Samsung or a Qualcomm Snapdragon 805, brand new software including a feature that ties into the fingerprint sensor, and a home on top carriers in the United States including AT&T and Verizon.
Samsung Galaxy Note 4 release date rumors have centered around the fall with launch date leaks pointing to the IFA 2014 trade show in Berlin. The Galaxy Note 4 launch date is rumored for September 3rd, two days before the start of IFA, but that remains unconfirmed.