Samsung Fuels Latest Galaxy Note 4 Rumors
Samsung has fueled the latest round of Samsung Galaxy Note 4 rumors just weeks ahead of the rumored Samsung Galaxy Note 4 launch date.
For months, Samsung Galaxy Note 4 rumors have swirled around, teasing prospective buyers with tales of the future. And while many of those Galaxy Note 4 rumors have come from unnamed sources, some Samsung Galaxy Note 4 rumors have come from the company itself.
In January, a Samsung executive proclaimed that new wearables would arrive alongside the Galaxy Note 4 in the fall. Since then, Samsung executives have gone on record talking about a new Galaxy Note 4 design and a potential launch at IFA 2014, the trade show that the company has used to launch prior versions of the Samsung Galaxy Note series.
Over the weekend, Samsung threw more fuel on the flames when it teased a feature that was rumored to be on board the Samsung Galaxy S5 but could ultimately find its way on board the Samsung Galaxy Note 4 spec sheet when the device finally lands on shelves sometime this fall.
The Samsung Exynos Twitter account, an account that's been extremely active as of late, shot out a mysterious tweet. The tweet, which can be seen below, suggests that Samsung is investigating new ways to protect its smartphones. The graphic shows an eye, uses the word "envision" and seems to hint at Retina scanning, a feature that was rumored for the Galaxy S5.
Security can be improved using features unique to us. That's what we envision. What would you use? #ExynosTomorrow pic.twitter.com/KLgQ1q9GkP

— SamsungExynos (@SamsungExynos) July 12, 2014
Samsung Galaxy S5 rumors hinted at an eye scanning unlock feature for the new device. The feature, which can be seen in the video below, was rumored in the weeks leading up to the Galaxy S5's launch though ultimately, the Galaxy S5 did not arrive with the feature. Instead, the Galaxy S5 debuted with a fingerprint sensor embedded inside of the device's home button. The feature has received mixed reviews.
For weeks, Samsung Galaxy Note 4 rumors have pointed to a fingerprint sensor embedded in the home button or underneath the display though this new tweet from Samsung Exynos certainly adds a bit of mystery in the build up to Samsung's Galaxy Note 4 launch. It's possible that this tweet has nothing to do with the Galaxy Note 4 though given Samsung's focus on smartphone security, with the fingerprint sensor and Samsung KNOX, it's possible that the company is teasing Galaxy Note 4 features ahead of time.
Samsung Galaxy Note 4 design leaks remain scarce though they have started putting together a potential list of specs. In addition to the added security, either by Retina scanner or fingerprint sensor, the Galaxy Note 4 could have a IP67 certification that would provide dust and water resistance to the Galaxy Note 4′s design. The Galaxy S5 also features an IP67 certification.
The Galaxy Note 4's colors are also said to match the Galaxy S5's which could mean that consumers will have a choice between blue, black, white, and the popular gold.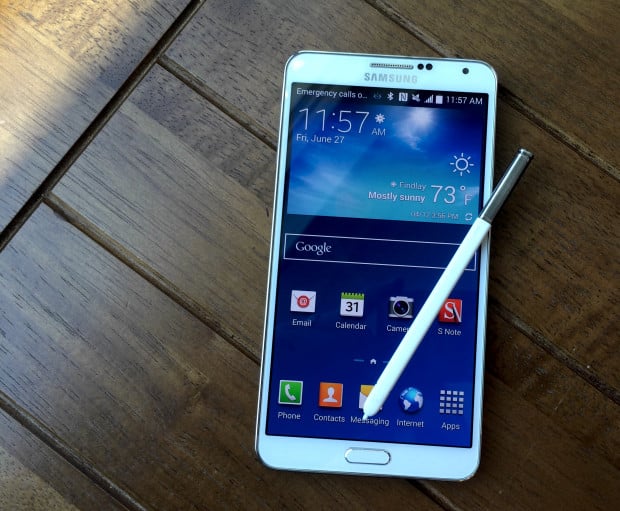 Galaxy Note 4 rumors point to a variety of changes. The device is expected to boast a new 5.7-inch QHD display, a 12MP to 20MP camera with Optical Image Stabilization, a brand new processor that could be a Exynos chip from Samsung or a Qualcomm Snapdragon 805, brand new software including a feature that ties into the fingerprint sensor, and a home on top carriers in the United States including AT&T and Verizon.
Samsung Galaxy Note 4 release date rumors continue to center around the fall with launch date leaks pointing to the IFA 2014 trade show in Berlin. The Galaxy Note 4 launch date is rumored for September 3rd, two days before the start of IFA, though that remains unconfirmed at this point. Samsung typically sends out invites weeks ahead of its launch events which means that we could get confirmation in August.

This article may contain affiliate links. Click here for more details.