Galaxy Note 4 Specs Leak Tips Major Upgrade
Two Galaxy Note 4 specs are revealed in a new leak of pre-installed Galaxy Note 4 apps that point to a major upgrade from the Galaxy S5 and a shared feature.
A new Galaxy Note 4 leak shows evidence of an impressive Galaxy Note 4 display that could match that LG G3 in quality, pushing the Galaxy Note specs above the Galaxy S5 and potentially delivering a resolution that a 5.5-inch iPhone 6 won't be able to touch.
Two dozen Galaxy Note 4 apps listed in a leak include a variety of apks that will arrive installed on the Galaxy Note 4 later this year. Most of these apps are not that exciting, but two deliver important details about the Galaxy Note 4 specs.
Rumors already share a number of details about the potential Galaxy Note 4 specs, and this leak highlights what could be the most exciting item on the Galaxy Note 4 specs list, as well as one feature that is all but confirmed.
Galaxy Note 4 Specs Outed
The basis of this Galaxy Note 4 specs list comes from evleaks, a well-known leaker with a history of sharing similar information for top smartphones.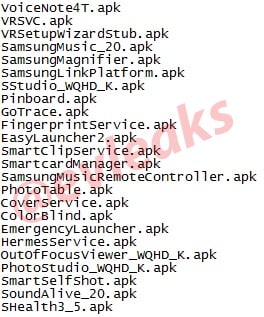 The post includes two dozen Galaxy Note 4 apk names, without any additional commentary. At first glance there are no indications that this photo shows Galaxy Note 4 specs, but if you look closer you'll see four apps that point to two possible Samsung Galaxy Note 4 Specs.
Galaxy Note 4 Display
Perhaps the most exciting Galaxy Note 4 specs relate to the display. This new leak does not indicate the Galaxy Note 4 display size, but it does point directly at a super-high resolution display like the LG G3 that is now available in the U.S. with a 5.5-inch display.
Three Galaxy Note 4 apps listed below include WQHD, which points to a specific Galaxy Note 4 spec that users will love.
SStudio_WQHD.apk
OutOfFocusViewer_WQHD_K.apk
PhotoStudio_WQHD_K.apk
The WQHD part of each of these apps refers to an app that is upgraded to work on a higher resolution display. WQHD is 2560 x 1440, significantly higher than the 1920 x 1080 resolution on most smartphones including the Galaxy S5 and Galaxy Note 3. The video below shows how much detail this type of display can deliver.
The LG G3 offers a 5.5-inch QHD display that Gotta Be Mobile publisher Xavier Lanier describes in our LG G3 review,
"The LG G3′s display is absolutely stunning and really shines when watching HD movies or flipping through photo galleries. LG calls the phone's display Quad HD, which is a fancy way of saying that it managed to pack 2,560 x 1440 pixels into it. That's a pixel density of 538 pixels per inch (ppi), which is much higher than the iPhone 5s Retina Display's 326 ppi. The iPhone 5s only has a 4″ display, and that looks tiny compared to the LG G3′s display.  Watching movies, playing games and reading are all much more comfortable on the LG G3 thanks to the larger display."
On a 5.7-inch Galaxy Note 4 display this resolution equates to a 513 ppi spec, that should help deliver stunning detail on the Galaxy Note 4. Samsung is already bragging about the quality of a WQHD display, showing the added detail that this type of display can deliver. The Photo of two Samsung phones with birds on the screen above, highlight the added detail on the bottom device with a WQHD display. It is not unusual to see Samsung make a big deal about new technology before a new smartphone release.
The 5.5-inch iPhone 6 reportedly uses a 1704 x 960 resolution that will offer a 355 ppi rating. Of course there is more to these devices than comparing iPhone 6 and Galaxy Note 4 specs, but given Samsung's push for better looking displays this will likely be a major marketing point of the Galaxy Note 4.
Galaxy Note 4 Fingerprint Reader
The other interesting Galaxy Note 4 apk in this leak suggests we'll see a fingerprint reader and features listed with the rest of the Galaxy Note 4 specs. This is not surprising, as the Galaxy S5 offers this feature and rumors already pointed to a sensor built-in to the home button for unlocking and keeping apps and photos locked.
The Samsung Galaxy Note 4 design remains a mystery, but we expect to see the rest of the Galaxy Note 4 specs confirmed at IFA 2014 where rumors suggest Samsung will announce the new Galaxy Note smartphone in September. The Galaxy Note 4 release date will likely follow swiftly later that month or in October.