Samsung Galaxy Note 4: 10 Things You Need to Know Right Now
As we push deeper and deeper into the year, we're getting closer to an inevitable Samsung Galaxy Note 4 release. And with Galaxy Note 4 rumors swirling, it's time that we took a deep dive into the most important things that consumers need to know, right now, about the company's highly anticipated Samsung Galaxy Note 3 successor.
For much of 2013, we heard about the Samsung Galaxy Note 3, Samsung's rumored successor to the popular Galaxy Note 2. Galaxy Note 3 rumors were prevalent for much of the year and they offered details regarding the Galaxy Note 3's specs, its launch date and its elusive release date. Many of those rumors were confirmed when Samsung took the stage in early September and announced the Samsung Galaxy Note 3.
This year is playing out almost identical to last year. For much of the year, we've heard rumors about a Samsung Galaxy Note 4, a device that's expected to replace the Galaxy Note 4 and challenge top Android devices on the market including the LG G3, Samsung Galaxy S5, HTC One M8, Nexus 5, and more. It should also present opposition to the new iPhone release, expected to be the iPhone 6.
Samsung Galaxy Note 4 rumors have been rampant in recent weeks as we move closer to the fall release window for smartphone manufacturers. And while many Galaxy Note 4 details remain in the shadows, there are a number of Galaxy Note 4 specs and features that have firmed up ahead of its upcoming launch date.
With rumors swirling, we wade through them all and deliver the 10 most important things that consumers need to know, right now, about the Samsung Galaxy Note 4. Part rumor roundup, part early buyers guide, these pieces of information will help you prepare for the fall and the arrival of Samsung's brand new Galaxy Note 4, which, for the moment, is called Samsung Galaxy Note 4.
Samsung Galaxy Note 4 Launch Date All but Confirmed for September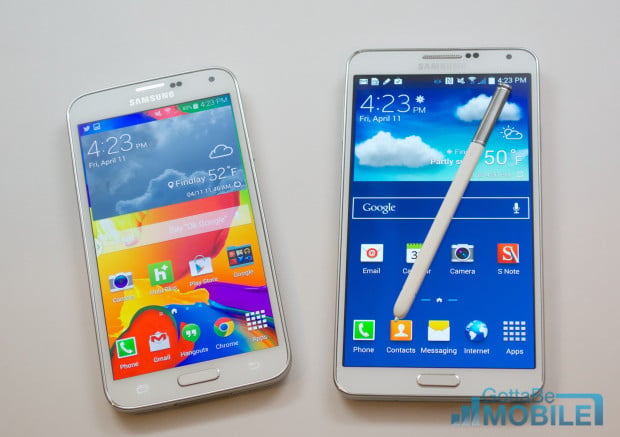 Maybe the most important thing you need to know right now about the Samsung Galaxy Note 4 is that it's a rumored smartphone. That means that everything and anything can change in the build up to its launch date. Including the launch date itself.
That said, it's clear that Samsung is preparing this device for a launch this fall, most likely in and around the IFA conference that it has used to showcase its last three Samsung Galaxy Note models. IFA 2014 kicks off in Berlin on September 5th though rumors suggest that Samsung could potentially announce the device a little earlier than that on September 5th.
We've seen the September and IFA rumor pop up too many times to dismiss it and at this point, consumers interested in the Samsung Galaxy Note 4 should prepare for a launch in early September. The company will most likely use an Unpacked 2 launch event, the Galaxy S5 launch was Episode 1, and it will likely send out invites a few weeks ahead of time so that consumers and the media have a bit of a heads up.
It would be shocking to see the Galaxy Note 4 arrive any later than IFA.
Galaxy Note 4 Release Date
Samsung Galaxy Note 4 release date rumors haven't popped up just yet. This isn't surprising. Samsung's release date rumor game typically doesn't start until after its announcement. The company is usually able to keep its release plans a secret ahead of time before divulging the pertinent information on stage during the launch event. That said, it's not hard to predict when we will probably see it.
The company usually releases its devices about a month after the initial announcement. And with the Galaxy Note 4 launch date all but confirmed for early September, we would imagine that the release will come sometime in September or in the month of October with September being the front-runner.
While that might be the case, know that Samsung is still at the mercy of carriers in the United States. U.S. carriers will often use a staggered approach to smartphone releases with some releasing earlier than others. While the Galaxy Note 4 release date remains a mystery, know that there is a chance that some carriers should see it sooner than others.
We would be surprised if the Samsung Galaxy Note 4 release in both the U.S. and around the world took place much later than mid-to-late September. It's clear, given its recent ads, that Samsung is scared of the iPhone 6. And with the iPhone 6 rumored for September, it doesn't leave Samsung with too much breathing room when it comes to a release.
iPhone 6 Release Date
Yes, the iPhone 6 is also all but confirmed for arrival in September. The device, which is expected to feature a 4.7-inch display and perhaps a 5.5-inch display as well, is rumored for September 19th or September 25th, putting it in the path of the Samsung Galaxy Note 4. If you're coming off-contract this fall, this is extremely important to note because the iPhone 6 figures to be one of the strongest releases of 2014.
iPhone 6 rumors point to a redesign, a larger higher resolution display, an upgraded camera, a new A8 64-bit processor, and the company's brand new iOS 8 update. It's a tempting package and one that prospective Galaxy Note 4 buyers should know about ahead of time, especially since we're just a few weeks away from launch.
Galaxy Note 4 Design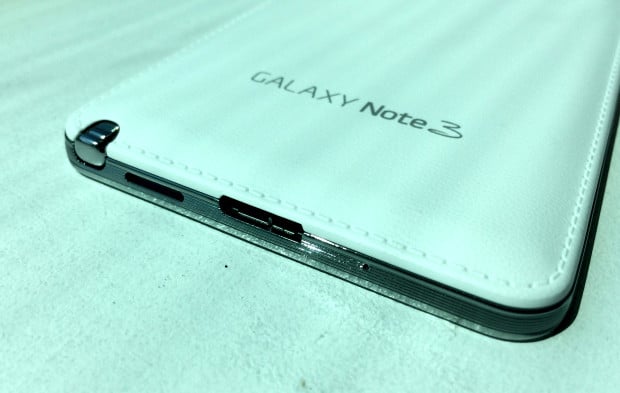 iPhone 6 design rumors have firmed but the Galaxy Note 4 design remains up in the air. We've heard little bits and pieces including rumors about an IP67 dust and water resistant certification and four colors (blue, gold, black, white), but the overall design remains in the shadows as we push closer to the Galaxy Note 4 launch.
Again, not surprising. Samsung always clamps down on design leaks and more often than not, we see the design leak out in hours ahead of the device's launch. It's impressive and a testament to Samsung employees, its supply chain, and the company's security.
We expect the same from the Samsung Galaxy Note 4 at this point and consumers should know not to put too much stock in design rumors ahead of time. Companies like Samsung will often make last second cuts or additions so consumers will simply have to accept the fact that they'll be flying into the Galaxy Note 4 launch almost completely blind.
High-Res Display on Par with LG G3
After Samsung launched a new Galaxy S5 with a QHD display, it became clear that the Galaxy Note 4 would have a new high-resolution display. It also helps that there is a mountain of evidence that suggests that the Galaxy Note 4 will almost certainly come equipped with a display that's on par with the LG G3's and bests the 1080p caliber display on the Galaxy Note 3.
QHD resolution will offer higher resolution gaming, something that's key on a device of this size, and it will also sharpen the look of movies, television shows and other content. As we noted in our review of the LG G3, QHD is more than just a marketing gimmick. Its the real deal and adds value to devices that possess the technology.
Rumors suggest that it will retain the same 5.7-inch display as the Galaxy Note 3 which makes sense given that it would slot in perfectly amongst Samsung's other smartphones including the 5.1-inch Samsung Galaxy S5.
Based on Samsung's history of smartphone displays, there is a very good chance that the Galaxy Note 4 will come equipped with one of smartphone displays of all time, something that will obviously be one of its strengths.
High Powered Specs a Given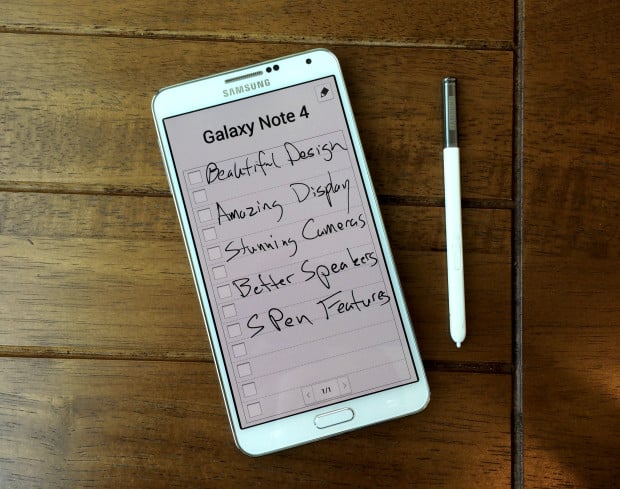 Know that you're going to get the usual slew of hardware upgrades as well. Samsung, like Apple, always upgrades its specs every year and the Galaxy Note 4 is looking no different.
The device is rumored to have a new 16MP camera with OIS, a 64-bit processor or perhaps a Snapdragon 805 in some areas including the United States, a fingerprint sensor or a Retina scanner for added security, 32GB of storage space, and a UV sensor that will monitor UV radiation as part of Samsung's continued push to a full body health and fitness solution.
Changes to the camera, processor, security, and sensors are all pretty much givens at this point. We fully expect the Galaxy Note 4 to be one of the most powerful smartphones on the market with a solid all-around feature set.
Expect New Software
Plain and simple. Know that if you buy the Galaxy Note 4, you're going to get the latest and greatest software features from not only Google but from Samsung as well.
Samsung never releases a device with an older version of Android. What this means is that it will either have Android L or Android 4.4.4 KitKat on board. With Android L rumored for later in the year, there is a very good chance that it will arrive with the latest version of Android 4.4 KitKat.
As for TouchWiz, well, know that you'll most likely be getting all or most of the upgrades that arrived with the Galaxy S5 on top of software changes to the Galaxy Note series' software which relies heavily upon the bundled S Pen stylus. We've see Samsung continue to make strides with its S Pen software and there i no reason to believe that the innovation will stop with the Galaxy Note 4.
Know that software will play a key role here with the Galaxy Note 4.
Prepare for Familiar Carriers
Rumor has it, the Samsung Galaxy Note 4 will arrive on the same five carriers that saw the Galaxy Note 3 and Galaxy Note 2. That means AT&T, that means Sprint, that means T-Mobile, that means U.S. Cellular, and that means Verizon. Smaller carriers haven't offered the Galaxy Note series in the United States and that probably won't change in 2014.
Nothing is confirmed just yet but at this point, consumers should know to start preparing as if the Galaxy Note 4 will come to the five major carriers and five major carriers only.
Don't Expect the Need to Pay Full Price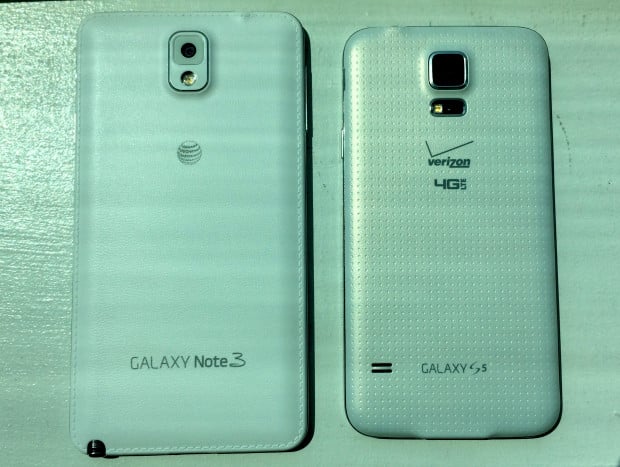 The Galaxy Note 4 price is still out of reach though the Galaxy Note series is usually priced at $299.99 on-contract. With a QHD display and other big time changes in store, there's a good chance that the price doesn't shift much. That said, consumers should know that the Galaxy Note 4 price will almost certainly take a hit on release day.
Know that this is how an Android launch works. Company announces device on stage, carriers announce a standard price point, and retailers undercut that price point on day one. Take the LG G3 for example. It saw day one price cuts and the device is now being sold for far less than carrier asking prices.
Start saving your money but keep this in mind once Galaxy Note 4 price rumors start surfacing in the weeks ahead.
Tons of Solid Competitors On Sale Right Now
Finally, you should know that there are a number of high-end competitors on the market right now. In fact, if you're strictly set on Android, the Galaxy Note 4's top competitors are likely already out on the market. Those devices include the HTC One M8, Samsung Galaxy S5, Nexus 5, LG G3, and the Galaxy Note 3 thanks to its price.
Familiarize yourself with these devices before the Galaxy Note 4 arrives and you'll be better prepared for when the device lands on shelves sometime during the fall. To do that, check out our reviews of each:

As an Amazon Associate I earn from qualifying purchases.