Galaxy Note 4 Specs: What to Expect
For months, rumors have detailed everything from the Samsung Galaxy Note 4 release date to the Galaxy Note 4 specs. With a launch date in sight, we want to take a look at what we expect from Samsung's new Galaxy Note and specifically, what we expect from the Galaxy Note 4 specs.
The Samsung Galaxy Note 4 has been at the center of the smartphone rumor mill since the beginning of the year. Over the past seven and a half months, we've seen Galaxy Note 4 rumors detail everything from the Galaxy Note 4 launch date to the Galaxy Note 4 release date to the Galaxy Note 4 specs. In particular, Galaxy Note 4 spec rumors have been rampant especially as we push towards September.
Samsung recently confirmed the Galaxy Note 4's launch date for September 3rd and it's there that the company will detail the Galaxy Note 4 specs, release date, and more for the very first time. Samsung's Unpacked event will take place in three different cities including New York, Beijing and Berlin. The company will provide a live stream for those not in attendance.
While nothing is confirmed, we have a pretty good idea about what to expect from the Samsung Galaxy Note 4 features including both its hardware and its software. Rumors have surfaced at an astonishing rate over the past three weeks and we've begun piecing together our own expectations of the Galaxy Note 4 spec sheet. And today, we want to share those expectations with you.
The Samsung Galaxy Note 4 will almost certainly be a powerful smartphone, maybe the most powerful the world has ever seen, and here we want to take a look at all of the fine details. Again, these predictions are based on credible rumors, Samsung's history and our gut. Here's what we expect from the Samsung Galaxy Note 4 specs.
New Design
First and foremost, we expect the Samsung Galaxy Note 4 to carry a brand new design. Samsung never keeps its designs for more than a year and we're expecting that trend to continue.
Samsung Galaxy Note 4 design rumors took off earlier this month thanks to a series of leaks that appear to show the Galaxy Note 4 in the flesh. GSMArena got its hands on some photos that appear to depict an unannounced Samsung smartphone that could be the elusive Samsung Galaxy Note 4.
The alleged Galaxy Note 4 photos show a device that's build primarily out of textured plastic. Around the edge, we see what appears to be a metal band, something that rumors out of Korea have suggested would indeed be a part of the Galaxy Note 4′s final design. While we were skeptical at first, the arrival of the Samsung Galaxy Alpha instilled some confidence in us and we are expecting Samsung to change things up with the Galaxy Note 4.
As we've pointed out numerous times, the change makes sense. Consumers have, for years, complained about Samsung's boring plastic materials. Last year's Galaxy Note 3, for instance, used a faux plastic leather back that simply wasn't as nice as the iPhone 5s' design or the design of the iPhone 5, a device that arrived all the way back in 2012.
In order to compete with the all metal iPhone 6, the Galaxy Note 4 needs a premium build. A combination of textured plastic and metal is a step in the right direction.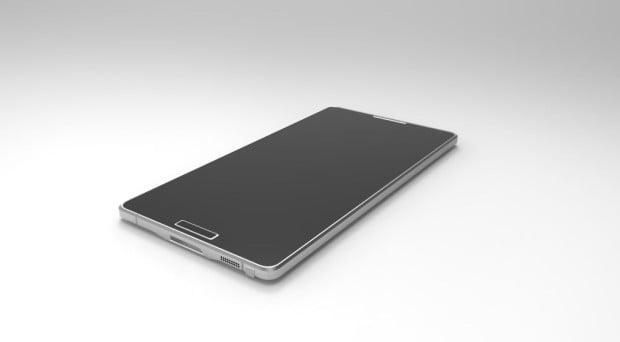 We expect this new design will be complemented by a ton of storage space, either in the form of a microSD card slot or several storage options that allows consumes to pick and choose. We also expect it to come in a number of different colors including gold.
Fingerprint Reader
We also expect the Samsung Galaxy Note 4 to include a fingerprint sensor, a sensor that would bring it up to par with the home buttons found on the iPhone 5s and Galaxy S5.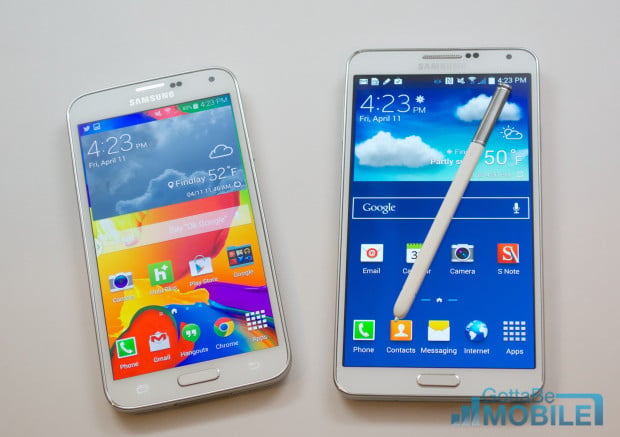 The Samsung Galaxy Note 4′s physical home button is rumored to include a fingerprint sensor, a feature that would add an extra layer of security and bring added convenience to Galaxy Note 4 users. The evidence is overwhelming and there's no reason to believe that this feature won't be baked into the Galaxy Note 4's design.
Large Resolution Display
At the very least, we expect the Galaxy Note 4 to come with a large high-resolution display. A large high-res display is a hallmark of the Galaxy Note series and a feature that helps separate it from the Galaxy S.
The Samsung Galaxy Note 4 is rumored to be coming with a large 5.7-inch QHD (Quad HD) display. QHD resolution will offer higher resolution gaming, something that's key on a device of this size, and it will also sharpen the look of movies, television shows and other content. Those unfamiliar can take a look at our buyers guide between the LG G3 and the Galaxy Note 3 below.
We expect Samsung to keep the Galaxy Note screen in and around 5.7-inches. As we've noted, if Samsung goes any bigger it pushes the Note further into niche smartphone territory. If it goes any smaller, it gets too close to the 5.1-inch Galaxy S5. The 5.7-inch screen provides excellent gaming, multitasking, and more than enough real estate for the S Pen, the device's stylus.
Impressive Processor
The Galaxy Note 4 will almost certainly come with an improved processor. The Snapdragon 805 appears to be the prime candidate for the United States while we could see a 64-bit processor emerge in other regions. Processing power is essential to the Galaxy Note series because of its focus on multitasking, gaming, and its S Pen stylus.
The Snapdragon 805 comes with a number of added benefits including a brand new Graphics Processing Unit (GPU):
The new Adreno 420 GPU in the Snapdragon 805 processor is the first commercial mobile GPU to introduce hardware tessellation and geometry shaders, which provide greater detail for visually stunning, realistic scenes and objects in a manner that requires less memory bandwidth and lower power consumption.
What this means is that we expect better looking gaming and perhaps, better battery life for a series that's already known for excellent battery life and gaming. The processor should also help to deliver great looking photos, multitasking, and fast download speeds thanks to a new modem.
Samsung always swaps out its processors year-after-year so there is no reason to expect anything different with the Galaxy Note 4. It needs to keep up with the times.
Solid Camera
As far as the camera goes, we expect the Galaxy Note 4 to come with a powerful sensor that's capable of shooting excellent video and photos. Like the processor, Samsung tends to upgrade the camera year after year in both the hardware and software departments.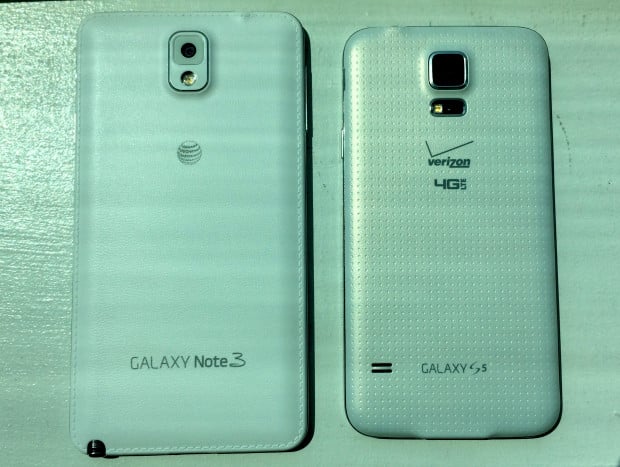 Earlier this week, a new report from SamMobile outlined all of the key details regarding the Galaxy Note 4 camera. The report aligned itself with earlier Galaxy Note 4 rumors that indicated that the Galaxy Note 4 would be coming with an upgraded 16MP camera, complete with Optical Image Stabilization technology, also known as OIS.
The Galaxy Note 4 is also rumored to be coming with a higher-end front-facing camera but at the very least, expect the Galaxy Note 4 to come with a better rear camera that's more on par with the sensors from 2014.
Important Sensors
Speaking of sensors, we expect the Galaxy Note 4 to include a couple of important sensors. We would be surprised if Samsung left a heart rate sensor off of the Galaxy Note 4's design. The Galaxy S5 comes with a heart rate sensor that allows users to track their pulse. It also ties into the company's brand new S Health 3.0 app that made its debut earlier this year. Samsung is clearly focused on fitness and a heart rate sensor would play a big role.
The Samsung Galaxy Note 4 will reportedly measure UV radiation as part of Samsung's continued push to a full body health and fitness solution. This supposed Galaxy Note 4 feature will alert users to unsafe UV Radiation levels to help protect the owner's skin from damage.
As we've pointed out, the feature could much more than bloat as it could allow the Galaxy Note 4 to alert owners when UV exposure is too high, so that they can wear the right clothing, sunglasses and sunscreen and get out of the sun when needed. We expect both of these to be on board the Galaxy Note 4's design as Samsung pushes its fitness apps and wearables during the holiday season.
S Pen
We haven't seen many S Pen rumors emerge but today's Samsung Galaxy Note 4 teaser all but confirms that one will be bundled with the Galaxy Note 4 when it arrives later this year.
https://youtu.be/RzTT7AIO3lA
The Galaxy Note 4 should come with the usual array of upgrades to the S Pen's software and this video seems to hint at some upgrades for note taking in particular.
Android 4.4 & New TouchWiz Features
We're expecting the Galaxy Note 4 to come with Android 4.4 KitKat and not Android L. Android L still hasn't left beta form and Nexus devices typically get Android updates long before other devices.
We've seen purported Galaxy Note 4 benchmarks and spec sheets turn up and the device is listed with both Android 4.4.3 KitKat and Android 4.4.4 KitKat on board. That could be because Samsung is testing both versions of the software though that remains unclear. Given that the Galaxy Alpha is coming with Android 4.4.4, we expect the Note 4 to come with Android 4.4.3 KitKat or later.
In addition to the changes to the S Pen's software, we expect some other changes to come with the Galaxy Note 4's software.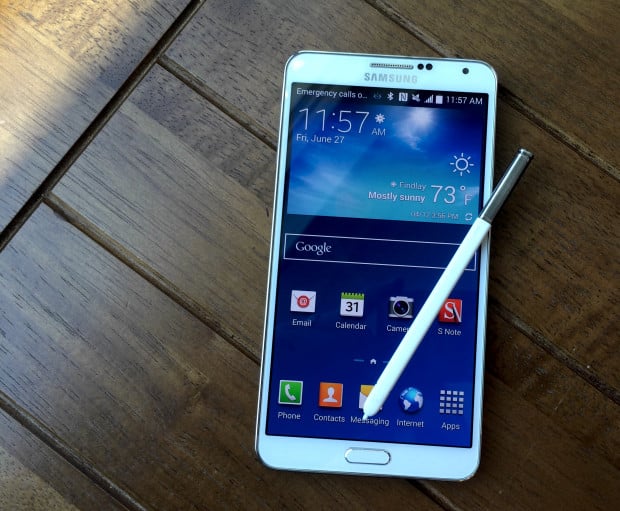 SamMobile also claims that the Galaxy Note 4 will be accompanied by a number of new camera features including a new gesture that allows users easy access when the phone is turned off and four new camera modes that are intended for selfies. Those modes are called Wide Selfie, Selfie, and Selfie Alarm.
Here is how those breakdown:
Wide Selfie: Will allow users to take a wide-angle selfie.
Selfie: This will supposedly allow users to take selfies simply by smiling or winking.
Selfie Alarm: This feature will force the rear camera to automatically detect and focus on a user's face during a selfie.
It looks like the Galaxy Note 4 will also gain the Galaxy S5′s camera features including HDR Live, Selective Focus, Fast Auto-focus. The Galaxy Note 4′s camera interface will supposedly be the same as the Galaxy S5′s as well. The source is credible and Samsung always improves its camera app with each smartphone release.
Expect these camera features to be just a piece of the TouchWiz puzzle.

This article may contain affiliate links. Click here for more details.