Galaxy Note 4 vs Galaxy Note 3: What Buyers Need to Know
With a Samsung Galaxy Note 4 release date getting closer, consumers are starting to weigh their current device and top devices against Samsung's next flagship smartphone. In this Galaxy Note 4 vs Galaxy Note 3 comparison, we take a look at the key differences buyers and upgraders should be aware of as we march deeper into the fall.
One month ago, Samsung took to the stage in Berlin, Germany and announced a handful of new products including the Samsung Galaxy Note 4, Gear VR, Gear S smartwatch, and a unique new product called the Samsung Galaxy Note Edge. The Galaxy Note Edge will be a part of the storied Galaxy Note series though it's unlike any Galaxy Note that's ever been released.
The Samsung Galaxy Note 4 may not come with a curved display but it's going to be the mainstream Galaxy Note option this fall. Like the Galaxy Note Edge, the Galaxy Note 4 comes with an array of powerful hardware specs, software features, and a release on a number of well known carriers in the United States and elsewhere.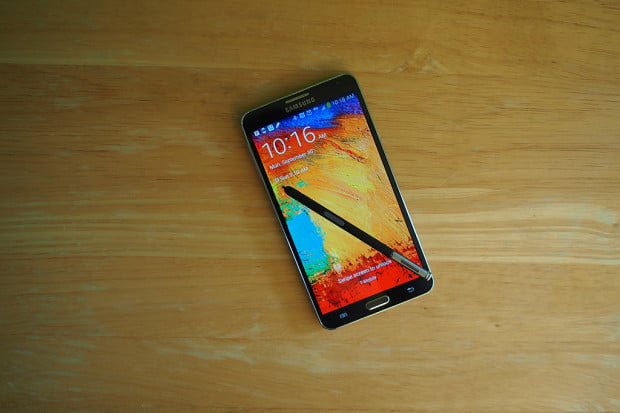 With a release date on the horizon, buyers around the world are starting to weigh the Galaxy Note 4 against the competition which includes the cheaper Samsung Galaxy Note 3 from last year.
The Samsung Galaxy Note 3 is Samsung's former flagship and a device that remains on shelves as a cheaper alternative to Samsung's upcoming Galaxy Note 4. It's a device that packs a number of solid hardware features, is in possession of Android 4.4 KitKat, and features an S Pen stylus that works similar to the S Pen found on the Galaxy Note 4. It's a smartphone worthy of attention buyers and it's a device that's still in the hands of many users, some of whom might be looking to upgrade.
This Samsung Galaxy Note 4 vs. Galaxy Note 3 comparison will address some of the key points that current owners and prospective Galaxy Note 4 buyers will want to keep in mind as we push toward the Galaxy Note 4 release date.
S Pen
If you are weighing the Galaxy Note 4 specs against the Galaxy Note 3 specs, there is one key feature that we think you need to be taking a very close look at. The first are the differences between the two S Pens. The S Pen is a key component for the Galaxy Note 4 and there are some key changes that Samsung made to its performance.
Samsung's made some significant improvements to this year's S Pen including increased sensitivity to make the note taking experience on the Galaxy Note 4 feel more like writing on paper. More sensitivity also leads to better looking text from handwriting. These improvements are not found on the Galaxy Note 3 and they probably will never find their way over to the aging former flagship.
Samsung's also made some significant improvements to the S Pen's applications including, Air Command, S Note and Voice Memo, and more. These improvements are going to be a core part of the Galaxy Note 4 experience and they're features that may not arrive on the Galaxy Note 3 in the future. It's not clear.
What you're going to need to decide is if these improvements are worth the extra price tag or the upgrade. These are going to be some of the Galaxy Note 4's most notable differences and with the S Pen experience vital to the Galaxy Note series in general, these are the features that we think you'll want to focus in on before you make a purchase or decide to upgrade.
Software Support
That's not to say that the S Pen is the only feature that prospective Galaxy Note 4 buyers need to know about in the build up to the Note 4's release.
Samsung typically supports smartphones for two years before kicking them to the curb. That could change with the improvements to hardware though we suspect that older devices will still lose out on updates and features. The Galaxy Note 3 is older than the Galaxy Note 4 and that's noteworthy for ugpraders and buyers.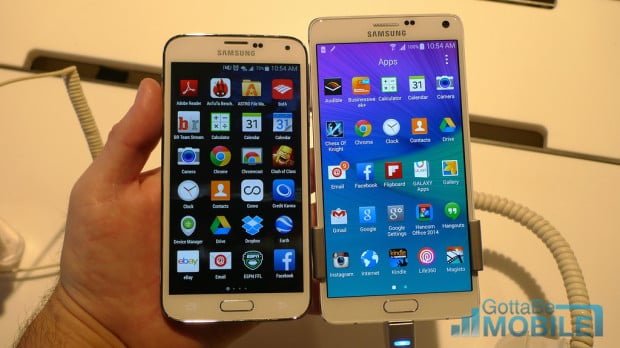 There is no guarantee the Galaxy Note 3 will get all of the S Pen's new features or any of the new TouchWiz features that are coming with the Note 4 including changes to Multi-Window View. Older devices tend to get bits and pieces of Samsung's new software but never the entire change log. Samsung needs to be able to sell its new products and software is a big part of that.
The other draw back is the length of software support. The Galaxy Note 3 has already received one year of software support, the Galaxy Note 4 isn't even out yet. We expect the Galaxy Note 4 to outlast the Galaxy Note 3 and that's something that you'll need to think about before jumping in with one or the other. If you can live with an early death, the cheaper Galaxy Note 3 price tag might be worth it.
Galaxy Note 4 Release Date
While it might be tempting to pull the trigger on one of these smartphones from the comfort of your own home, we advise you to wait until you can go hands on with the Galaxy Note 4. You can't go hands-on right now but that's going to change in a few short weeks as Samsung pushes the Galaxy Note 4 onto shelves around the world.
The Galaxy Note 4 release date in the U.S. is confirmed for October 17th. At that time, stores should have both devices stocked and demo units available. If you're able, go down to your local retailer and go hands on. This will allow you to test and compare the cameras, go hands on with the S Pen, absorb the difference in display quality (Note 3 features Full HD, the Note 4 features Quad HD), and decide which design feels more comfortable in one hand.
Feeling comfortable with you smartphone is absolutely critical and you won't be able to make that decision from behind a computer screen. Skip the Galaxy Note 4 pre-orders and go hands on in three weeks. You can thank us later.
Galaxy Note 4 Price vs. Galaxy Note 3 Price
As we've noted many times, the Galaxy Note 3 is cheaper than ever. For $99 or so on-contract, you can pick up a Galaxy Note 3 on most carriers. For a device as powerful as the Galaxy Note 3, this is a pretty big steal as it was originally priced at $299.99.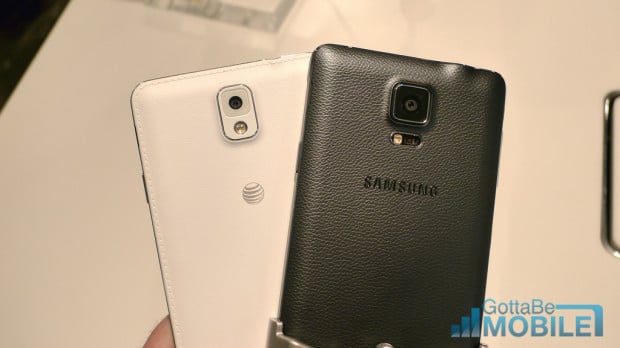 Prepare to shell out for the Galaxy Note 4. While we had to wait a few weeks, we now know that Samsung's Galaxy Note 4 will come with a familiar price. AT&T and Verizon will charge $299.99 for the 32GB Galaxy Note 4. Sprint dropped its price down to $299, it was originally at $350. T-Mobile charges $0 down for the time being while U.S. Cellular has yet to reveal its price. We expect its price to fall in line with the others though.
If you can wait a few weeks, you'll probably run into a few Galaxy Note 4 deals. Just another reason why you shouldn't pre-order if you're still trying to decide if you want to make the Galaxy Note 4 your next phone or not.