Galaxy Note 4 vs. Galaxy S5: What the Rumors Reveal Right Now
Sometime later this year, Samsung is expected to pair the Galaxy S5 up with a brand new Galaxy Note that's currently dubbed Samsung Galaxy Note 4. And as we get closer to the fall, we're starting to see consumers struggle with a very tough decision: Buy the Samsung Galaxy S5 now or wait for the Galaxy Note 4 to arrive before deciding. While we can't answer that question for you, we can help point you in the right direction and today, we take an updated look at how the rumored Samsung Galaxy Note 4 is stacking up with the Samsung Galaxy S5.
Every year, Samsung releases two flagship smartphones: The Samsung Galaxy S and the Samsung Galaxy Note. Last year, in April, Samsung released the Galaxy S4 to replace the Galaxy S3. Later in the year, in September, the company debuted the Galaxy Note 3, the replacement for the wildly popular Galaxy Note 2. This year, the cycle appears to be repeating itself as we've already seen one of the two make its arrival.
In April, the Samsung Galaxy S5 was released to replace the Galaxy S4. The device joins the Samsung Galaxy Note 3 in Samsung's fight against Apple and the iPhone and against fellow Android competitors like HTC and LG. And while the Galaxy S5 is expected to live on as one of Samsung's flagships, we're starting to inch closer and closer to a new Galaxy Note.
Samsung Galaxy Note 4 rumors have been rampant in recent weeks giving consumers a glimpse at what to expect from Samsung's upcoming successor to the Galaxy Note 3. In fact, we've started to see some Galaxy Note 4 rumors firm up ahead of its eventual launch, to the point where they are essentially all but confirmed.
Here, in an effort to provide clarity to those that might be struggling with a decision between the Galaxy S5 and Galaxy Note 4, we take a look at how the rumored Samsung Galaxy Note 4 is stacking up with Samsung's current Galaxy S flagship.
Design Differences + Similarities
Every year, Samsung changes the designs found on its Galaxy Note and Galaxy S. So, it should as no surprise that rumors keep insisting on some major design changes on the Galaxy Note 4.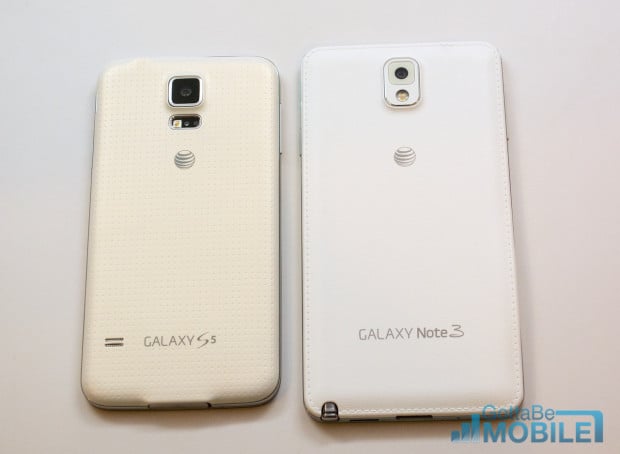 Galaxy Note 4 rumors have continually hinted at a brand new design. A Samsung executive recently said that the device would be coming with a "new form factor" but did not elaborate on the changes Samsung might be making. This "new form factor" could potentially be the three-sided display that recent reports say will be on one version of the Galaxy Note 4. Rumors point to two different models, one with a flat display and one with a curved display.
Samsung keeps its designs under wraps which means that we still don't know what the overall design will look like though a recent Galaxy Note 4 concept ropes in rumors and shows what one could look like with a three-sided display on board. The concept combines plastic and metal though the materials on the Galaxy Note 4 remain unknown. The Galaxy S5 design is dominated by a perforated plastic back matte material.
Rumors point to some similarities between the two designs. The Samsung Galaxy Note 4 design is thought to have the same IP67 certification found on the Galaxy S5. That would make the Galaxy Note 4 design dust and water resistant.
Design rumors also continue to point to a fingerprint sensor, another feature that the Galaxy Note 3 doesn't have, and a feature that would deliver added convenience and another layer of security to Samsung's powerful Galaxy Note series.
The Galaxy Note 4 fingerprint sensor is rumored to be improved from the Galaxy S5 fingerprint sensor that is embedded in the home button and requires a swipe to activate. Both of these features seem like a given at this point.
Supercharged Galaxy Note 4 Display
Samsung recently released a Galaxy S5 LTE-A with a QHD display but the high-powered display is only available in Korea and not in regions like the United States. While we could see Samsung deliver two versions of the Galaxy Note 4, it's looking like the Galaxy Note 4 display will come with two distinct differences in all markets.
The curved display is rumored to be coming to select markets while the flat Galaxy Note 4 variant is expected to be mass produced. Both models are rumored to have massive 5.7-inch displays and both are rumored to have QHD displays.
A shipping manifest from Zauba, discovered by SamMobile, appears to confirm the screen size of the Galaxy Note 4′s display and a User Agent Profile string for a SM-N910A, presumed to be the AT&T version of the Galaxy Note 4, has shown up on Samsung's website using a QHD display. Samsung recently installed a QHD display on a Korean variant of the Galaxy S5 so the feature does make a lot of sense.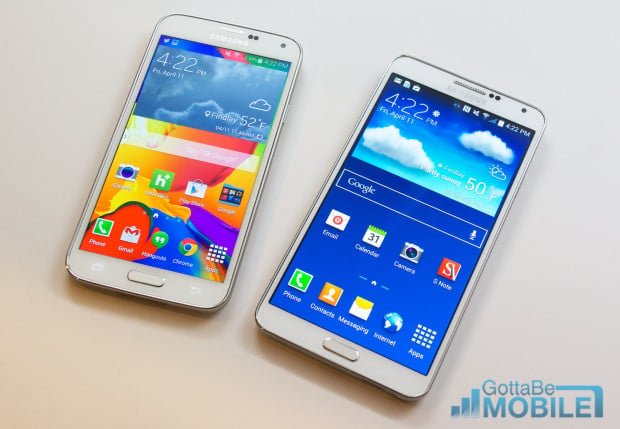 QHD resolution would offer crisper, better looking content, something that is essential for a big screen device like the Galaxy Note 4 that's designed with gaming and content consumption in mind.
The Usual S(us)pecs
Like the yearly design tweaks, Samsung also likes to upgrade the hardware on board its flagship devices. The Galaxy S5, for instance, offers more firepower than the Galaxy S4. It's something that consumers have come to expect every year from one of the world's largest smartphone manufacturers and it's something that's rumored for the Galaxy Note 4.
Samsung Galaxy Note 4 rumors continue to point to a faster processor, perhaps the Snapdragon 805 chip from Qualcomm or a new octo-core Exynos chip from Samsung. Average consumers will appreciate the power that a next-gen chip like the Qualcomm Snapdragon 805 delivers. After all, battery life, graphics power and high performance multitasking are all at the core of the Galaxy Note experience. In the U.S., the Galaxy S5 uses the last-gen Snapdragon 800 quad-core processor.
Rumors also point to an upgraded camera, somewhere between 12MP and 20MP, that could come with Optical Image Stabilization. OIS is found on many of Samsung's top rivals including the LG G3 and Nexus 5 and it's rumored to be coming with Apple's iPhone 6 camera later on this year. It's a feature that the Galaxy S5 camera does not have.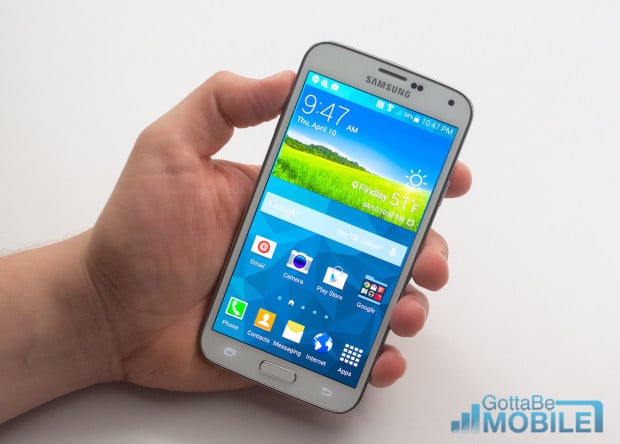 In addition to new hardware, Samsung always outfits its flagships with the latest Android software. For the Galaxy Note 4 that could mean the new Android 4.4.4 KitKat update or perhaps, Android L if it comes out early enough.
Android 4.4.4 KitKat serves as the current version of Android and it's an update that the Galaxy S5 is expected to get in the future. And while it could be the update that arrives on board the Galaxy Note 4, there is a chance that we could see the Note 4 come with something else, Android L.
Android L is Google's latest Android update and it delivers a number of high-powered features. Problem is, we don't know when it will be released. Rumors point to an arrival in the fourth quarter but that remains unconfirmed. Whatever the case, we'd expect the Galaxy Note 4 to get Android L before the Galaxy S5. Samsung's newest devices almost always are first to new Android software.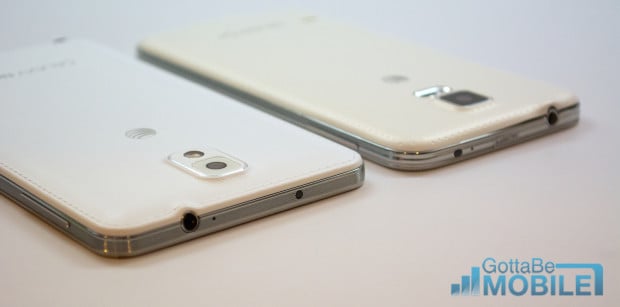 Of course, Android isn't the big story here. The Galaxy S5 and Galaxy Note 4 both run Samsung's TouchWiz software though thanks to the Galaxy Note's S Pen, the Galaxy Note's software is much different than the Galaxy S5's. While we expect S Pen upgrades, we haven't heard about any just yet.
What we have heard about though is that whatever version of Android the Galaxy Note 4 is running should be backed by powerful features from Samsung itself. Here is a list of four possible features we might see on the Galaxy Note 4:
Smart Fingerprint –  It wasn't fully detailed but it's assumed that it has something to do with being able to customize a fingerprint reader for certain actions.
Multi Network for Booster –  Could be similar to the Download Booster feature on the Galaxy S5 that combines Wi-Fi and cellular data for faster download speeds.
Swipe to Launch Motion Launcher –  Could be similar to Motion Launch on the HTC One M8.
Aqua Capture – Possibly similar to the Aqua Mode found on the Samsung Galaxy S4 Active. Aqua Mode allowed Galaxy S4 Active users to take photos underwater.
Given that the Galaxy S5 comes with a fingerprint sensor and water resistant design, it's possible that some of these features could appear for the Galaxy S as well.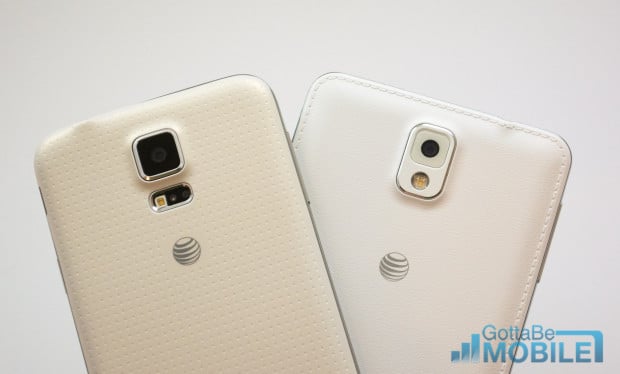 Finally, we've heard that the Galaxy Note 4 will come with 32GB of storage. If true, this would be 16GB more than the internal storage found on the Galaxy S5. The Galaxy S5 may only come in 16GB form but it does offer a microSD card slot that provides up to 128GB of expanded storage space. It's not clear if the Galaxy Note 4 will have a microSD card slot.
Galaxy Note 4 Release Date
Those trying to decide between the two are in for a bit of a wait. The Samsung Galaxy Note 4 release is all but confirmed for the fall. Furthermore, rumors suggest that it could come a little earlier this year.
All signs are pointing to a launch in and around IFA 2014. We've heard September 3rd thrown around and that's close to IFA's September 5th start date. At this point, given all of the rumors and the fact that Samsung executives have pointed to the fall, it's hard to imagine a Galaxy Note 4 launch outside of Berlin, Germany in September.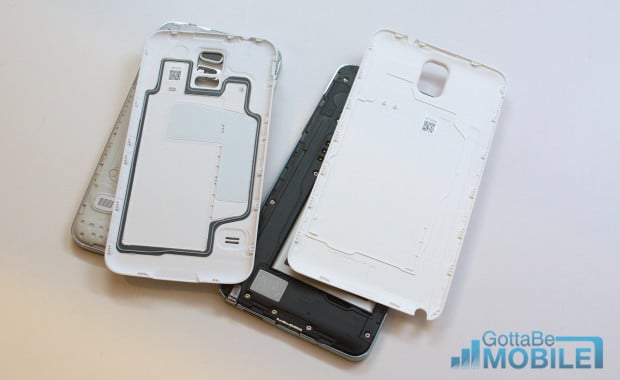 Samsung has, over the years, tightened up the gap between launch and release. Release dates usually come three to four weeks after a launch which means that we're looking at either September or October. A recent report claims that Samsung will push the Galaxy Note 4 out, worldwide, shortly after its launch at IFA. That could mean a matter of hours, it could mean a matter of days, it's not clear.
This is important because it means that we could be around two and half months away from being able to physically compare the two. It also means that we could be two and a half months away from some serious Galaxy S5 price drops.
The Galaxy Note 4 will likely cost $299.99 on-contract making it more expensive than the Galaxy S5. When it arrives, we should see retailers drop the price of the Galaxy S5 even further in an effort to keep it attractive. Something to keep in mind going forward.
Potential Galaxy S5 Advantage
The Samsung Galaxy Note 3 is limited to the five major carrier's in the United States. That list includes AT&T, Sprint, T-Mobile, U.S. Cellular, and Verizon. Rumor has it, there won't be any big changes are coming with the Galaxy Note 4.
Rumors point to a Galaxy Note 4 release on AT&T, Sprint, T-Mobile, U.S. Cellular, and Verizon which makes sense when you consider the fact that these five carriers launched the past two Galaxy Note models. If that's true, it means that we could see the Galaxy S5 hold an advantage when it comes to U.S. carrier options.
The Galaxy S5 is available on all five of those carriers but it's also available on an assortment of other carriers including MetroPCS, Boost and Virgin to name a few.

This article may contain affiliate links. Click here for more details.