Galaxy Note 4 vs. iPhone 5s: What Rumors Reveal Right Now
In the days, weeks and months ahead, many consumers are going to be wrestling with a particular decision: Buy the Samsung Galaxy Note 4 or the iPhone 5s. It's a question that consumers will continue to ask, even after the arrival of the iPhone 6. With Samsung Galaxy Note 4 rumors continuing to swirl, we can't answer this question yet but what we can do is take a look what those rumors say about its impending matchup with the iPhone 5s in an effort to point consumers in the right direction.
Each and every year, Samsung releases two flagship smartphones: The Samsung Galaxy S and the Samsung Galaxy Note. This year, in April, the company released the Galaxy S5 to replace last year's Galaxy S4. Later this year, the company is expected to release a new Samsung Galaxy Note 4 to replace the current Samsung Galaxy Note 3.
Samsung Galaxy Note 4 rumors have been rampant, to the point that many Galaxy Note 4 features have begun to firm up ahead of launch. And because they've firmed up to this point, we're able to take an educated look at how the Samsung Galaxy Note 4 should stack up next to some of the top competition. We've taken an early look at the Galaxy Note 4 next to the Galaxy S5 and the Galaxy Note 3 and now it's time to shift over to Apple's current flagship, the iPhone 5s.
Apple's iPhone 5s is still the top dog and will remain the top dog until the iPhone 6 arrives later this year. Even with the arrival of the iPhone 6, the iPhone 5s will remain a solid device and a Galaxy Note 4 competitor thanks to its solid hardware, its fantastic software support and a price tag that will likely become much more affordable.
Here, we want to take a close look at what Galaxy Note 4 rumors reveal about the upcoming battle between these two devices. While it's not definitive, the Galaxy Note 4 is still rumored, it should help consumers get a feel for what to expect from the matchup later on this year.
Design Differences + Similarities
When we compared the Samsung Galaxy Note 3 to the iPhone 5s, one of the big takeaways was that the premium iPhone 5s design, which features a slim (7.6mm) and lightweight (112 grams) form factor was, and is, far more impressive than the faux leather plastic form factor found on the Samsung Galaxy Note 3. From our review:
Despite the strides Samsung made with the Galaxy S4 design, the Galaxy Note 3 arrived with a love it or hate it plastic leather back, complete with fake stitching on the edges. Some users like this and thanks to thinner bezels and a thinner overall design, but next to the iPhone it's clear the iPhone 5s is on a different level.

Visually the iPhone 5s and Galaxy Note 3 are close enough to think of as equals, but the tactile feel of the iPhone 5s is what separates them. The aluminum and glass of the iPhone 5 deliver a premium feel that the Note 3 doesn't match. For users that don't hide the iPhone 5s away in a case, this is a big benefit for the iPhone 5s.
Samsung, unlike Apple, updates its designs every year. All three Galaxy Note designs are different. So, while the Galaxy Note 3 design may not matchup with the iPhone 5s design, there is a chance that the Samsung Galaxy Note 4 might.
Galaxy Note 4 rumors have hinted at some differences and at some key similarities. Rumors have continually hinted at a brand new Galaxy Note design. A Samsung executive recently said that the device would be coming with a "new form factor" but did not elaborate on the exact changes. This "new form factor" could potentially be the three-sided display that recent reports say will be on one version of the Galaxy Note 4. Rumors point to two different models, one with a flat display and one with a curved display.
We've heard rumors that Samsung could be shifting to more premium materials for its designs but the company keeps its designs under lock and key and the Galaxy Note 4 still hasn't leaked out.
More specifically, Galaxy Note 4 rumors hint at an IP67 certification (dust and water resistant) something that's on board the Galaxy S5 but isn't found on the iPhone 5s design.
Design rumors also continue to point to a fingerprint sensor, a feature that would deliver added convenience and another layer of security to Samsung's powerful Galaxy Note series. This is a feature that's found on the Galaxy S5 and it's a feature that the iPhone 5s design incorporates into the home button. Apple calls it Touch ID.
Finally, the Galaxy Note 4 is a Galaxy Note. Its design is going to feature a much larger footprint than the iPhone 5s design thanks to a large screen that users can pair with the an S Pen.
Supercharged Galaxy Note 4 Display
The iPhone 5s' display is a well documented 4-inch Retina Display with 16:9 aspect ratio. It's the same display that Apple introduced with the iPhone 5 nearly two years ago. Without question, the Galaxy Note 4 should have a larger display than the iPhone 5s and unsurprisingly, that's what rumors are telling us.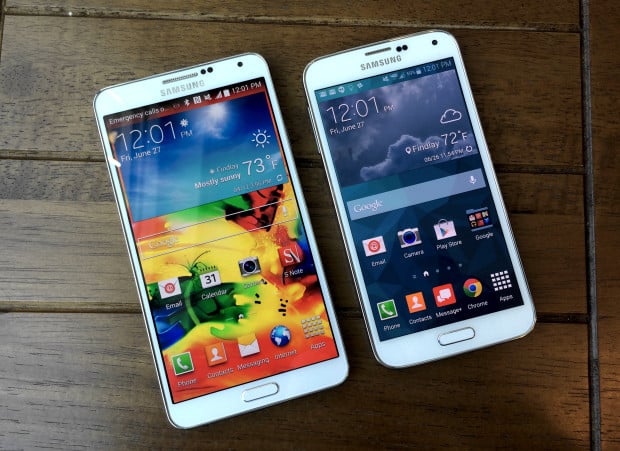 A shipping manifest from Zauba, discovered by SamMobile, appears to confirm a 5.7-inch screen size of the Galaxy Note 4′s display. This is the same size as the Galaxy Note 3's display. Furthermore, a User Agent Profile string for a SM-N910A, presumed to be the AT&T version of the Galaxy Note 4, has shown up on Samsung's website using a QHD display. Samsung recently installed a QHD display on a Korean variant of the Galaxy S5 so the feature does make a lot of sense.
As we noted in our LG G3 review, the addition of a QHD display brings some noticeable improvements to the table, primarily for games, movies and reading books and online periodicals. It's more than just marketing and the video below will give you some idea about how a QHD display would work on the Galaxy Note 4.
Big Time Specs + S Pen
The iPhone 5s comes with some very solid specifications. It offers a 64-bit A7 processor. Superb battery life. One of the best smartphone cameras on the market. It also comes in three sizes, 16GB, 32GB and 64GB.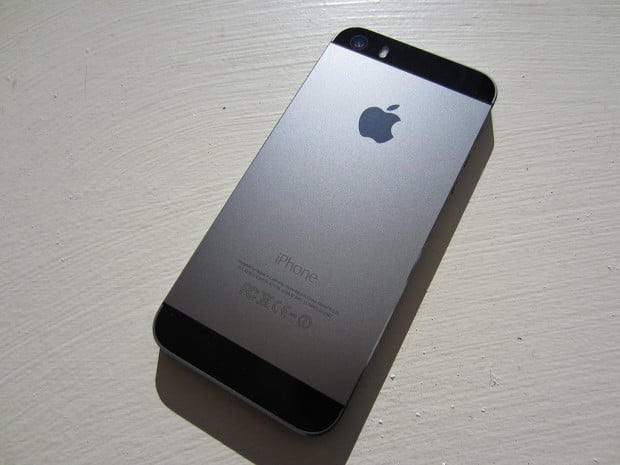 The Samsung Galaxy Note 4 will also be a powerful smartphone, there is no doubt about it. The Samsung Galaxy Note series is also amongst the most powerful devices on the market and from what we're seeing, this device has a chance to deliver a ton of firepower to consumers, something that should be intriguing to those that want to get a ton out of their smartphone.
Samsung Galaxy Note 4 rumors continue to point to a faster processor, perhaps the Snapdragon 805 chip from Qualcomm or a new octo-core Exynos chip from Samsung. Average consumers will appreciate the power that a next-gen chip like the Qualcomm Snapdragon 805 delivers. After all, battery life, graphics power and high performance multitasking are all at the core of the Galaxy Note experience.
Rumors also point to an upgraded camera, somewhere between 12MP and 20MP, that could come with Optical Image Stabilization. OIS is found on many of Samsung's top rivals including the LG G3 and Nexus 5 and it's rumored to be coming with Apple's iPhone 6 camera later on this year. It's a feature that the iPhone 5s camera does not have.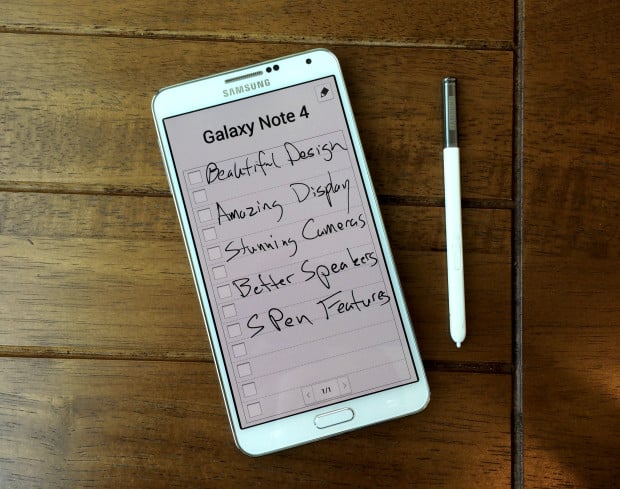 The device is also expected to feature 32GB of internal storage, similar to the Galaxy Note 3, which means that it will almost certainly come with a microSD card slot for expanded storage space. The iPhone 5s does not feature a microSD card slot.
We haven't heard anything about the Galaxy Note 4's S Pen yet but there is simply no way that Samsung is going to abandon the stylus that has helped the Galaxy Note series gain traction in the United States and around the world. This is speculative on our part but look for the S Pen to remain a key component of the Galaxy Note series.
Software = Main Focus
The iPhone 5s currently runs iOS 7.1.2, Apple's latest iOS 7 update, though in a few months it should be running the company's new iOS 8 software that it debuted at WWDC 2014 in June.
iOS 8 is going to look similar to the iOS 7 update that Apple released last year though it will come with minor design tweaks and a boatload of new features including improved notifications and more.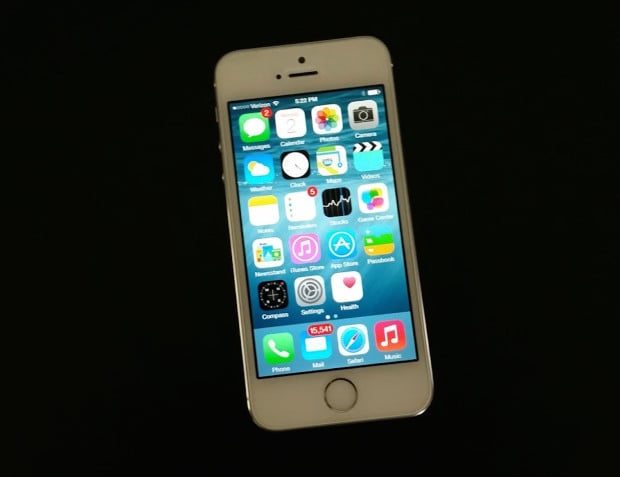 Samsung always outfits its flagships with the latest Android software. For the Galaxy Note 4 that could mean the new Android 4.4.4 KitKat update or perhaps, Android L if it comes out early enough.
Whatever the case may be, the Galaxy Note 4's software will look and perform much differently than the iOS 7 and iOS 8 updates on Apple's iPhone 5s. This is not only thanks to Android but also to TouchWiz, Samsung's UI.
We have heard about though is that the Galaxy Note 4's version of Android should be backed by powerful features from Samsung itself. Here is a list of four possible features we might see on the Galaxy Note 4:
Smart Fingerprint –  It wasn't fully detailed but it's assumed that it has something to do with being able to customize a fingerprint reader for certain actions.
Multi Network for Booster –  Could be similar to the Download Booster feature on the Galaxy S5 that combines Wi-Fi and cellular data for faster download speeds.
Swipe to Launch Motion Launcher –  Could be similar to Motion Launch on the HTC One M8.
Aqua Capture – Possibly similar to the Aqua Mode found on the Samsung Galaxy S4 Active. Aqua Mode allowed Galaxy S4 Active users to take photos underwater.
We'll almost certainly see some changes to the S Pen software as well.
Galaxy Note 4 Release Date
Those that need to physically compare these two are in for a bit of a wait. The Samsung Galaxy Note 4 release is all but confirmed for the fall though rumors suggest that it could come a little earlier this year.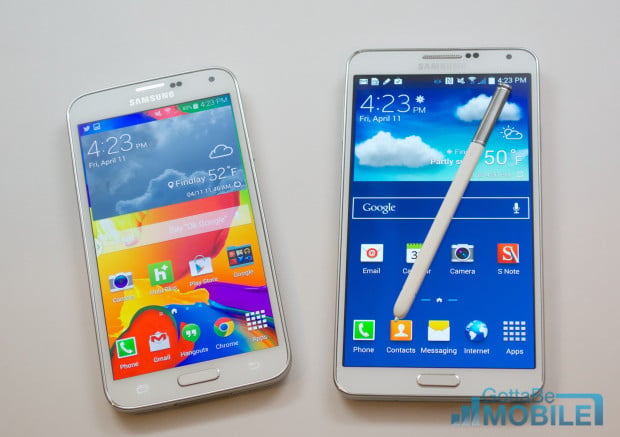 All signs are pointing to a launch in and around IFA 2014. We've heard September 3rd thrown around and that's close to IFA's September 5th start date. At this point, given all of the rumors and the fact that Samsung executives have pointed to the fall, it's hard to imagine a Galaxy Note 4 launch outside of Berlin, Germany in September.
Samsung has, over the years, tightened up the gap between launch and release. Release dates usually come three to four weeks after a launch which means that we're looking at either September or October. A recent report claims that Samsung will push the Galaxy Note 4 out, worldwide, shortly after its launch at IFA. That could mean a matter of hours, it could mean a matter of days, it's not clear.
2 Key (Potential) iPhone 5s Advantages
The Galaxy Note 4 will be the newer device and thus, it has more potential than the iPhone 5s. However, there are two key advantages the iPhone 5s could hold over the Galaxy Note 4.
First, price. The Galaxy Note series is always priced at $299.99 on-contract. We haven't seen Galaxy Note 4 price rumors emerge but with a loaded spec sheet, we can't imagine that we'll see a significant price drop.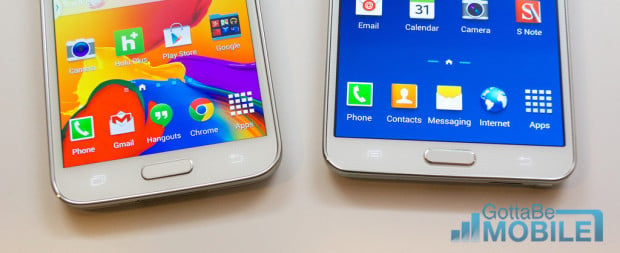 The iPhone 5s on the other hand will benefit from the iPhone 6's release. In fact, it has already benefited. We're already seeing iPhone 5s deals emerge ahead of the iPhone 6's arrival and we should see Apple or retailers commit to a larger price drop later this year when the new iPhone release arrives.
The other advantage is carrier choice. The Galaxy Note 4 is rumored to be heading to AT&T, Sprint, T-Mobile, U.S. Cellular, and Verizon but that could be it. The Galaxy Note series historically has been limited to major carriers in the United States. The iPhone 5s on the other hand is available on an assortment of smaller carriers and pre-paid carriers.

This article may contain affiliate links. Click here for more details.