Galaxy Note 4 vs. Nexus 5: What Buyers Can Expect
The Samsung Galaxy Note 4 launch date is confirmed for September 3rd which means that the Galaxy Note 4 release date is now in sight. Many consumers are starting to weigh Samsung's device as their next smartphone so we want to weigh the latest Galaxy Note 4 rumors against the top competition. Today, we want to compare the Galaxy Note 4 vs Nexus 5.
At the tail end of last year, we saw a flurry of smartphone releases. In September alone, we saw the iPhone 5s, iPhone 5c, and Samsung Galaxy Note 3. In the fall, Google took the curtain down from around its yearly Nexus smartphone and introduced the Nexus 5, a solid successor to the popular Nexus 4 from the year before.
For close to a year now, the Nexus 5 and Galaxy Note 3 have sat amongst the top Android smartphones on the market. And while the Nexus 5's successor appears to be several weeks away at least, the Samsung Galaxy Note 3 is just days away from getting replaced by the Samsung Galaxy Note 4, a high-end flagship smartphone.
The Galaxy Note 4 will arrive on September 3rd and there, we expect Samsung to confirm or scuttle many of the rumors that we've seen emerge in the past seven months. and do so with some powerful features on board. In the last month, we've seen Galaxy Note 4 specs and Galaxy Note 4 release date rumors emerge at a breakneck pace and as we've gotten closer to September 3rd, those rumors have firmed up.
These rumors allow us to make some early comparisons to current smartphones like the Nexus 5. Here, we want to do exactly that. Here's how we expect the Samsung Galaxy Note 4 to match up with the Nexus 5 in key areas. Our intention is paint as vivid picture for those that are trying to weigh the Galaxy Note 4 vs Nexus 5 as we head into September.
Galaxy Note 4 Release Date & Price
In August, Samsung confirmed the Galaxy Note 4 launch event for September 3rd. The confirmation came in the form of invites that summon the media to upcoming Unpacked 2014 Episode 2 events in New York City, Beijing and Berlin. There, the company is expected to detail everything from the Galaxy Note 4 release date to the Galaxy Note 4 specs. The company will be hosting a live stream so that consumers can get these details as they happen.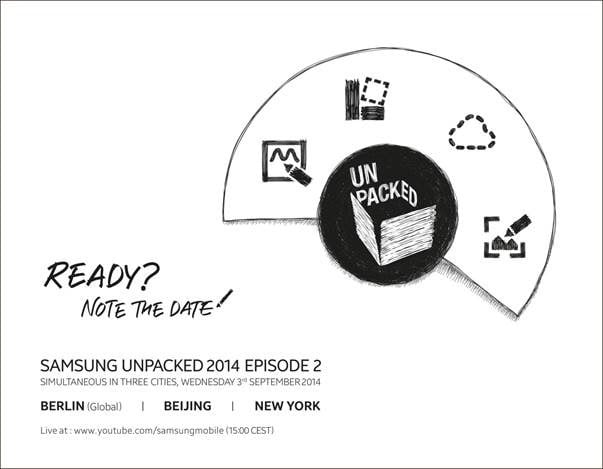 Galaxy Note 4 release date rumors have continued to point to a quick arrival in an effort to take on the iPhone 6. Rumors have singled out the week of September 15th as a possible launch window for the Galaxy Note 4 though a specific date hasn't been confirmed. At this point, it's difficult to expect anything less from the Galaxy Note 4 release.
What this means is that consumers can expect to be able to physically compare the Galaxy Note 4 to the Nexus 5, Google's current Nexus smartphone, and one of the top Android devices on the market.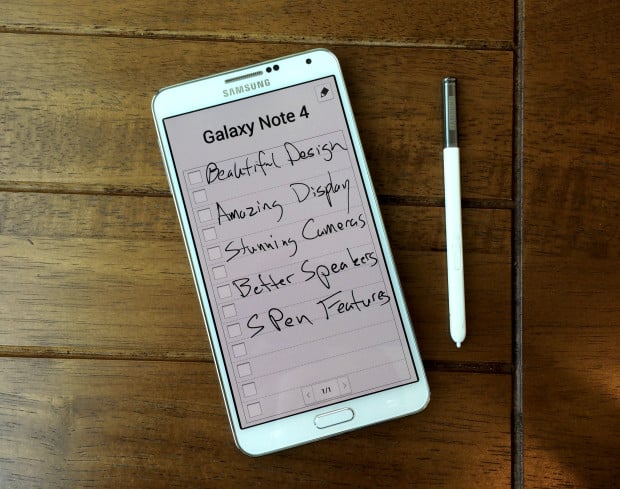 The Galaxy Note series has historically come with a $299.99 on-contract price, or, $100 more expensive than Samsung's Galaxy S. With all of the Galaxy Note 4′s rumored upgrades, and Samsung angling it has a device for the high-end market, we're not expecting a discount this time around which means that consumers should expect it to be much more expensive than the Nexus 5.
One of the Nexus 5's strengths is its price. Google sells it starting at $350. The 32GB is a little more expensive at $400. Keep in mind, those prices are off-contract, not on-contract.
We've started to see Nexus 5 deals pop up here and there as we press into the fall so we're expecting the Nexus 5 to be much cheaper than the Galaxy Note 4 is. The exact details remain out of reach but if you're looking to buy one of these, expect to pay more for Samsung's new smartphone.
Design Differences
Google's Nexus 5 design isn't anything special but it's a solid design nonetheless. It combines a slim form factor with a plastic matte back for a durable, elegant look. The device does not come with a microSD card slot for expanded storage nor does it come with a fingerprint sensor. The Nexus 5's design is basic and simply gets the job done.
To get a feel for the Nexus 5 design, take a look at the video below. It will run down the key features and provide a basic overview of the key components of Google's top smartphone.
There's no doubt that the Galaxy Note 4 will be a bigger phone than the Nexus 5. The Galaxy Note series always comes with a larger display that works in conjunction with the device's S Pen stylus. Rumors suggest that the Galaxy Note 4 will come with both a large display and S Pen so there's reason to believe that the Galaxy Note 4 will feature the bigger design. There will be some other differences as well.
Rumors out of Korea suggest that the Galaxy Note 4 could come with a metal frame. This is something that was recently backed up by an alleged Galaxy Note 4 photo-op that shows a device with a textured back with metal edges. We're still a bit skeptical but Samsung's recent Galaxy Alpha launch shows that the company is indeed committed to using new materials.
The new Samsung Galaxy Alpha design features a combination of plastic and metal and as we've pointed out, it could certainly be a foreshadow of what's to come. As we've pointed out, the change makes sense. For years, consumers have complained about Samsung's boring plastic materials and with an iPhone 6 threatening the success of the Galaxy Note 4, we expect Samsung to go big with its new Galaxy Note.
Design rumors also point to a fingerprint sensor, an IP67 certification (dust and water resistance) and the same four colors that debuted on the Galaxy S5 (blue, white, black and gold). We've also heard that it will come in 32GB in the U.S. The Nexus 5 does not feature any water resistant qualities though it does come in an assortment of colors including black, white and red.
Bigger & Better Display
Nexus smartphones are reference devices. What this means is that they are built to show off the power of Android. And what that means is that they typically come equipped with all of the latest and greatest hardware specs.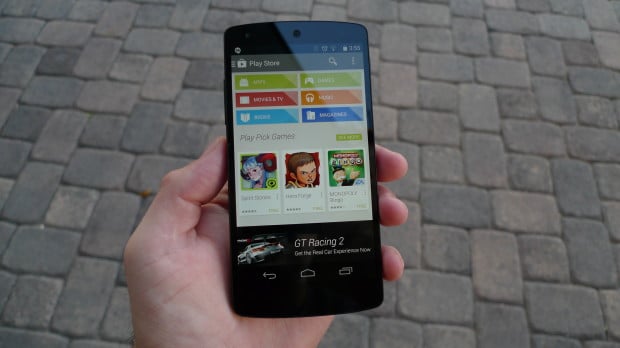 In 2013, 1080p displays were the big thing. So, it was no surprise when the Nexus 5 arrived with a beautiful 5-inch 1080p display. Even now, we love the Nexus 5 display for its quality and for its size. A 5-inch smartphone screen truly is the sweet spot because it allows for easy one-handed use and provides a ton of real estate for gaming, watching videos and more.
Let's just cut to the chase. We expect the Galaxy Note 4 display to be both bigger, and better, than the Nexus 5's. This year, it's all about Quad HD resolution. We've seen it arrive on the LG G3, a device that can be seen in action in the video below, and we're expecting it to emerge for the Samsung Galaxy Note 4's display as well.
Samsung's Galaxy Note 4 is heavily rumored to be coming with a large 5.7-inch QHD (Quad HD) display. Quad HD resolution will offer higher resolution gaming, something that's key on a device of this size as it will also sharpen the look of movies, television shows and other content. The LG G3 screen blows the Nexus 5's away and given Samsung's prowess with displays, we expect the Galaxy Note 4 display to do the same.
Nexus 5 vs. Galaxy Note 4 Specs
Here's a breakdown of the latest Samsung Galaxy Note 4 specs:
3-4GB RAM
Android 4.4
5.7-inch QHD display
NFC
The Galaxy Note 4 is expected to feature a larger sensor at 16MP with Optical Image Stabilization, auto-focus and dual-LED flash. More specifically, it appears that Samsung will equip the Galaxy Note 4 with a 16MP Sony IMX240 camera sensor with OIS technology. The Nexus 5's camera is an 8MP shooter that also utilizes OIS technology. OIS helps to cut down shakiness in photos and video.
Google's Nexus 5 camera was never the greatest and even now, with software enhancements in hand, it's nowhere close to the top. It's just not a reliable camera. We can't say what the Galaxy Note 4 camera will bring but we do expect it to be better than the Nexus 5's.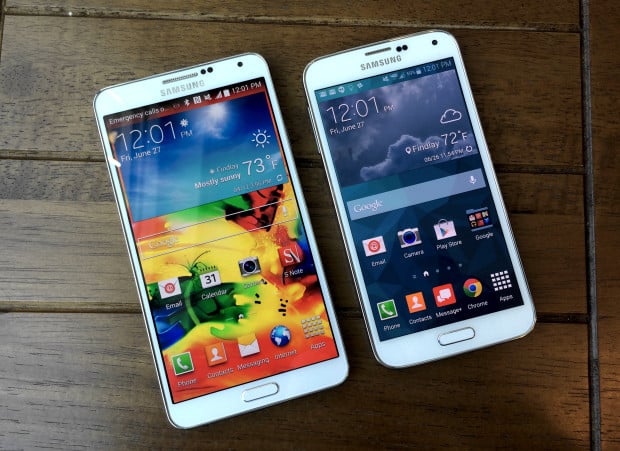 We're also expecting a new UV sensor that will tie into Samsung's S Health application and provide readings on UV levels. As we've pointed out, it's a feature that could save your life. It might also come with a heart rate sensor like the Galaxy S5. These are features that the Nexus 5 doesn't have on board.
We're also expecting a new processor inside the Galaxy Note 4 and it's looking like that processor will be the Snapdragon 805 from Qualcomm. According to Qualcomm, the Snapdragon 805 comes with a number of added benefits including a brand new Graphics Processing Unit (GPU):
The new Adreno 420 GPU in the Snapdragon 805 processor is the first commercial mobile GPU to introduce hardware tessellation and geometry shaders, which provide greater detail for visually stunning, realistic scenes and objects in a manner that requires less memory bandwidth and lower power consumption.
Translation: Better looking gaming and perhaps, better battery life for a series that's already known for excellent gaming and all day battery life. The processor should also help to deliver great looking photos, multitasking, and fast download speeds thanks to a new modem. The Nexus 5's Snapdragon 800 is solid but we expect the Galaxy Note 4 to offer more horsepower.
Carriers
The Samsung Galaxy Note 4 is rumored for AT&T, Sprint, T-Mobile, U.S. Cellular, and Verizon. Same as the Samsung Galaxy Note 3. We don't expect to see smaller carriers hop on board the Galaxy Note 4 bandwagon.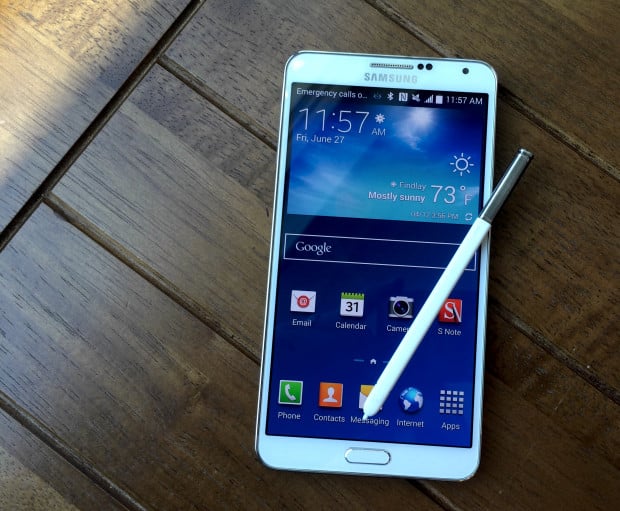 Google's Nexus 5 is also limited. In the U.S., it's compatible with AT&T, Sprint and T-Mobile. U.S. Cellular and Verizon are out of the picture. The consolation prize is that the Nexus 5 is extremely cheap unlocked.
Nexus 5 vs. Galaxy Note 4 Software
The Nexus 5 and Samsung Galaxy Note 4 will both run Android but there are going to be some massive differences between the two. The Nexus 5 runs a stock, vanilla version of Android. It's Android at its plainest and it's a version of Android that many consumers prefer to the user interfaces that accompany Samsung's smartphones.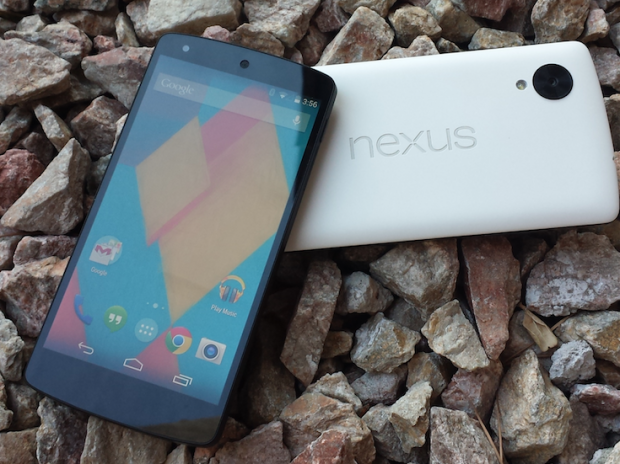 Samsung's Galaxy Note 4 should come with an S Pen which means that we expect it to run a modified version of Samsung's TouchWiz UI that incorporates S Pen related software features. If you're not familiar with how the S Pen works on the Galaxy Note series, take a look at the video below.
We're expecting Samsung to upgrade the Galaxy Note 4′s S Pen software though we should also see it introduce some changes to the overall look and feel of TouchWiz as well.
Keep in mind, Google's Nexus devices get Android updates before everyone else. So in other words, expect the new Android L update to hit the Nexus 5 long before it hits the Galaxy Note 4.

This article may contain affiliate links. Click here for more details.