Galaxy Note 5 & Galaxy S6 Edge Plus Release Confirmed
The Samsung Galaxy Note 5 and the huge curved Galaxy S6 Edge Plus are finally official and coming soon. For months on end we've heard the rumors, and this morning live in New York City Samsung just announced its two new smartphones for the fall of 2015, and one has a unique curved 5.7-inch display.
Today, just moments ago Samsung executives took the stage and finally announced and confirmed two brand new smartphones we've been following for months. In previous years the Samsung Galaxy Note series has always been revealed in September at IFA in Berlin, and released around October, but this year Samsung's pushing a much quicker release to take on the iPhone 6s.
Read: 5 Trade-In Tips for Note 5 Buyers
Samsung has just announced the impressive new Galaxy Note 5, the successor to last years highly successful and popular Note 4. However, the excitement is around the second device with curved edges on both sides of the display. Read on for all the details as they're announced live.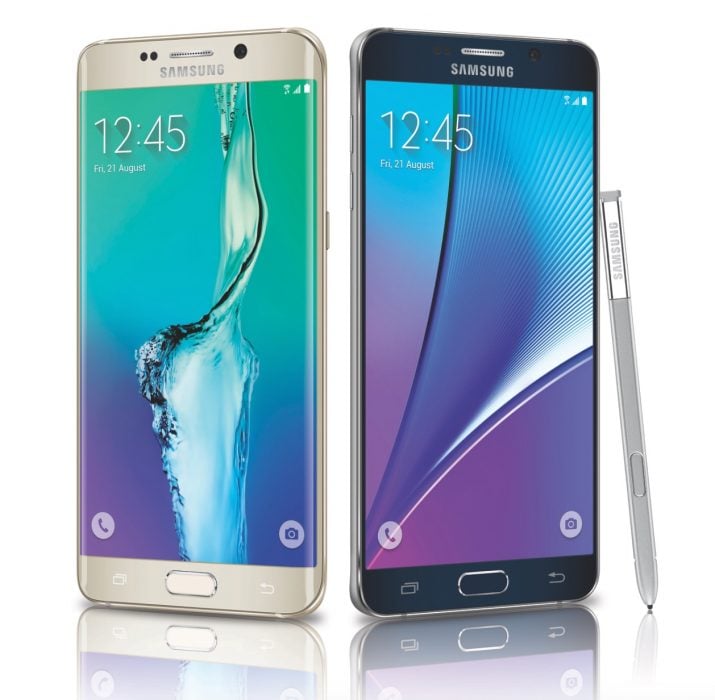 The Galaxy Note 5 and Samsung Galaxy S6 Edge Plus are two high-powered Android smartphones loaded with the top specs in the mobile industry, and a stunning design to go with them. Just as expected, the new Galaxy Note 5 is very similar to the Galaxy S6 released earlier this year. That means Samsung ditched the cheap plastic design they've used for years in favor of an entirely new premium design consisting of aluminum and glass.
However, the new premium design many consumers have been begging to have for years also comes with some compromise. The new Samsung Galaxy Note 5 (and the Edge Plus) don't have a micro-SD slot or a removable and replaceable battery. Two staples in all prior Samsung smartphones that has separated them from the competition for years.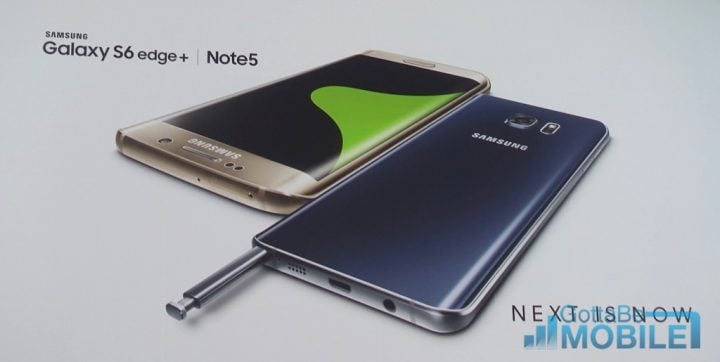 The Samsung Galaxy Note 5 and the new Galaxy S6 Edge Plus both have tons to offer, and we'll have plenty of photos and hands-on video later. For now, here's the details Samsung's announced so far.
Samsung Galaxy Note 5 Specs
5.7-inch 2560 x 1440 Quad-HD S-AMOLED Display
Samsung Exynos 8-core processor with 4GB of RAM
32 or 64GB storage options (no Micro-SD support)
16 Megapixel OIS Camera (like the Galaxy S6)
5 Megapixel front-facing camera
Android 5.1 Lollipop with Samsung TouchWiz
Premium Galaxy S6-like all glass and aluminum design
Fingerprint scanner
3,000 mAh battery
Fast Wireless Charging
S-Pen Stylus
more
This year the all-new Galaxy Note 5 has a much improved fingerprint scanner that's faster and more accurate, similar to the Galaxy S6. An improved camera, the latest version of Android, and of course a much improved design. However that comes with sacrifices. As you can see the battery has been decreased from 3,220 mAh like last year, and removable, to a smaller non-removable 3,000 mAh battery.
Galaxy S6 Edge Plus Specs
5.7-inch Quad HD Curved AMOLED Display
16MP rear camera / 5MP front-facing camera
Exynos 7420 octa-core processor
4GB of RAM (Regular S6 Edge has 3GB)
32 or 64GB storage
Android 5.1.1 Lollipop
Fingerprint scanner

3,000

mAh

battery

Fast Wireless Charging
No S-Pen
Samsung just announced both smartphones live in stage here in New York City, confirming all the rumors we've been hearing for months on end, and they match the photo leaks too.
So far we've yet to hear information regarding actual carrier support, but Samsung just confirmed the Galaxy Note 5 and Galaxy S6 Edge+ will both hit all major US carriers on August 21st, and pre-orders are available starting today. Stay tuned for more details, photos, and hands-on video.

As an Amazon Associate I earn from qualifying purchases.