Galaxy Note 5 Leaked Ahead of Release Date
With the Samsung Galaxy Note 5 launch date confirmed for August 13th in New York City, the rumors are in full swing. For months leaks and reports have been floating around, including some images, but today our first live photos of the Galaxy Note 5 have surfaced giving us a look at the phone. This leak also confirms some bad news regarding features.
Over the course of the last four years each Galaxy Note launch has arrived in September, with the smartphone being released in October. However, in 2015 the phone will be here sooner than many expected, and now we're getting our first solid look at Samsung's latest phablet weeks ahead of the release date.
Read: Galaxy Note 5 vs LG G4: What We Know So Far
These aren't the first images we've seen of Samsung's new Note, but this time they're actually of the device out in the wild and being used by a tester, which means this is likely a final version of the product that will be announced next week. Read on for more details and additional photos of the new Samsung Galaxy Note 5.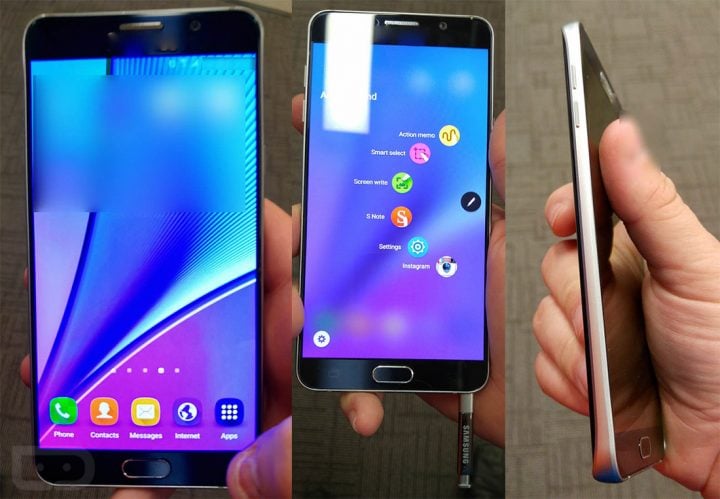 Some press photos emerged over the weekend from famed leakster @evleaks, but now we're getting actual images of the Galaxy Note 5 up close and personal. The leakster was able to share a few important specs and details about what this phone will, and won't have.

Just like the Samsung Galaxy S6 that was released earlier this year, the new Galaxy Note 5 looks to deliver the same premium look and feel. Samsung has ditched the plastic design in favor of chamfered aluminum edges and glass covering the front and rear of the device. However, that comes with tradeoffs. The Galaxy S6 didn't have a micro-SD slot or a removable battery, two things every Galaxy smartphone has offered for years.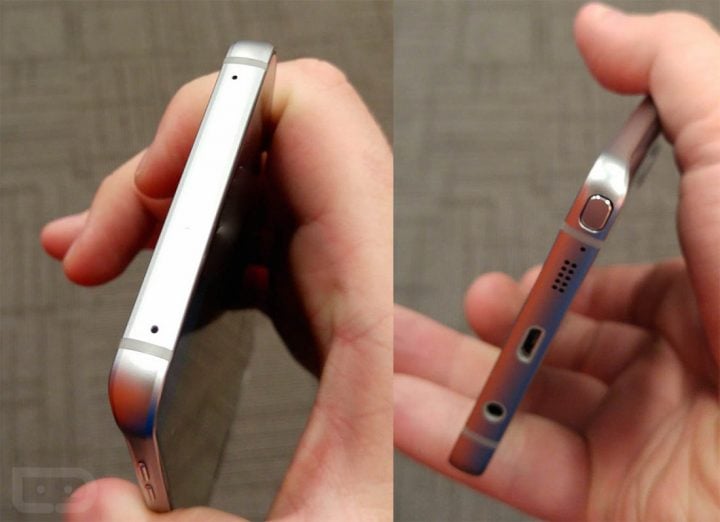 Looking at the photos above, comments from the leakster, and reports from earlier rumors all seem to suggest the same bad news for potential Galaxy Note 5 buyers. This leakster confirms the Note 5 does not have a micro-SD slot, but it should have the same 32/64/128GB storage options from carriers as the Galaxy S6.
That isn't all either. The popular infrared sensor on the top of all Galaxy S and Note devices for years, used as a remote control for an array of devices, is also missing from the new Galaxy Note 5. This is an odd thing to remove, considering its popularity, and because Samsung kept it for the Galaxy S6.
Those few things aside, the new Galaxy Note 5 is stacking up to be one of the best smartphones released in 2015. Here's everything we know so far.
Galaxy Note 5 Specs (Rumored)
5.7-inch 2560 x 1440 Quad-HD S-AMOLED Display
Samsung Exynos 8-core processor with 4GB of RAM
32, 64, 128GB storage options (No Micro-SD slot)
16 Megapixel OIS Camera (like the Galaxy S6)
8 Megapixel front-facing camera
Android 5.1 Lollipop
Premium Galaxy S6-like all glass and aluminum design
Fingerprint scanner
IR Sensor missing, but UV and Heart Rate Sensor still included

3,220

mAh

battery (this leak says 3,000

mAh

battery)



S-Pen Stylus
more
This leak once again confirms the new spring-loaded S-Pen stylus, and also confirms a regular micro-USB charging port on bottom, not a USB Type-C port as earlier rumors suggested. One thing worth mentioning is this leak states the battery will only be 3,000 mAh in size, which is the smallest battery of any Galaxy Note. This is likely due to the new glass and aluminum design, but many buyers will likely be upset to see battery life go backwards, not forward.
In closing, we've also been hearing the Galaxy Note 5 won't be alone next week. Samsung will reportedly also launch a new Galaxy S6 Edge+ with a big 5.7-inch display with curves on both sides, similar to the Note Edge released in 2014. This device will be very similar to the Galaxy Note but missing the S-Pen stylus, and have a few differences that resembles the Galaxy S6 lineup, not the Note.
So far all reports and rumors suggest the Galaxy Note 5 will be announced and released in August, not a month later like previous years, and we're hearing August 21st for AT&T and others. Stay tuned for more details, and we'll be live in New York City with all the details as they're confirmed.

This article may contain affiliate links. Click here for more details.