Galaxy Note 5 vs Galaxy S6 Edge Plus: 5 Key Differences
In early August Samsung unveiled its latest and greatest smartphones. The Samsung Galaxy Note 5, and the big curved Galaxy S6 Edge Plus. These two top-tier 5.7-inch powerful Android smartphones may look the same at first glance, but there are some important differences users will need to be aware of.
On August 13th at the annual Samsung Unpacked event in New York City, Samsung announced both of these phones, successors to the Galaxy Note 4 from last year and a bigger more powerful and better version of the Galaxy S6 Edge released in April. Essentially Samsung has delivered an excellent consumer device for those who want the big Note experience, without all the S-Pen features, bloatware, and other changes.
Read: Galaxy Note 5 Hands on Video
The new Samsung Galaxy Note 5 is a fantastic smartphone built out of all glass and aluminum. It no longer feels like a cheap plastic Samsung phone, but same goes for the Galaxy S6 Edge Plus. That isn't all though, so read on for a few things that separates these two impressive new phones from one another.
On paper and at first glance both of these phones seem the same, but in reality there are two major differences. One being the S-Pen stylus with the Note 5, and the curved screen on the Galaxy S6 Edge Plus. This causes one to be thicker and heavier than the other, and a few other design changes. Oddly enough the Note 5 is curved on back, making it easier to hold than the Galaxy S6 Edge Plus, but more on that below.
Both of these phones look and feel wonderful. Made out of an aluminum unibody design, glass on the front and back, and beautiful Black, White, Gold or Titanium Silver colors. The 5.7-inch screen is one of the best we've ever seen, and the 16 megapixel camera picks up right where the Galaxy S6 left off. Which means it's one of, if not the best camera on any smartphone available today.
Read: Galaxy S6 Edge Plus Hands-On
For consumers both of these phones look very similar and don't seem very different. And to be honest, they aren't all that much different. However, there are two clear use cases here. Business, and pleasure. The Note 5 has that stylus and tons of productivity tools, while the Galaxy S6 Edge Plus has curves on the screen that look cool, add shortcuts to contacts and often used apps, and is more for personal use. That said, the slideshow below will breakdown everything potential buyers need to know.
Galaxy Note 5 vs Galaxy S6 Edge Plus: Display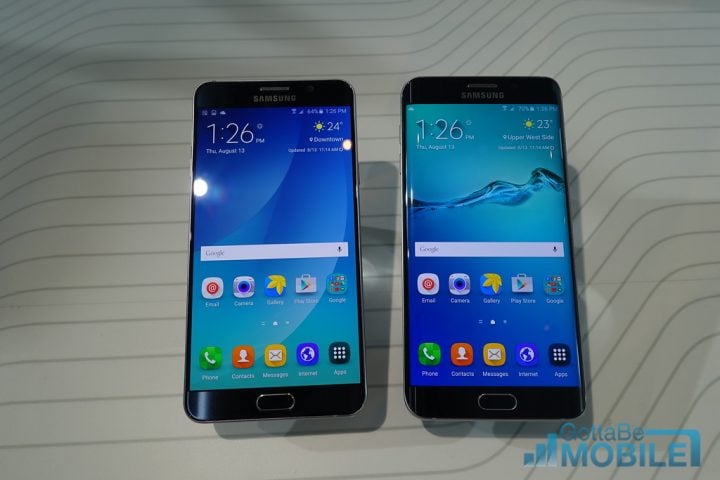 Both of these phones have the same 5.7-inch Quad-HD 2560 x 1440 AMOLED display, and they look simply stunning. Crisp, clear, sharp, and inky black. Everything from blacks to colors are some of the best we've seen.
However, the big thing you'll need to know is the Galaxy Note 5 is a normal device, while the Galaxy S6 Edge Plus screen is curved on both sides. In all honesty it made the device somewhat hard to use, as I accidentally slid out the little tray on the curved edge a few times, or my hand touched it and taps weren't recognized, not to mention it feels kinda sharp in your hand.
At the same time the Galaxy S6 Edge Plus is slightly lighter, thinner and more narrow, which could make it easier to hold for some. It's like the curve and design tweak is a pro and a con. I guess it depends on what the user wants.
The Edge certainly looks cool and will turn some heads, but the Galaxy Note 5 is more practical in my opinion.

As an Amazon Associate I earn from qualifying purchases.