Galaxy Note 5 vs Galaxy Note 4: 5 Things to Know in May
In May, we've started to see Samsung Galaxy Note 5 rumors emerge at a breakneck pace teasing smartphone enthusiasts and smartphone buyers. With the month coming to a close, we want to take a look at the five most important things you need to know about the inevitable Galaxy Note 5 vs Galaxy Note 4 matchup.
The Samsung Galaxy Note 4 is still one of the top smartphones on the market thanks to its impressive array of features. The device will remain one of the best Android phones for the foreseeable future as Samsung works behind the scenes preparing its successor.
As we've moved away from the Galaxy S6 release, we've started to hear more about a Galaxy Note 4 successor and what Samsung has in store for the Galaxy Note series in 2015. Galaxy Note 5 rumors are rampant but so are rumors of another device, a Galaxy S6 Edge style version of the Galaxy Note Edge.
Samsung's new Galaxy Note isn't confirmed but thanks to these rumors and leaks, we have a pretty good read on what to expect months ahead of the device's launch date. Nothing is confirmed until Samsung takes the stage but we have enough to start making some early comparisons.
This comparison focuses on the most important things to know about how the current Galaxy Note 5 rumors compare to the Galaxy Note 4. The Galaxy Note 5 vs Galaxy Note 4 matchup isn't set in stone but this quick outline of what we've seen in May will help set your expectations as we push deeper into the year towards a Galaxy Note 5 release.
You're Going To Be Waiting Awhile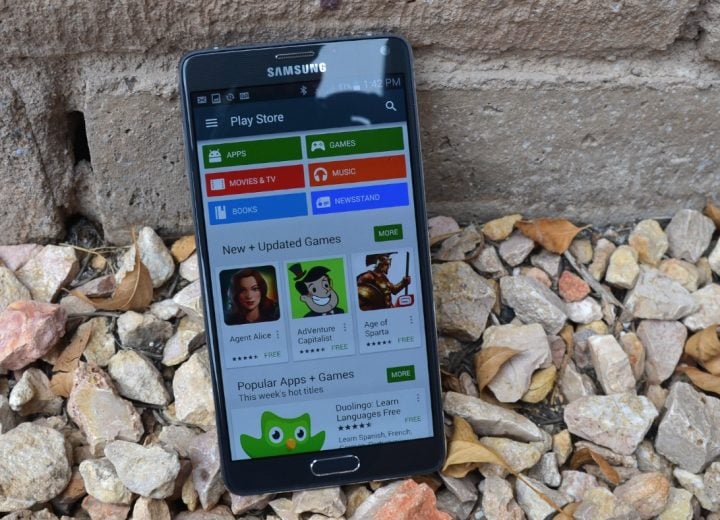 It's May and you're interested to hear how the Galaxy Note 5 is stacking up with the Galaxy Note 4 so far. Well, the first thing that we'll tell you is that we still have a long way to go before the Galaxy Note 5 rumor cycle matures and a long way to go before the Galaxy Note 5 is announced. In other words, we're still very early in the process.
Earlier this month, a report from Korean outlet WhoWired Korea made the rounds and it outlined some potential Galaxy Note 5 launch details. The publication claimed that Samsung would expedite the Galaxy Note 5 release in an effort to combat the rumored iPhone 6s and iPhone 6s Plus.
The report also claimed that the company planned to finalize the Galaxy Note 5 in June and start taking Galaxy Note 5 pre-orders soon after. It said that the launch would coincide with the arrival of Samsung Pay, Samsung's Apple Pay competitor.
Seems Samsung caught wind of the report because Samsung's JK Shin took the time to dismiss the rumors. He didn't elaborate but he didn't have to. The fact that he addressed these rumors is unusual and our guess is that he is trying to set consumer and investor expectations accordingly.
Samsung always announces the Galaxy Note at IFA and IFA kicks off on September 4th. There's no reason, at this point, to believe that it will announce anywhere else. So, if you're thinking about buying the Note 4 or the Note 5 or both, you're probably going to be looking at the Galaxy Note 4 for several more months at least.

This article may contain affiliate links. Click here for more details.