Galaxy Note 7 vs Galaxy Note 4: What We Know Right Now
Note 7 vs Note 4: Specs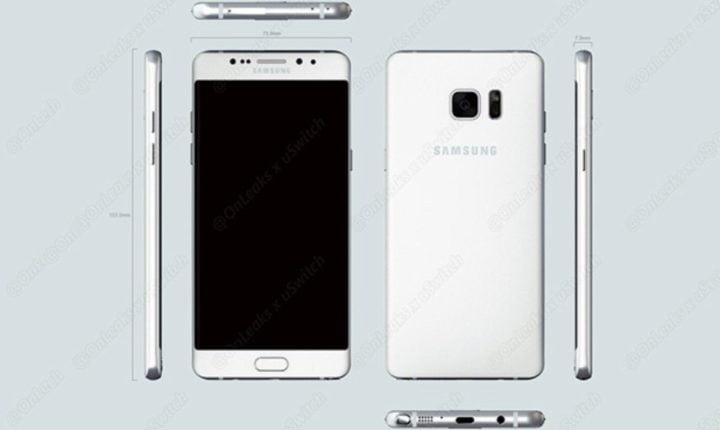 For now none of the specs or features have been confirmed, although @evleaks revealed some important info recently, and countless leaks have mirrored the details below. That said, they are subject to change or be slightly off when the phone is announced.
Galaxy Note 4 Specs

5.7-inch 2560 x 1440 Quad-HD Display
Samsung Exynos 8-core processor with 3GB of RAM, or Snapdragon models
32GB storage and a micro-SD slot
16 Megapixel Rear camera with OIS, 3.7 megapixel front camera
3,220 mAh battery with Fast Charging, Wireless Fast Charging
Android 5.1.1 Lollipop & TouchWiz (some on Android 6.0)
Swipe-based fingerprint scanner
Plastic design, removable back and battery
S-Pen Sylus
more
Galaxy Note 7 Specs (Rumored)
5.8-inch 2560 x 1440 Quad-HD Display (or 5.7-inch, Might be curved)
Samsung Exynos 8-core Processor (US may have Snapdragon 823)
6GB RAM for improved multitasking and performance
64GB Storage with micro-SD support to expand storage
Android 6.0 Marshmallow (possibly Android 7.0 Nougat)
12 DualPixel Camera with IOS, f/1.7 aperture, more
5-8 MP Front Camera with f/1.7 aperture
Premium all metal design
Fingerprint Scanner, Samsung Pay, USB Type-C port
Iris Eye Scanner technology
Integrated S-Pen Stylus
4,000 mAh Battery with Fast Charge, Fast Wireless Charging (or 4,200 mAh)
IP68 dust and water resistant
more

As you can see the phone will be much better. Double the RAM for improved performance and multi-tasking, a bigger battery (some reports claim 3,600 mAh), an IP68 dust and water resistant rating, better design, USB Type-C port with faster charging technology and a few other things.

The Note 4 had Samsung's awful Swipe-based fingerprint reader that didn't work very well. They've since perfected it and the Note 7 should have one of the best fingerprint scanners on the market. On par with, or better than the iPhone. Just tap, unlock. Samsung's also adding an Iris Eye Scanner, near the improved front camera, that should be faster and more secure than a fingerprint sensor.

All of this means the Note 7 will be better than just about every phone Samsung has ever released, as expected, and check nearly every box on the spec sheet for potential buyers.

This article may contain affiliate links. Click here for more details.