Galaxy Note II v. Droid DNA: A Tale of Phablet Twins Separated At Birth on Verizon's Network
On paper, with their quad-core processors, capaciously large displays, and fast 4G LTE mobile broadband support, the Galaxy Note II by Samsung and the Droid DNA by HTC appear similar enough to conquer the premium, high-end phablet space. And while that's true, the user experience of these two twins are far more dissimilar than they are similar with each having their own strengths and weaknesses. Both are highly capable devices that are mostly unmatched by many other rivals in the space, and both will find a home on Verizon's expansive LTE network in the U.S. So how are they different? And is one better than the other?
Testing Units.
The Verizon Galaxy Note II was not available at the time of testing, so we're using our AT&T Galaxy Note II, which will largely be a similar experience on Verizon's network, minus some software changes. AT&T's edition comes with a few AT&T-branded apps, and we're guessing Verizon will pre-load its own Note II with its own branded apps in lieu of AT&T's additions. The majority of the experience will be similar, though, with S Pen functionality and the Samsung customizations on top of Android 4.1–you can read our Galaxy Note II review for specifics. We will be comparing the AT&T Note II against the HTC Droid DNA on Verizon.
We'll have a review of the Droid DNA up soon, so if you're looking for an in-depth review, you should wait for that. This piece is intended as a comparison between the two leading phablets on Verizon's network at this time.
Sheer Performance.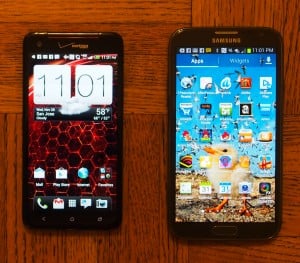 Both the Note II and the Droid DNA are equipped with a 4G LTE modem that will connect to some of the fastest mobile broadband networks available today with advertised download speeds up to 15 Mbps and upload speeds between 2-5 Mbps. That should rival some fast DSL and basic cable wired modem services in the U.S.
Additionally, both units are powered by quad-core processors, and in use, the experience–even with the HTC Sense 4+ interface on HTC's unit and the TouchWiz UI on Samsung's handset–was blazing fast with smooth, effortless transitions and animations. Samsung's unit is powered by a home-grown Exynos brain while the HTC phablet gets its smarts from a Qualcomm Snapdragon S4 Pro processor, making it a cousin to the LG Nexus 4 and the LG Optimus G.
Performance through popular benchmarking utilities available freely on Google's Play Store shows that both the Snapdragon S4 Pro and the quad-core Exynos yielded similar performance results and any marginal difference is really negligible. 
Moreover, both devices are equipped with large, bright, vibrant HD displays.
In terms of sheer performance, for late 2012 and into early 2013, it just doesn't get any better than this.
Displays are the Windows Into a Phone's Soul.
If the eyes are the windows into the human soul, the display is the equivalent of the eyes for a phone or tablet. Both the Droid DNA and the Note II are equipped with HD displays, and on paper, the 1080p full HD resolution on the Super LCD 3.0 panel of the Droid DNA takes the lead, edging out the 720p resolution HD Super AMOLED panel of the Note II.
The Droid DNA's panel also takes the lead with color accuracy and outdoors view-ability under direct sunlight whereas the Note II's often shows over-saturated colors (though there are settings on the phone where you can tone down the color saturation on the display), which makes for a more attractive screen at initial impression where colors pop but the display's color rendering is not as accurate as on the Droid DNA.
Also, with a smaller 5-inch display, the Droid DNA's pixels are more compressed together leading to an even sharper screen that's also boosted by the extra pixels afforded with a 1080p display. In reality though, with the best 720p HD display, many users won't be able to discern the difference between a 1080p display and a 720p display when the phones are held comfortably at a normal distance from one's eyes. If you're fully zoomed out on a text-heavy page with a lot of fine text, like the desktop view of the New York Times webpage, you'll be able to discern that the Droid DNA will render things a lot more sharply, but that's pushing the limits.
All in all, when it comes to display at that screen size, you're really getting a highly diminished marginal return, speaking in economics parlance, for going with a 1080p. Cool? Yes. Much better? Not so much.
Delivering the Tablet Experience on a Phone.
With a larger display–most phones have a display size that is shy of 5 inches–many prosumers will expect these devices to deliver a tablet user experience, or tablet UX. Some of these include multitasking, multi-windows, multi-panes, and delivering content that doesn't look like something that has been designed for a 4-inch phone that is now stretched to fill a 5-inch plus display.
To that end, both phones have their own strengths and weakenesses.
With the Droid DNA, you're getting a device where you can adjust the overall system font size. While some other devices boast a similar feature, HTC's Sense UX really shines and does a fantastic job of font size adjustments at the system level here. Going to an extra large font size, people with bad vision can really read small fonts inside their Gmail lists or browse messages with font that's displayed like a large print book.
Another enhancement that HTC has created is with the Notes app, which was originally created with the HTC Flyer, a 7-inch tablet that makes use of HTC's Scribe Magic Pen, an active digitizer. HTC attempted to create a tablet PC user experience meets the Livescribe Smart Pen by combining rich audio recording that syncs to handwritten or typed notes so you get both audio and visual notes. Additionally, you can import photos and screenshots to create a multimedia-rich notebook that can synchronize with calendar entries and even be synchronized to the cloud via Evernote.
But HTC's tablet UX really stops here. You won't be getting a multi-pane view in landscape mode, even for HTC-created apps like the Mail and Messaging apps. And icons aren't spaced any closer or created any smaller, so you're getting essentially the same number of rows and columns for icons both on the home screen(s) and via the app drawer–essentially a stretched out smartphone display to fit the 5-inch screen without many changes. You do get Android's excellent multitasking engine and also the Android multitasking capacitive-touch navigation key on the bottom of the display. You won't, however, be able to run multiple apps simultaneously, and that's where the power of the Note II kicks in.
In the post-PC era described by Steve Jobs, the Note II really is the best in mobile computing at this time with a form factor that is still small enough to be used as a phone and easily toted while large enough to still be a tablet and enable productivity on the go.
Like HTC's Notes app, Samsung has created similar features through the company's S Note application, which unlike HTC's implementation, works with an active digitizing stylus called the S Pen, which allows for more accurate drawings and note capture on the larger 5.5-inch display. Coupled with handwriting recognition and the ability to record audio notes that are synchronized with the handwritten, typed, or drawings created, the S Note app really is a mobile rival to Microsoft's OneNote application and gives this small device a lot of tablet PC power. You can easily create shapes for organized mind-mapping charts by scribbling squares and circles, and the software will interpret which polygon you're trying to doodle.
Samsung also extends its tablet UX further. Switching the Mail and Messaging apps into landscape, and you get a two column, or multi-pane, view, with the left column giving you a list of your mail or message and the right re-sizeable column allowing you a preview of items so you don't have to jump back and forth between viewing a message and seeing a list of all messages. It's a nice touch, but I wish Samsung had implemented HTC's font size display adjustment to make this feature even more useful.
And what's a PC experience without windows? Not 'Windows,' the brand, but windows as in panes for apps with chrome borders that you can either resize and/or move around? Even on a 5.5-inch display, it's possible with the Note II, though U.S. devices will require a carrier-approved software update to enable this feature and thus far only Sprint has maximized its version of the Note II with a Multi-Window display.
With Multi-Window, or multi-screen, you can run two apps side-by-side either top and bottom or left and right in landscape mode. This allows you to juggle browsing the web and checking email. At this time, not all apps are compatible with Multi-Window, but a good enough number of stock apps are that make this utility useful.
There's also pop-up windows as well. So far, the only two pop-ups are a pop-up browser. When you're in your mail app, for example, and you want to click on a link someone sent you to 'preview' and skim it, rather than dedicate your full attention to the content of the link, you can open the link in a pop-up browser. It's a small, moveable browser on your display that you can close out of and get back to your main task, which is the email. Pop-up video is the same concept and allows you to play videos in a window while juggling a more important task, allowing for multitasking in a simultaneous manner.
And then there's Air View. Essentially, hovering your pen over select content will yield added functions, similar to hovering your mouse on a desktop over something. On the web, you can hover over drop-down menus and it will expand those menus, which is something that mobile browsers have struggled with before. In an email list, hover over a message and you get a pop-up preview that disappears once you move your pen away from the screen. Hover towards the bottom or top of a list and you automatically scroll.
As a capable PC replacement, the Galaxy Note II also has a feature called USB on-the-go, or USB OTG. That allows you to add a dongle to the micro USB port on the bottom of the phone to connect peripherals like a memory stick to view files.
It's the desktop-like user experience that makes the Note II stand out as a truly mobile computer in the post-PC era and clever software tweaks help users to simultaneously multitask. It's a device that begs you to be productive, to create content, and to communicate and at the same time, simultaneously, sit back and relax and consume content like through pop-up video windows. 
The Magician's Wand.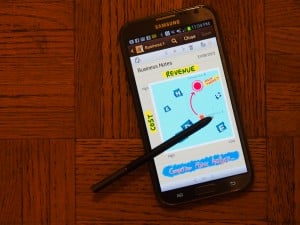 Even on a cramped 5.5-inch display–compared to the 10.1-inch panel on the Galaxy Note 10.1–the Galaxy Note II's S Pen affords more functionality to the phone that makes the device more practical and useful. For artists who are sketching on the go, or for chemistry or math students jotting down chemical structures or calculus equations, writing with the pen is simply more accurate and far more elegant than trying to maneuver the display with a finger. And this isn't just a $20 capacitive touch stylus that you'll find off the shelf at Best Buy, it's an active digitizer with varying pressure sensitivity. In use, the pressure sensitivity is over-advertised and I've only experienced several levels at best of sensitivity, not the multi-hundred that Samsung is promoting. Still, it's an accurate and productive feature, even if you use it occasionally.
This experience is lacking on the Droid DNA. Even the LG Optimus Vu, which is also available on Verizon's network, comes with what appears to be a capacitive touch stylus of some kind Rubberdium pen.
Pro Qualities.
With 2 GB of RAM on both models, multitasking will be a cinch. What really differs between the two models boils down to design.
Whereas HTC focused on a sleeker design thanks to a unibody enclosure, Samsung went for functional over form with a removable battery door that opens up more features.
Though both devices are capped with 16 GB of on-board storage, at least the Note II is as well through U.S. carriers, the Note II's removable battery door allows for two functionality that the Droid DNA lacks: the ability to add more storage, up to 64 GB, with a microSD card slot, as well as the ability to change batteries.
Given the 1080p full HD display, HTC should rightfully get slammed for crippling the Droid DNA with a meager 16 GB of storage and no ability to augment that. That means you can't take as many HD movies on the go, you can't swap SD cards, and you really have to either rely on the cloud or really manage the content you take with you.
Photographer's Companion.
Camera performance on both units are generally extremely good, though results are mixed with HTC stealing the lead in certain cases and Samsung winning the show in others. Here's how it breaks down:
Both devices are equipped with 8-megapixel rear cameras with the ability to record 1080p video. In general, Samsung adds a little color pop to the camera captures, giving images a nice vibrancy. On the HTC unit, you have a slightly wider angle lens, which means you're able to capture a little bit more of the scene in than with the Samsung unit. The Samsung lens is a bit sharper, in my testing, than the HTC lens when you're blowing pictures up and viewing it on a large canvas while HTC's F/2.0 aperture makes for better low light image captures. In bars and shots where you're not using the flash, HTC will give you a cleaner image with less noise than Samsung.
In terms of the front-facing camera, if you're taking a lot of self-portraits, the wide-angled lens of the front camera on the Droid DNA will allow you to either video conference with more people in the shot or capture your mug with more of the background and scenario.
For camera phones, both units have their merits and I think they both do well in various settings. The camera differences are negligible for most and you should take other things into consideration given how well the camera performs on both units.
Design and pocketability.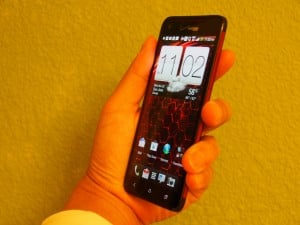 While the Galaxy Note II is an attractive phone when it was announced, the glossy piano black front, curved glass display, and curved matte rear finish of the Droid DNA lends to a sharper, more distinctive phone that leaves the Note II in the dust. The Droid DNA is a striking phone with its polished front, red side grills, and sleek curves that enhance the straight lines of the modern design.
In use though, Samsung's device may look more pedestrian now against the newcomer, but having a physical key for the home button means less accidental button presses when holding the device in landscape view where your hands are gripping the earpiece and button part of the phone. I find myself accidentally going to the home screen while holding the Droid DNA in landscape view.
And it doesn't get much better in portrait view either for the Droid DNA. The lean almost bezel-less left and right sides of the display means that if you're palming the device in one hand–it is after all only slightly larger than the 4.3-inch One X smartphone by HTC–the fleshy parts of your palm may be rubbing on the edges of the display and so screen taps won't register as the phone thinks you're pressing on the edges. It's annoying and took me a while to figure out that my fleshy palm was making contact with the screen.
In terms of the one-handed usability test, both devices fare well. Though the Galaxy Note II is overall a wider phone, there is a One-Handed mode that gives users a compressed keyboard that's centered so you can reach even the furthest keys with your thumb while palming the phone in the same hand.
And speaking of comparisons, the Droid DNA is more akin to a phone. You'd think that 0.5 inches doesn't seem much, but HTC really did a great job with designing the device to be nearly bezel-less on the left and right sides to trim the fat.
Conclusion.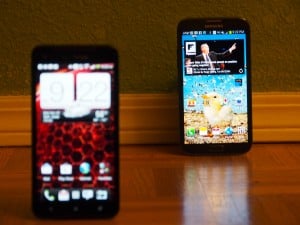 With both devices available on Verizon's network as of today, Thursday, which one should you get if you're in the phablet market? Well it boils down to how you use your device. If you're a multimedia lover and a would rather have a phone, the Droid DNA is as close to perfection as you can get at this time with its gorgeous display and robust performance. But if you're looking for a little bit more, the Note II delivers a tablet experience and is a capable post-PC era computing device for on the go productivity. For tablet users, the on-paper specs really don't match with the actual experience case, and Samsung's Note II should be given more credit for how it helps to reshape the tablet landscape in a form factor that's not much larger than the Galaxy S III smartphone.