Galaxy Note Pro 12.2 Brings Note Experience to the Big Screen
The Samsung Galaxy Note PRO 12.2 will join the company's Galaxy Note lineup and help bolster its tablet offerings in the new year with a massive high-resolution display, a speedy Exynos 5 Octa processor, and the company's now iconic S Pen stylus.
Last night, word got out that Samsung was going to be announcing a slew of new Android tablets including two Samsung Tab PRO slates  and a brand new Samsung Galaxy Note PRO. The devices had been rumored in the build up to CES 2014 in Las Vegas so the emergence of the devices did not come as much of a surprise.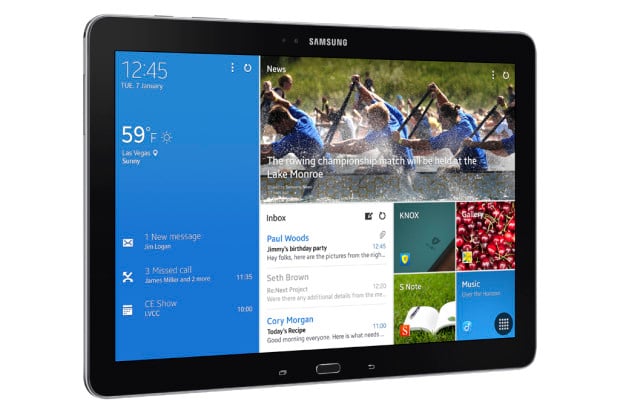 Today, Samsung finally made the tablets official, announcing two new Galaxy Tab PROs and a brand new Samsung Galaxy Note in the Galaxy Note PRO 12.2. The Galaxy Note PRO 12.2 will join the rest of Samsung's Galaxy Note family though it will do so with a powerful display and a feature-set that resembles the Galaxy Note 10.1 2014 Edition.
As expected, the Galaxy Note PRO 12.2 features a large 12-inch display with 2,560 × 1,600 resolution giving users access to great looking content. The new Galaxy Note tablet also a quad-core processor, 3GB of RAM, an 8MP camera in the rear, 2MP camera in the front, and a massive 9,500 mAh battery that should supply users with ample battery.
The Galaxy Note PRO 12.2 also comes equipped with Samsung's S Pen stylus, the same stylus that is bundled with the Galaxy Note 3 and the same stylus that allows users to write and draw on the screen and take advantage of unique software that Samsung bakes into Android. The device runs Android 4.4 KitKat out of the box, Google's latest version of Android.
Samsung's largest Android tablet to date will take advantage of the company's brand new TouchWiz Magazine UX which offers users a brand new, redesigned dashboard with redesigned homescreens and widgets. It also comes loaded with an assortment of productivity tools including Cisco WebEx Meetings and Remote PC which allows users to connect with their home computer on-the-go.
Samsung will offer the device in two different versions, an LTE model with a quad-core Snapdragon 800 processor and a Wi-Fi model with Samsung's own Exynos 5 Octa processor.
The company did not confirm a specific release date though it said the Galaxy Note PRO 12.2 will arrive in the first quarter. Rumors point to a release in February though Samsung would not confirm the timing.
It also did not attach a specific price tag, something that could ultimately determine whether or not Samsung's new Galaxy Note is successful against the likes of the iPad Air.