Galaxy Note Trade In Values: Get Cash to Buy a Samsung Galaxy Note 4
Samsung announced that the all new Samsung Galaxy Note 4 will come some time in October. Current owners of the original Samsung Galaxy Note, Note II or Note 3 who want to grab the new phablet — with its metal edge design, improved camera and new S Pen features — might want to check out Galaxy Note trade-in values for selling their old Notes to Gazelle, Nextworth, Amazon, Glyde. There's also eBay or Craigslist, but those services will take more effort and come with more risk.
The longer they wait to sell their current phone, the lower the trade-in prices go. We have a sampling of Samsung Galaxy Note trade in values at the various sites right now.
How Selling an Old Note Works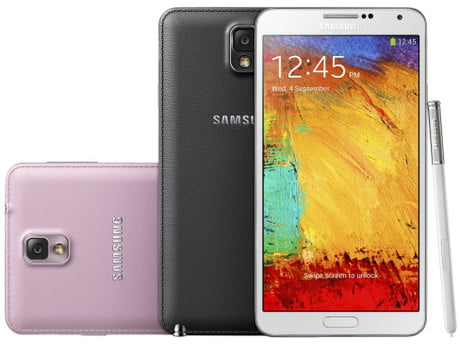 To sell an old Samsung Galaxy Note 3, or some other phone, go to one of the sites listed that has specific trade-in values for your model. In some cases, the site will let the user lock-in a price and then take a few weeks to actually send it in. This way the user doesn't need to go without a phone. Gazelle and Nextworth, specifically, will do this. Amazon will require the seller to send it in quicker. Glyde, eBay and Craigslist buyers will expect the phone to ship within a day or two.
Trade-in companies can send the user a check, deposit the money into an account like PayPal or give them user a gift card or store credit (depending on where the seller sells their old phone). In some cases, the company will give store credit with a bit of a bonus for taking credit instead of cash.
The best strategy is to lock in the price with Gazelle and/or Nextworth and then check the prices on the other services the closer the Samsung Galaxy Note 4 release. Then go with the service that gives the most money.
All of these options are simpler than using eBay, but if you prefer to sell it and ship it yourself, you can typically earn more money (especially if you are willing to ship overseas).
Samsung Galaxy Note Trade In Values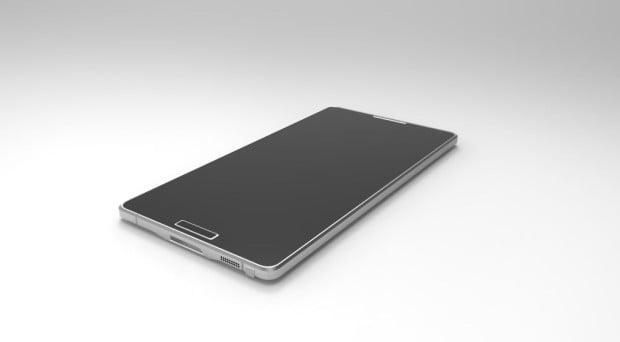 To compare the Galaxy Note trade in values, we looked at the values of an AT&T Samsung Galaxy Note, Note II or Note 3 in the best condition. The companies quote sellers different amounts based on things like condition, storage size, what accessories the user includes and often even color. The phone carrier also matters: an AT&T phone might garner a higher value than a Sprint phone, for example.
When telling the company what kind of phone you're trading in, be sure to be honest and accurate. They companies all reserve the right to change the amount given if the user doesn't properly describe their phone.
Gazelle Trade In Values
Gazelle offers cash for your old Galaxy Note trade in and can send the money to your PayPal account or as a check.  They also give Amazon credit, an offer that comes with a 5% bonus for picking that option. Finally, they can also donate the proceeds to a charity, a good option for those who can afford to buy the new Note 4 or Note Edge outright.
Below see the values for an AT&T and unlocked Note, Note II or Note 3.
| Galaxy Note Model | Price | Unlocked |
| --- | --- | --- |
| Note Original | $70.00 |  $75.00 |
| Note II | $105.00 |  $115.00 |
| Note 3 | $230.00 | $260.00 |
Gazelle's offers, if locked in today, will remain valid until October 1st.
Amazon Trade In Values
Amazon offers trade-in offers for phones locked to a carrier, as well as offers for unlocked phones, just like Gazelle does.  The company requires users to send their phone within a short period after accepting the trade offer. You can only get an Amazon gift card, so you will have to either buy the phone at Amazon or use the gift card to get something else. Below, see the prices for a 32GB AT&T or unlocked Samsung Galaxy Note, Note II and Note 3.
| Galaxy Note Model | Price | Unlocked |
| --- | --- | --- |
| Note Original | $134.63 |  $211.75 |
| NoteII | $185.00 |  $287.70 |
| Note 3 White | $285.58 | $275.90 |
Amazon offers more than Gazelle, but it's not as easy to use.
Nextworth Trade In Values
NextWorth pays in PayPal, paper check, Discover pre-paid card or Target Gift cards. You can lock in your quote for 30 days, so so be sure to get your price once the official launch date gets released. They don't offer trade-in values for unlocked phones, so we went with AT&T for consistency in our comparisons.
| Galaxy Note Model | Price | Unlocked |
| --- | --- | --- |
| Note Original | $62.00 |  N/A |
| NoteII | $108.00 |  N/A |
| Note 3 | $201.00 | N/A |
Glyde Trade In Values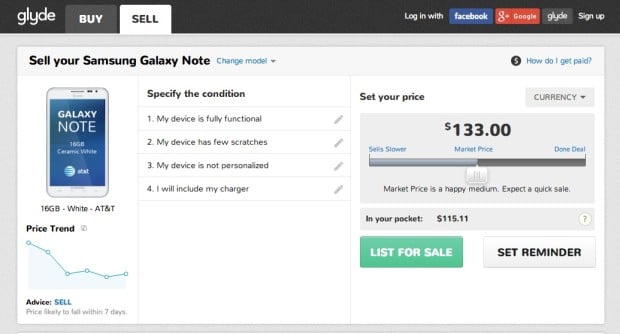 Glyde is a little different from these other trade in options, allowing you to sell to someone for a potentially higher price. It's a little like eBay, but Glyde sends you a prepaid shipping box and helps with the process. For that you can sometimes get a higher price. There is no lock in option so the prices below show only potential values based on their experience. They don't seem to offer a difference for unlocked versus AT&T, so the prices show only AT&T options.
| Galaxy Note Model | Price | Unlocked |
| --- | --- | --- |
| Note Original | $133.00 |  N/A |
| Note II | $233.00 |  N/A |
| Note 3 | $334.00 |  N/A |
You can also check out phone trade-in values at Best Buy and at your carrier or the carrier you plan to switch to. We typically see carrier values in line with the prices you see here, but sometimes carriers and Best Buy will offer a lowball price for older phones. For example, a Galaxy Note II at Best Buy only grabs $95 in trade-in value.

As an Amazon Associate I earn from qualifying purchases.