Galaxy Prevail Leaked for Boost Mobile at $179
The Galaxy Prevail has been leaked for U.S. pre-paid carrier Boost Mobile, which is owned by Sprint. The device is anticipated to be announced by Boost Mobile and Samsung in New York City, and the leak indicates that the phone will go for $179 (full price, sans contract as Boost is a pre-paid carrier).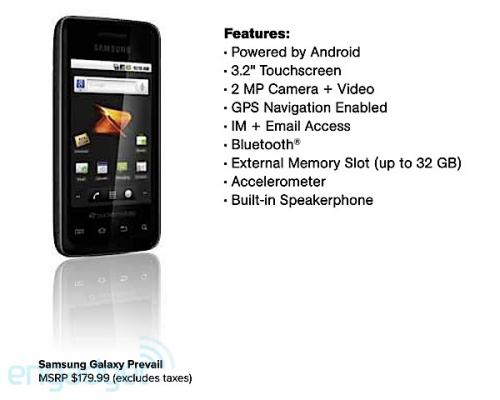 The Android-powered smartphone will have a 3.2-inch display, a 2-megapixel camera with video recording capabilities, IM and email support for messaging, Bluetooth, memory card support for up to a 32 GB optional card, accelerometer, and a speakerphone.
For $179, it seems like a great price for either an entry-level phone or for those on pre-paid who are looking for a smartphone, especially considering that users do not need to sign up for a contract.
The Galaxy Prevail will join the Optimus V by LG on Sprint's other pre-paid brand, Virgin Mobile USA, as an affordable Android smartphone offering.
Via: Android Central