Galaxy S Successor to Arrive in Early 2011?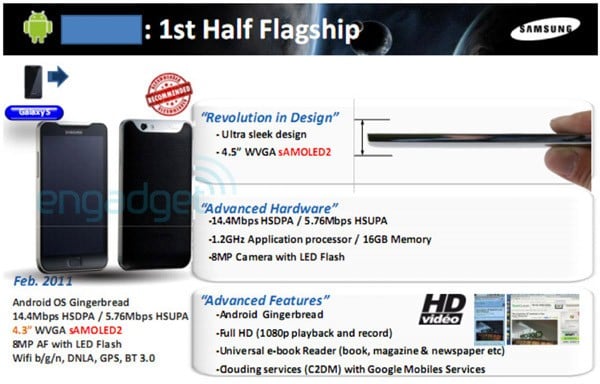 Popular consumer electronics blog Engadget had obtained information of the next generation flagship Android phone from Korean phone maker Samsung. A leaked slide deck from Samsung obtained by the popular consumer electronics blog reveals that the Nexus S will sport an sAMOLED2 display, suggesting that Samsung is making enhancements and improvements to the current generation of Super AMOLED display to arrive at a generation two display technology. The Super AMOLED display is currently widely employed by the Galaxy S series smartphones, and promises more vibrant colors and better direct sunlight readability.
Though Engadget says that Samsung had used an image in the slide that isn't of the particular device, we do know that the successor to the Galaxy S, as its flagship status would indicate, would have a slimmer, sleek design, support for HSDPA and HSUPA, an 8-megapixel camera with LED flash that is increased from the 5-megapixel resolution on current generation Galaxy S models. and will utilize Android 2.3, also known as Gingerbread. Other features include full 1080p HD encoding and decoding–the current Galaxy S model only supports 720p HD, and will come with an e-book reader for books, magazines, and newspapers.
In other news, Samsung is reportedly rumored to be working with Google on a next-generation Nexus One stock Android phone, called the Nexus S. That model will eschew Samsung's TouchWiz user interface customizations in favor of a traditional Android interface, and is speculated to be targeted at developers and users who may want to get Android OS system updates more rapidly than traditional update mechanisms, which must go through carriers and OEMs to customize and certify before being released and deployed to consumers. The Nexus S will be targeted at T-Mobile USA in the U.S. market if rumors are correct.

This article may contain affiliate links. Click here for more details.