Galaxy S WiFi 5.0 is a Larger Galaxy Player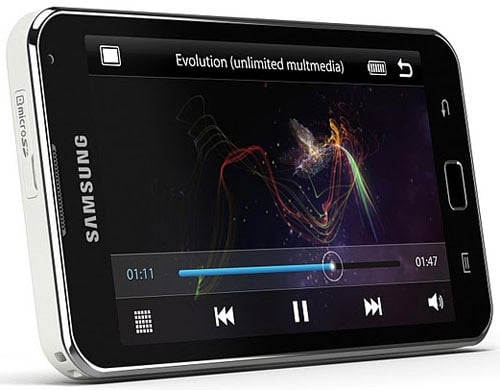 It looks like Samsung is continuing its push into the portable music player (PMP) market that has been dominated by Apple's iPod and with players such as Microsoft's Zune. After releasing the Galaxy Player last year as a Samsung Galaxy S sans phone–like how the iPod Touch is an iPhone without the phone feature–the Korean consumer electronics maker has been showing off a Galaxy S WiFi 5.0, a larger Galaxy Player with a 5-inch display, at Mobile World Congress.
The device, as its name implies, features WiFi and a 5-inch screen with a WVGA resolution. Also included are a 5-megapixel camera, 1 GHz Hummingbird CPU, micro SDHC expansion card, and capacious battery. The device can essentially straddle the tablet market as well with its Android operating system much in the same way that the Dell Streak 5 has or the Acer Iconia Smart. The 5-inch display will give the device enough portability but also increase its usability with a larger screen size for watching movies or browsing the Internet.
Via: IntoMobile