Galaxy S3 Android 4.3 Update Release Date: What to Expect
All signs point to a Samsung Galaxy S3 Android 4.3 Jelly Bean update roll out being close as the update has been confirmed by Samsung and a leaked timeline suggests that U.S. carriers are only weeks away from issuing updates. Here, ahead of its release, we take a look at what users can expect from the upcoming Galaxy S3 Android 4.3 Jelly Bean update release date.
Earlier this year, there were signs that pointed to a Samsung Galaxy S3 Android 4.2 Jelly Bean update, an update that would replace Android 4.1 Jelly Bean as the device's operating system. Those signs were logical given that Samsung typically doesn't skip major Android updates and gets its aging flagships updated with the latest software within a reasonable amount of time. The Galaxy S3 Android 4.2 Jelly Bean update even leaked out, a sign that Samsung was making progress with the update. And then, a curious rumor struck.
Samsung was rumored to have canned the Galaxy S3 Android 4.3 update, along with the Galaxy Note 2 Android 4.3 update, due to issues with TouchWiz. Whether or not that was true remains to be seen but it's now very clear that this rumor was the real deal. How do we know this? The Samsung Galaxy S3 Android 4.3 Jelly Bean update is poised to roll out.
In the past few days, we've seen some major developments in regard to the Samsung Galaxy S3 Android 4.3 update. What started as a few rumors has now descended into a full on confirmation from Samsung including details about the Galaxy S3 Android 4.3 update itself. Despite the confirmation, we still don't know exactly when the Galaxy S3 Android 4.3 update will emerge from the shadows and replace Android 4.1 Jelly Bean.
With anticipation through the roof, we want to take a close look at our expectations for the upcoming Galaxy S3 Android 4.3 release date before the release date arrives.
Galaxy S3 Android 4.3 Update Roll Out Soon
Samsung hasn't announced a roll out date for the Galaxy S3 Android 4.3 Jelly Bean update but we expect the software to land soon. Not only has Samsung confirmed the update for arrival but it has also confirmed the features on board the software including:
Samsung KNOX*, a secure and comprehensive mobile solution for enterprises and consumers. (*Galaxy S III 3G version will get Samsung KNOX with a platform security only in select countries.)
Smart Switch to seamlessly transfer content from other smartphones to Samsung devices.
HomeSync to store, share and enjoy content securely wherever you are.
Group Play 2.5 with shared video support.
New capabilities provide easier text input, and updated graphics and multimedia.
It also helps that U.S. Cellular, the United States' fifth-largest carrier confirmed the update for the "coming weeks." With U.S. carriers in the mix for November, it means that a roll out should come sooner rather than later. The United States is typically behind other parts of the world which means that we should see an initial Galaxy S3 roll out in a place like Korea ahead of the U.S. roll out.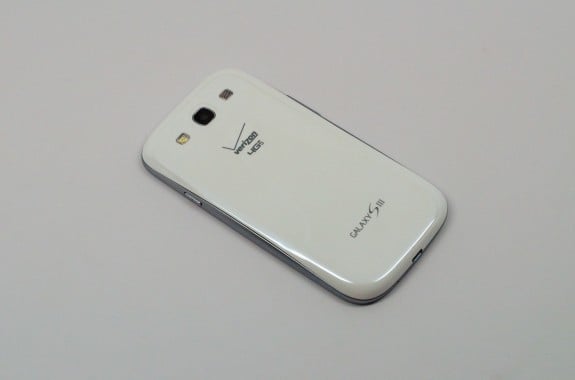 No date is known yet but we wouldn't be surprised to see it roll out before the first week of November ends. Remember, Samsung wants to get this software out quickly, ahead of the holidays, so that it can sell its Galaxy Gear accessory. The Android 4.3 update brings support for the Galaxy Gear.
Update Will Come in Waves
The Samsung Galaxy S4 update, which arrived a few weeks ago and yesterday touched down in the United States for the first time, followed Samsung's usual upgrade pattern to a tee. Samsung typically starts off slowly with its upgrades, rolling it out to the international variants first, before moving to regional variants like the devices in the United States.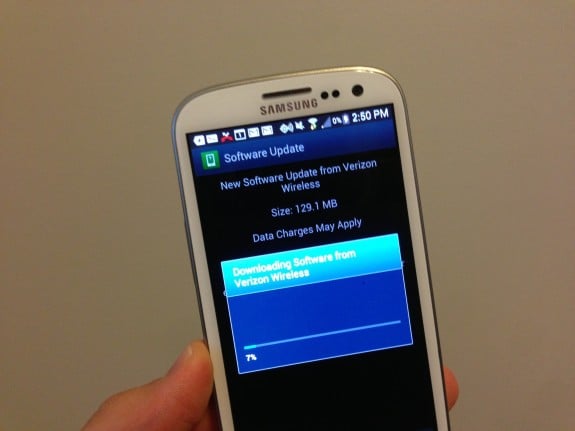 With that in mind, we expect the Galaxy S3 Android 4.3 update to roll out in waves. First, we should see the international, unlocked, unbranded models get the update. After that, we should see the software hit a variant or two in Korea and quite possibly in the United Kingdom as well. Remember, the UK got the Galaxy S3 first.
Once Samsung determines that the software is working well, then we should see it hit places like the United States and Canada. Samsung never rolls out updates to all of its regions at once.
Galaxy S3 Release Dates in U.S. to Hold
Last week, we saw a Samsung update schedule for the United States leak out. The chart, from Best Buy, showed possible dates for Galaxy S4, Galaxy S3 and Galaxy Note 2 Android 4.3 roll outs in the United States. While many people were skeptical at first, the chart proved to be prophetic as the Verizon Galaxy S4 Android 4.3 update, which was said to be rolling out October 28th, rolled out on October 28th.

The next update is said to be the Galaxy S4 Android 4.3 update on Sprint which is slated for October 30th. If that date holds, then we are extremely confident that the other dates will likely hold as well. They dates are subject to change, it says so on the schedule, but given that carriers are seeing slumping Galaxy Gear sales, there is incentive to hit these deadlines.
Here is how users should expect things to play out:
AT&T Galaxy S3 – November 13th
T-Mobile Galaxy S3 – November 25th
Sprint – November 6th
U.S. Cellular – Unknown
Interestingly, the roll out dates all come before Black Friday, a sign that carriers are trying to get these updates out before the holiday shopping season is in full swing.
Slow Roll Outs
When the Samsung Galaxy S3 Android 4.3 update does finally hit U.S. carriers, expect those carriers to roll out the updates incrementally. Verizon's Galaxy S4 Android 4.3 update is rolling out in phases and we expect carriers to follow suit with their Galaxy S4 and Galaxy S3 upgrades as well.
What this means is that users shouldn't expect the update to be available on day one. Some people will likely get the software the day that it rolls out but others will likely have to wait a few days as carriers work to get their software updates out and available.
Android 4.3 Update Issues
Software updates typically come with a bunch of bug fixes, the Galaxy S3 Android 4.3 update definitely will, but that doesn't mean that it's not going to bring some issues of its own. While we don't expect there to be catastrophic issues, we do expect owners to run into some problems with the software after its downloaded and installed.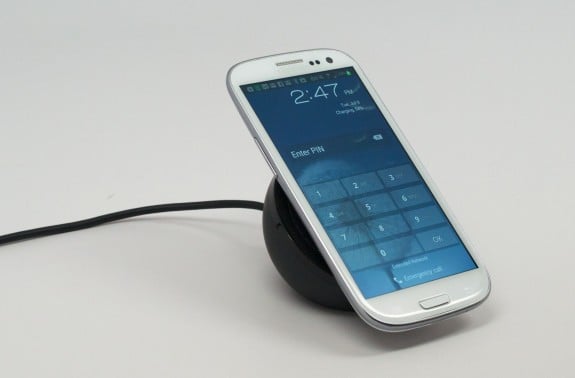 Our crystal ball can't predict the exact problems but we typically see complaints range from battery life drain to stability issues. We should also see complaints about some features being broken. It happens every time. So, we advise users to start preparing for the update. Make sure apps are updated, make sure files are backed up. That way, if something does happen, the damage will be minimal.