Galaxy S3 Android 4.3 Update: What U.S. Users Can Expect
The Samsung Galaxy S3 Android 4.3 Jelly Bean update has yet to begin inside the United States though signs point to a roll out that is set to begin at some point in the near future. With Galaxy S3 owners on edge thanks to rumors and a roll out that has begun elsewhere in the world, we want to take a close look at what U.S. Galaxy S3 owners in particular should expect from the upcoming Android 4.3 Jelly Bean update roll out.
In September, Samsung took the stage and announced the Samsung Galaxy Note 3, its brand new Galaxy Note model that landed in the United States back in October. However, the company also announced something else, an update for the Galaxy S4, Galaxy S3 and Galaxy Note 2 that would deliver support for the company's $299 Galaxy Gear accessory.
At the time, many believed the update to be the long rumored Android 4.3 update and those suspicions were confirmed last month when Samsung finally dished on the updates and many of the features that would be coming with them. In typical fashion, Samsung declined to offer any type of roll out timeline for owners in the United States or elsewhere, forcing them to rely on third-party information.
Last month, we saw the Samsung Galaxy S4 Android 4.3 update touch down in the United States and we should see Sprint and Verizon joined by AT&T and T-Mobile in the near future. The Galaxy S3 and the Galaxy Note 2 updates on the other hand, remain out of reach, and we still don't know when they will be rolling out to deliver not only Galaxy Gear support but features like Samsung KNOX and more.
We do, however, have our finger on the pulse of the situation and we've been seeing information start to flow, particularly for the Galaxy S3 Android 4.3 Jelly Bean update. This new information allows us to present some expectations for Galaxy S3 Android 4.3 Jelly Bean update roll out in the United States. Here are those expectations.
Galaxy S3 Android 4.3 Jelly Bean Release Date in U.S.
The big controversy surrounding the Galaxy S3 Android 4.3 Jelly Bean release date in the United States right now is fact that the Sprint Galaxy S3 update missed its supposed release date last week. A leaked document, that proved accurate for Galaxy S4 owners in the United States, suggested a roll out on November 6th. However, November 6th came and went without any release for Sprint Galaxy S3 owners.
This week, we think we figured out why. It appears that Sprint was forced to come out with a new Android 4.3 Jelly Bean update build, a sign that there might have been a bug or two or three on board the software it planned to roll out on November 6th. And from what we've seen, it appears that Sprint was indeed planning to roll out the software on November 6th.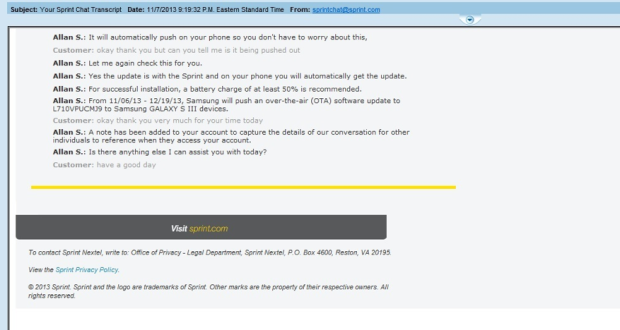 Thanks to a chat transcript sent in by a reader, it appears that Sprint was ready to push out a Galaxy S3 update on L710VPUCMJ9 on November 6th. Chat operators aren't always reliable but he presents very specific information leading us to believe that this was, at one point, Sprint's plan. Yesterday, we saw build L710VPUCMK3 emerge from the shadows. K follows J so we assume that this is a new build.
So, this likely means that Sprint experienced a temporary delay with the update and that it's working to get the software pushed out as soon as possible. It also means two possible things for owners of other Galaxy S3 smartphones in the U.S.
Sprint is the only one dealing with issues and these other rumored dates are still intact.
Or, the other carriers are dealing with issues as well and we could see some, if not all, miss their scheduled release dates due to further testing.
Fortunately, we should find out tomorrow as that is the day that the AT&T Galaxy S3 is slated to be getting Android 4.3 Jelly Bean.
Lengthy Roll Outs
The other interesting thing that arose from this chat transcript is the length that the chat operator suggested it would take for the roll out to complete. He says that the software, which was supposed to start on November 6th, would take until December 19th to completely roll out. That's an extremely wide window and leads us to believe that Sprint will be rolling this update out extremely slow, possibly so that it can catch any issues that may arise during the OTA.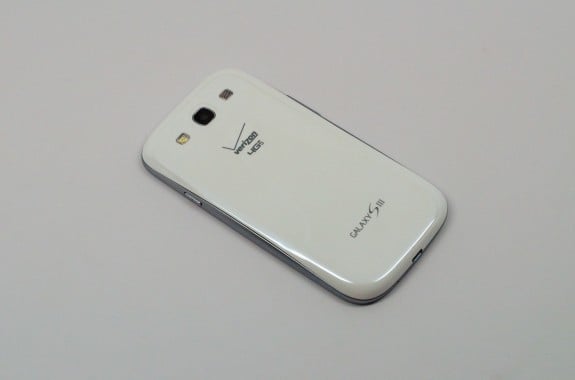 We would not be surprised to see this apply to other carriers as well. This is an older device that runs complicated software and from the looks of things, Samsung and its carriers are trying to move fast to get Galaxy Gear support out in time for the holidays. So, we wouldn't be surprised if they use extremely slow roll outs to monitor the situation.
Galaxy S3 Android 4.3 Jelly Bean Update Issues
We fully expect there to be Android 4.3 update issues inside the United States. While we can't say for sure what bugs might be on board this software, there are two reasons why users should start preparing for problems after updating.
No software update is ever 100% perfect.
Galaxy S3 Android 4.3 users in other parts of the world have encountered issues.
So far, the biggest complaints that we've seen are about battery drain, something that always happens after a major update, and a sluggish user interface. Users are saying that there is a delay between tapping the home button and getting results on screen. Now, it's possible that these issues are isolated but we wouldn't be surprised to see them reach the shores of the U.S., particularly with Sprint delaying its software upgrade.
As we've said before, now is a perfect time to find a place that will offer solutions for these issues. XDA-Developers forum is a fantastic place to join, for those that haven't already, as it will be a great place to ask questions or for help once the Android 4.3 updates start arriving.

This article may contain affiliate links. Click here for more details.