Galaxy S3 vs. iPhone 6 Rumor Breakdown
Samsung Galaxy S3 users that have come off contract or are coming off contract later this year are likely weighing their smartphone options. One of those options is likely the iPhone 6, the new iPhone release that's expected to touch down later this year. While we don't have all of the details, we have enough to offer an early look at the iPhone 6 vs Galaxy S3.
Two years ago, the Samsung Galaxy S3 was one of the best devices available. And thanks to its design, its hardware specs, and its software, many Galaxy S3 owners have been able to keep their Galaxy S3 through the duration of their two-year contracts.
With the Galaxy S3 now officially two years old, many Galaxy S3 users are coming off of those contracts looking for something new. And while there are certainly a number of enticing Android smartphones out right now, the Galaxy S5 and LG G3 in particular, there are several devices just over the horizon that Galaxy S3 users are likely taking a look at.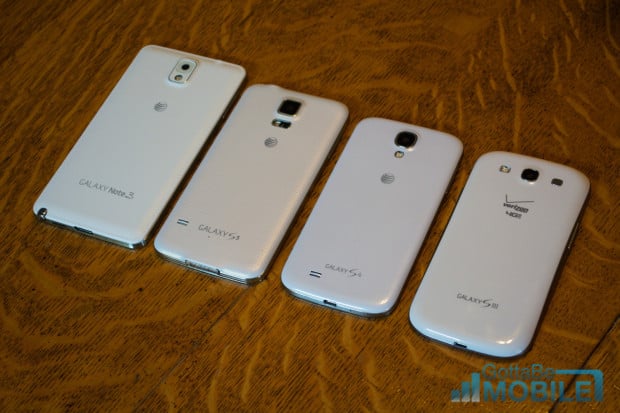 One of those devices is the rumored Samsung Galaxy Note 4. The Galaxy Note 4 is the rumored successor to the Galaxy Note 3 and it's a device that's expected to make its debut on September 3rd in Berlin, Germany. Another device is the iPhone 6, a device that's rumored to be equipped with a number of powerful features including a larger display that's meant to keep pace with the current breed of Android smartphones.
Galaxy S3 users who are in the hunt for a new device have come to the right place. Here, we want to take a look at how the latest iPhone 6 rumors stack up against the Galaxy S3. This comparison isn't meant to belittle the Galaxy S3 in any way, rather, it's meant to show the potential upgrades Galaxy S3 users might get if they opt for the iPhone 6 over something else.
From where we're sitting, the rumored iPhone 6 is a smartphone that's going to be hard for Galaxy S3 users to dismiss. In fact, in the past few weeks, we've been inundated with questions concerning the iPhone 6 vs Samsung Galaxy S3. Consumers want to know if it's going to be worth an upgrade.
We can't answer that question just yet as we've only been able to go hands on with iPhone 6 cases and models, not the iPhone 6 itself. What we can do is outline the important things to know right now about the rumored iPhone 6 vs Galaxy S3.
Design
Two years ago, the Samsung Galaxy S3 was in possession of one of the best smartphone designs money could buy. We've seen a lot of progress in those two years as companies have worked to improve their designs. So, it should come as no surprise to learn that the iPhone 6 design will likely feature some significant differences.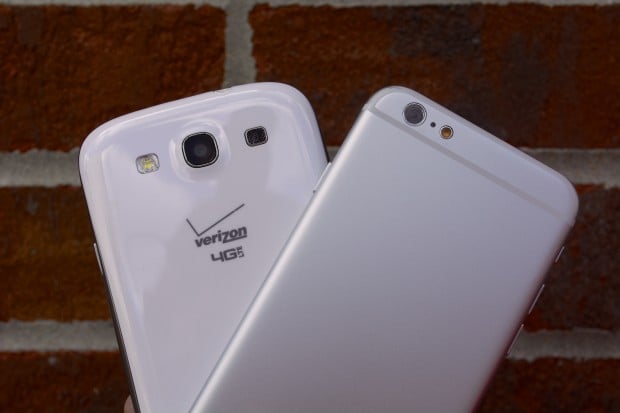 While the Galaxy S3 is made out of polycarbonate plastic, the iPhone 6 design is expected to be made out of high-end aluminum. The iPhone 6 design will likely include more metal than the iPhone 5s, ditching the glass top and bottom parts on the back of the phone for a full metal back cover with a cut out Apple logo on the back.
The iPhone 6 design is also rumored to be thin, perhaps as thin as 7mm, and feature a taller and wider footprint to accommodate a larger display. The display is rumored to be made out of Sapphire to protect the front of the design from harm. Sources are still back and forth on the use of sapphire but they agree on the big change to the device's overall look and feel.
Apple's new iPhone Apple's is rumored to have the Touch ID fingerprint sensor that came with the iPhone 5s. While Samsung's Galaxy S5 does come with a fingerprint sensor embedded in the home button, the Galaxy S3 does not and it features a standard physical home button that is used strictly for navigation.
Unfortunately, the iPhone 6 itself has yet to leak and there is a good chance that Apple will clamp down on full blown leaks until its announcement. We've been able to go hands on with Spigen's upcoming iPhone 6 case and the video below will give you a pretty good idea about what to expect from the iPhone 6 design. The mockup is based on rumors but there is a good chance that Spigen is armed with inside info.
To get a better idea about how the iPhone 6 might look, take a look at the iPhone 6 concept video below. This iPhone 6 concept is based on recent iPhone 6 rumors and it offers a glimpse at what the real version could look like when it arrives later on this year.
Those want to go a little more in depth can check out our comparison below which runs down the differences between the plastic Galaxy S3 and the new iPhone design.
With that in mind, here are the key design takeaways, thus far, for Galaxy S4 users and prospective Galaxy S4 buyers:
iPhone 6 will undoubtedly feature a more premium design. The Galaxy S3's glossy polycarbonate plastic is outdated and can't compete with the iPhone 5 let alone the iPhone 5s.
Apple's iPhone 6 will likely feature Touch ID. The Galaxy S3 doesn't come with the same kind of security.
The iPhone 6 could be thinner than the Galaxy S3 which measures 8.6mm.
While iPhone 6 rumors suggest Apple will include a more water-friendly design, they stop short of a waterproof iPhone. The Galaxy S3 isn't water resistant or dust resistant either.
The Galaxy S3 features a removable back and microSD card slot for expanded storage beyond the internals and the cloud. There's a good chance that the iPhone 6 won't.
Display
When the Samsung Galaxy S3 first came out, its display was heralded as one of the best smartphone displays on the market. The 4.8-inch HD (720p) display provided fantastic looking games, movies and books. Of course, technology has passed it by and nowadays Android smartphones feature Quad HD or 1440p resolution.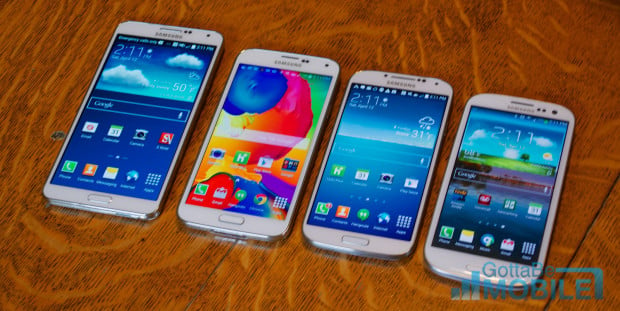 iPhone 6 rumors continue to suggest that Apple will increase the size of the iPhone display and the screen resolution to better compete with Android smartphones.
Rumors point to a brand new higher-resolution Retina Display that measures 4.7-inches and 5.5-inches. Apple's iPhone 6 will reportedly deliver a 4.7-inch screen with a 1704 x 960 resolution that delivers a 416 ppi experience. This, if true, would make for better looking content and a better looking iOS 8 experience. It would also be a significant upgrade from the Galaxy S3.
The increase in display size will likely mean an increase in the overall size of the iPhone though it may not be as significant as you'd think. Leaks continue to point to a wider, taller iPhone though the 4.7-inch model may not be that much bigger than the iPhone 5s. In the video below, we take a look at how the device could compare to the current iPhone design.
By thinning out the bezels and making a few other tweaks, Apple could limit the overall size difference and keep the iPhone compact and easy to use with one hand. This would keep it on par with the design of the Galaxy S3, a design that's very easy to use with one hand.
Apple appears to be planning two new iPhone models and the larger 5.5-inch iPhone 6 appears to be much larger than the 4.7-inch variant. Thus, it could be much bigger than the Galaxy S3. How much bigger? It's hard to say at this point.
Here's the breakdown:
The Galaxy S3 display is big and beautiful and it's still great for watching movies and playing games but it's simply not on par with the displays of 2014. Expect the iPhone 6 display to best it.
iPhone 6 will likely come with at least one large screen size, possibly two. One a little smaller than Galaxy S3, the other larger.
Larger screen means larger iPhone, but maybe not by much.
Specs
While the display and design will likely be in focus on the iPhone 6, Apple's brand new iPhone release will come equipped with a number of other specifications to help bolster its spec sheet.
Here, we put the latest rumors together. Keep in mind, this is a partial spec sheet but it should give you an idea about what to expect from the iPhone 6 vs Galaxy S3.
iPhone 6
iOS 8
4.7-inch/5.5-inch Sapphire displays
16GB / 32GB/ 64GB / 128GB storage options
3.2MP front-facing camera
802.11ac WiFi
Touch ID Fingerprint Sensor
Samsung Galaxy S3
Snapdragon S4 dual-core processor (U.S.)
Android 4.4.2 KitKat
4.8-inch HD (720p) display
16GB / 32GB storage options
1.9MP front-facing camera
8MP rear-facing camera
2,100 mAh battery
802.11 a, b, g, n, n 5GHz Wi-Fi
NFC
Here's what to focus on here:
The iPhone 6's camera will likely trump the Galaxy S3's and if anything, will be more on par with the Galaxy S5's. Rumors point to a camera between 8MP and 13MP with Optical Image Stabilization.
Samsung's Galaxy S3 does not come with a 64-bit chip and its Snapdragon S4 is now extremely outdated. Apple's A8 chip with M8 co-processor will likely do the same though given that the chip is newer, we imagine there will be a distinct difference between the two in favor of the iPhone 6. Look for Apple's phone to be more powerful.
Don't be fooled by the difference in battery size. Apple's iPhones always deliver high-quality battery life and thanks to the new processor and other tweaks, the iPhone 6 could best the Galaxy S3 in terms of battery performance.
NFC is a feature that's been on Android phones for years but never on the iPhone. NFC on the Phone 6 would enable mobile payments but this feature is still far from confirmed.
Software
The Samsung Galaxy S3 runs Google's Android 4.4.2 KitKat update but as is the case with most of Samsung's Galaxy smartphones and tablets, it runs a heavily modified version of it.
Samsung's Galaxy S3 utilizes a UI called TouchWiz. TouchWiz is a skin that Samsung puts over its smartphones. It offers a different look and it offers features that are only found on Samsung devices.
To get an idea about what TouchWiz looks and feels like on the Galaxy S3, have a look at the video below.
Apple's iPhone 6 will not run Android 4.4.2 KitKat. Instead, the device should come with the iOS 8 update that Apple promised to iPhone and iPad owners back at WWDC 2014 in June.
iOS 8, currently available to developers in beta form, doesn't look a whole lot different than iOS 7 but it will come with a number of notable changes including improved Notifications and improvements to photos. The video below shares one of the key features coming inside the iOS 8 update. Apple has packed over 100 new features inside of iOS 8 and the iPhone 6 should get all of them.
Here's what's important
iOS and Android offer different looks and feature sets though both are extremely powerful. Software is an extremely personal decision and while some people love iOS, others prefer Android. Take a deep dive into both before settling.
The Galaxy S3 is now two years old. Samsung tends to offer 24 months of Android software support before pulling the plug. In other words, Android 4.4.2 KitKat could be its last update. The iPhone 6 should get three years of support at least.
Price
The new iPhone release it will almost certainly be more expensive. Rumors tell us that if Apple does release two iPhone models, the larger iPhone 6 will be more expensive than the 4.7-inch model. Analysts continue to point to a $100 price difference between the two with rumors hinting at $199.99 and $299.99 price points.

If you're thinking about upgrading from the Galaxy S3 to the iPhone 6, be prepared to shell out some cash. iPhone 6 deals likely won't arrive until Black Friday, if they even arrive in 2014 at all.
Release Date
Those weighing the Galaxy S3 vs iPhone 6 are going to have to wait a few more weeks (at least) to make a decision on an upgrade.
iPhone 6 release date rumors center around the month of September. The latest iPhone 6 release rumors once again put the larger 5.5-inch model outside of the initial launch date with a launch potentially coming in 2015 rather than in 2014. This differs from most rumors which put both devices inside the current year, ahead of the holidays.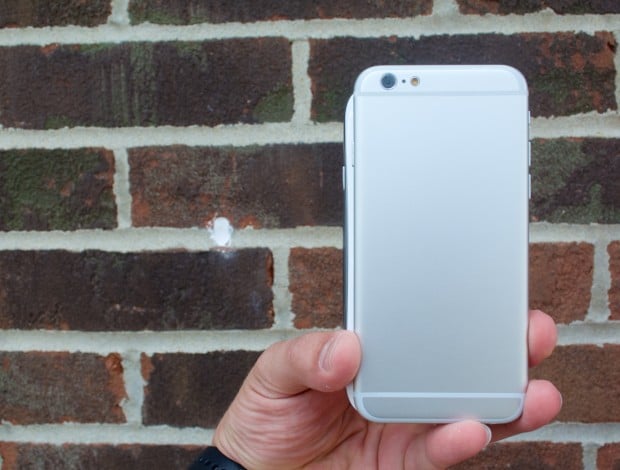 While the 5.5-inch model could be delayed, sources agree that the 4.7-inch iPhone 6 will be out ahead of the holiday shopping season. September 19th has been thrown around as a possible release date as has September 25th. These will likely be some of the final dominoes that fall into place ahead of the device's launch later this year.
As we've pointed out several times, right now is a perfect time for consumers to start preparing for the iPhone 6 release date.
Quick Advice
If you're looking to upgrade the Galaxy S3, wait until the iPhone 6 comes out. Not only will it be a top notch option, it should also drive the price of other big name devices down.
Retailers will almost certainly push the prices of the Galaxy S5, HTC One M8 and perhaps the LG G3 down to better compete with the iPhone 6, a device that should sell a million times over after it's release.

This article may contain affiliate links. Click here for more details.