8 Common Galaxy S4 Lollipop Problems & How to Fix Them
The Samsung Galaxy S4 Android 5.0 Lollipop update brings some huge changes to owners of the former flagship smartphone. The update's also unfortunately brought some features that aren't listed on the change log: Samsung Galaxy S4 Lollipop problems. With Galaxy S4 Android 5.0 problems mounting, we want to take a look at some potential fixes for these issues.
In December, Samsung started rolling out the Samsung Galaxy S5 Lollipop update. In the weeks since the initial Galaxy S5 Lollipop roll out, Samsung's started rolling out several new Galaxy Lollipop updates including the Galaxy S4 Lollipop update which represents the device's third major update and perhaps, its last. The device is now two years old and support could stop at any time.
The Galaxy S4 Lollipop update, like the Galaxy S5 Lollipop update, brings a ton of big time features to its users. And while the Galaxy S4 Android 5.0 Lollipop upgrade is working out fine for some users, we've also started to hear about Samsung Galaxy S4 Lollipop problems. The update isn't widespread which means that these complaints are still fairly muted but as the release picks up, we'll almost certainly see complaints grow louder.
We've spoken to some Galaxy S4 owners who are running into Android 5.0 Lollipop problems after moving to Samsung's latest update. We've pointed out a number of these Galaxy S4 Lollipop issues already though the list continues to grow. The problems have apparently gotten so bad that Samsung's been forced to halt at least one Galaxy S4 Lollipop update.
With that in mind, we take a look at some of the Galaxy S4 Lollipop problems that have popped up for users in recent weeks and offer some possible fixes for these issues. These will help those who are currently experiencing Galaxy S4 Lollipop problems and it will be a great resource for those are getting Android 5.0 Lollipop in the future.
How to Fix Galaxy S4 Lollipop Installation Problems
One problem that some Samsung Galaxy smartphone owners keep running into is during the installation. Android 5.0 Lollipop, for whatever reason, hangs up during the installation process for some users. Fortunately, there are some ways to get the Samsung Galaxy S4 Lollipop update moving if it decides to stop dead in its tracks.
Samsung itself outlines a number of steps to take if the download process is unable to complete. Here are the steps that Samsung recommends if Android 5.0 Lollipop doesn't install properly the first time around.
Galaxy S4 users that have enough storage available will want to ensure that the device is charged up to at least 50% before the download and installation process begins. If that still doesn't work, try downloading and installing over a fast Wi-Fi connection. If there are still issues after that, let the phone die, recharge to 100% and try installing again.
How to Fix Galaxy S4 Lollipop Battery Life Problems
Lollipop battery life problems have been plaguing Galaxy S5 and Galaxy Note 4 users so it's no surprise that Galaxy S4 users are complaining about abnormal battery drain after getting Samsung's new Android 5.0 Lollipop update on board. While there is no guaranteed fix for these issues, there are certainly a few things to try before taking the phone into a store or smashing it and its battery against a wall.
In our experience, third-party apps are the cause of most post-release Android battery life problems. Apps are the first place we would look if the Samsung Galaxy S4 starts exhibiting bad battery life after the move to Android 5.0 Lollipop.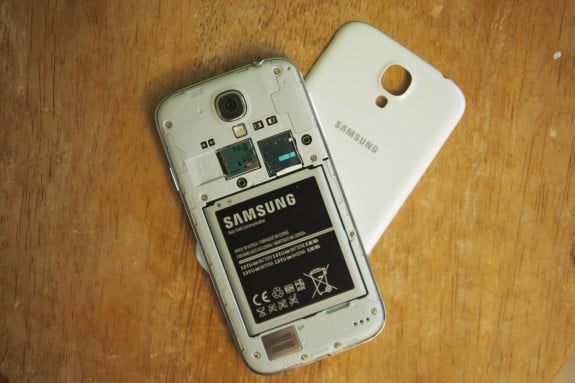 First, we recommend booting into Safe Mode. Booting the Galaxy S4 into Safe Mode will disable third-party applications which will allow users to identify potential culprits. Isolating applications will take a lot of time (you'll need to do some uninstalling) but it's worth a shot if the Galaxy S4 battery life takes a hit after moving to Android 5.0.
Here's how to boot the Galaxy S4 into Safe Mode:
Power down the device. Then, press & hold the Power button and volume down key.
Once it boots up, you can let go of the power button but keep the volume key held down.
When you have successfully entered into Safe Mode, you will notice the text 'Safe Mode' at the bottom left corner of the screen.
We recommend keeping the Galaxy S4's applications updated with the latest bug fixes and enhancements. Make sure to gather feedback from fellow users before doing so. This could help to prevent problems.
It's also worth restarting the Galaxy S4 to see if that gets rid of the battery drain. This quick reboot will clear the cache and kill off services that might be eating away at the battery.
Users might also try disabling NFC and Bluetooth when they aren't in use. We recommend flipping the Galaxy S4 into Airplane Mode when in a weak signal area. The device will try hard to connect to a signal and that extra effort could zap battery life. We also suggest getting rid of live wallpapers. Live wallpapers have the potential to chew through battery in the background. Galaxy S4 users might also want to try a plain black background.
How to Fix Galaxy S4 Lollipop Wi-Fi Problems
Complaints about Wi-Fi connectivity after a major Android update are common. And while we haven't seen widespread complaints about Galaxy S4 Wi-Fi issues, there's a very good chance some users will run into problems down the road. Typically, problems range from slow connections to lost connectivity when the device is in a strong signal area.
Galaxy S4 users experiencing Wi-Fi connectivity issues will first want to reboot the phone to see if that helps. If it doesn't, users will also want to try rebooting the local router if that hasn't been done in awhile. We recommend unplugging the router for a good 30 seconds and then plugging it back in. Users can do the same for the modem as well.
If that doesn't work, Galaxy S4 owners experiencing Wi-Fi problems might also consider updating the routers firmware. Instructions are going to vary based on make and model. If those simple fixes do not work, it's now time to head into the device's settings.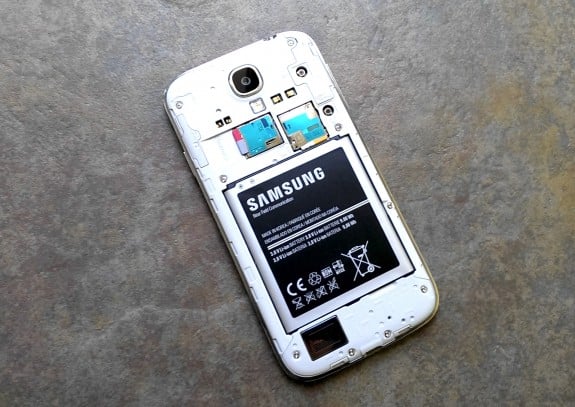 First, try forcing the Galaxy S4 to forget the Wi-Fi network that's posing problems. Head to the desired connection in Settings and select the Forget Network option. Once that's done, users will then need to reconnect to the Wi-Fi network with the password.
It's also worth going into Power Saving Mode to see if Wi-Fi restrictions are in place. To access Power Saving Mode, head into Settings and then into the Power Saving Mode option. This is a known fix for Wi-Fi issues.
If none of those fixes dislodge the Galaxy S4 Lollipop Wi-Fi problems, we recommend updating applications. If that doesn't work, users can also try booting into safe mode to see if apps are really the issue. If apps aren't causing the problem then it's probably worth trying another router to see if the problem is unrelated to Android 5.0 Lollipop. It might be.
How to Fix Galaxy S4 Lollipop Bluetooth Problems
Bluetooth issues are another common problem for smartphone users including owners of Galaxy smartphones. Luckily, there are a few fixes to try if Bluetooth problems emerge after Android 5.0 Lollipop.
Samsung Galaxy S4 users that encounter Bluetooth problems should try shifting Bluetooth on and off. To do this, head into Settings and then Bluetooth and toggle the service off and then back on again after a few moments. If that doesn't fix the problem, it's time to forget Bluetooth connections. Head into Bluetooth and forget the problem device or devices. Then, reconnect.
Galaxy S4 users trying to connect to Bluetooth in a car will need to consult the car's manual to reset the car's Bluetooth.The process is going to be different for each make and model, that's why we recommend consulting the manual. Once that connection has been reset and the connection's been forgotten on the Galaxy S4, try reconnecting to see if it works.
If none of that works, we also recommend booting into Safe Mode (the instructions can be found above) which will disable third-party applications. This will allow users to check and see if apps are causing the Wi-Fi problems. They might be.
How to Fix Galaxy S4 Lollipop Overheating Problems
Galaxy S4 users, like Galaxy S5 and Galaxy Note 4 owners, are saying that the Galaxy S4 is getting hot for no apparent reason. This is another common Galaxy smartphone problem that's been around for a long time so it's not surprising to see complaints after Lollipop's arrival.
Lollipop users should first try restarting the Galaxy S4. Leave it off for a minute or so and then boot it back up. If that doesn't work, power it down again and this time, remove the battery and microSD card from the microSD card slot if there is one. Pop the battery back in without the microSD card in and see if that works. This has worked for us in the past.
If none of that works, we suggest booting into Safe Mode to see if it's an app that's causing problems. A rogue app could be overworking itself so it's important to check to see if that's what might be occurring.
How to Fix Galaxy S4 Lollipop Performance Problems
Galaxy S4 users are also complaining about a drop in performance. We've seen similar complaints from Galaxy S5, Galaxy Note 4 and Galaxy Note 3 users. his is common after a major Android update and over the years we've picked up on a few potential fixes that seem to work.
Users experiencing abnormal lag or sluggishness will be happy to know that there are an array of fixes to try and help stabilize the performance of Android. The first potential fix that we recommend is a process that will clear the Galaxy S4's cache partition. To clear the cache partition on the device, follow these steps:
Turn the Galaxy S4 off.
Press and hold Home, Power and Volume Down buttons simultaneously until the device vibrates.
When the Samsung logo appears, release them.
Tap Volume Down repeatedly until you Wipe Cache Partition. Select it with the power button. Select Yes.
Wait for the process to complete. It could take awhile.
Reboot your Galaxy S4.
We also recommend halting the use of live wallpapers, they can negatively impact performance. Users can also try toggling NFC off when it's not in use because this could provide gains in performance.
Galaxy S4 users can also try turning off animations if performance really starts taking a tumble. To do this, hold down on a blank space on the screen, go to the Home Screen Settings then Transition effect and select None. Users can also try disabling some applications through Application Manager in device settings.
How to Fix Galaxy S4 Lollipop App Problems
Samsung notes that app issues are extremely common after big releases like Lollipop and we've seen some users complain about problems with apps. Samsung Galaxy S4 users experiencing issues with applications can try a few things to jumpstart performance. First, try updating the problem app. There's a good chance that the developer's rolled out a bug fix so users be wise to give this step a shot before doing anything else.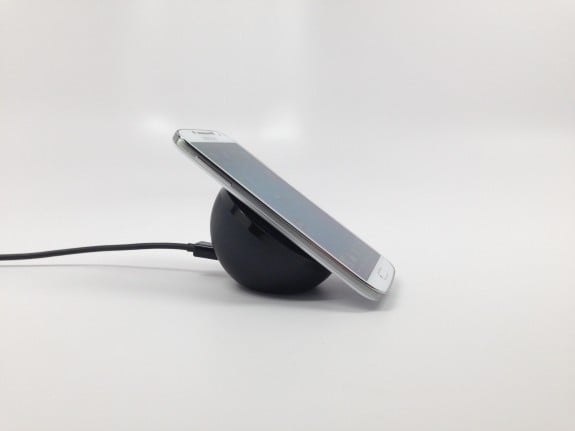 If that doesn't work, try reinstalling the application. We've seen success with this method several times in the past and it could resolve issues with app performance after Lollipop. If the problems continue, reach out to the developer and alert them to the problem. This will help them identify the problem and potentially fix it in a later update. Here's how to do that:
Touch More options
Touch My apps > All
Touch the application with the issues
Scroll down to Developer
Touch Send email to report the issue with the application developers
How to Fix Galaxy S4 Lollipop Problems If Nothing Else Works
If nothing here works, it's probably time to revert back to Android 4.4 KitKat. Or if that doesn't sound appealing, factory reset the device.
Those looking to factory reset should note that it's a time consuming process and Galaxy S4 users will need to ensure that key files are backed up before starting. This process erases the entire phone and brings it back to the state that it was in when it first came out of the box.
To do this, go into Settings, User & Backup, and select Backup and Reset. From there, select Factory Data Reset. From there, select Reset Device and then Delete All.
If for whatever reason that doesn't work, users can also factory reset using the hardware keys on the phone. Here's how to do that. It's a far more difficult process. We recommend the above route if possible.
First, you'll need to turn the Galaxy S4 off.
Once its off, press and hold the Volume up button, the Home button, and the Power buttons together until you see an Android appear on the screen.
Once you see this, use the Volume down key to highlight the Wipe Data/Factory Reset option. Use the Power button to select it.
Use the Volume down key to select Yes – delete all user data and then use the Power button again to select it.
When you see the Reboot System Now option, you'll know you're on track. Use the Power button to select that option.
This will erase everything on the Galaxy S4 bringing it back to the state it was in when you first bought it. It also might fix the problems you're having.