New Galaxy S5 Android 4.4.4 KitKat Update Hits U.S.
The AT&T Galaxy S5 Lollipop update will have to wait for another day now that the carrier is rolling out a new Galaxy S5 KitKat update in the form of Android 4.4.4 KitKat.
Earlier this week, the Samsung Galaxy S5 Android 5.0 Lollipop update started rolling out in the United States. The Verizon Galaxy S5 became the first model to get the upgrade from Android 4.4 KitKat to Android 5.0 Lollipop and as we've pointed out, other carriers will soon fall in line. The AT&T Galaxy S5 will, at some point, get the upgrade to Android 5.0 though users will first have to endure another Android 4.4 KitKat roll out.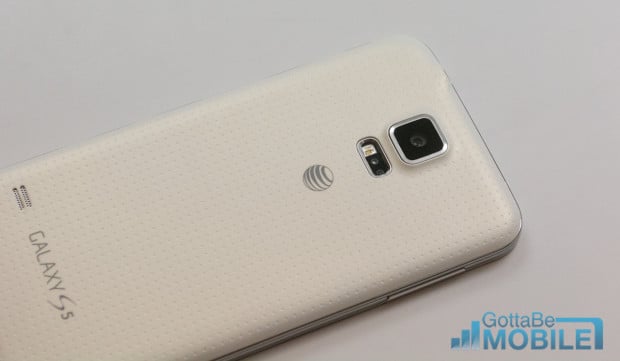 In a bit of a surprise, AT&T's started rolling out its Galaxy S5 Android 4.4.4 KitKat update today. The update will take Galaxy S5 users from Android 4.4.2 KitKat to Android 4.4.4 KitKat and it delivers a series of fixes that should stabilize the device ahead of AT&T's eventual Samsung Galaxy S5 Android 5.0 Lollipop roll out.
Android KitKat 4.4.4

Miscellaneous improvements, bug fixes, and security updates

HD Voice capability*
AT&T Service additions:

Mail – ATT Mail (att.net mail)
AT&T Live
Uber
Remote Support
The biggest change here is obviously the inclusion of VoLTE. Voice Over LTE is a feature that's slowly rolling out to Android smartphones. AT&T notes that the feature is not yet available in all markets but that it continues to push ahead with its deployment. For the feature to work, Galaxy S5 users will need to be in a VoLTE coverage area. The user on the other end of the line will also need to have a device that supports VoLTE. They too need to be in an area where VoLTE is supported.
AT&T's Galaxy S5 Android 4.4.4 KitKat update also comes with new fixes and security updates that were featured in Google's Android 4.4.4 KitKat update from last year.
Those interested in making the jump up from Android 4.4.2 KitKat to Android 4.4.4 KitKat will want to check in the device's settings. If the update is available, and it should be, the device will offer a prompt. AT&T says that the update is more than 400MB in size which means that it will take some time to download and install.
This new Android 4.4.4 KitKat update comes as a bit of a surprise to Galaxy S5 users given that Android 5.0 Lollipop rolled out to the Verizon model earlier this week. Many assumed that AT&T would simply skip Android 4.4.4 KitKat and its fixes in favor of the larger Android 5.0 Lollipop operating system and its collection of fixes.
AT&T's Galaxy S5 Lollipop update still isn't confirmed but it's clear that carriers not called Verizon are working on the Android 5.0 Lollipop update behind the scenes.
Earlier today we told you that Sprint is currently working on its Galaxy S5 Android 5.0.1 Lollipop update. The carrier still hasn't confirmed a specific date but the appearance on its website means that the company is making progress. Sprint's website also detailed a Galaxy Note 3 Lollipop update though it's still not clear when it will roll out.
Samsung's started what appears to be a massive Galaxy S5 Lollipop push. The company's international roll out has been fairly active and today, it moved onto the Exynos version of the Galaxy S5 that's found in several regions around the world. That update is still limited but we expect it to start pushing out to other users in the near future.
The company's currently pushing out the Galaxy S4 Lollipop update though it has yet to land inside the United States. The Galaxy S4 Lollipop update is limited to users in Russia that own the international version of the device. If the update proves to be stable, it will start rolling out to other countries sometime in the weeks ahead.
Samsung is also poised to start pushing out a Galaxy Note 4 Lollipop update. The update, which was reportedly delayed due to the Gear VR accessory, is supposedly going to be rolling out sometime this month. We have yet to see any U.S.-specific information emerge for the Galaxy Note 4 though we expect the United States to be near the front of the pack in terms of timing.
Its also scheduled to roll out Android 5.0 Lollipop updates to the Galaxy Note Edge, Galaxy Alpha, Galaxy S5 mini, and the Samsung Galaxy S4 at some point down the road. Samsung could also opt to roll the update out to the Samsung Galaxy Note 2, a device that's now more than two years old and one that continues to see Android 4.4 KitKat updates.

As an Amazon Associate I earn from qualifying purchases.