Galaxy S5 Rumors Explode Thanks to Samsung
Potential Samsung Galaxy S5 features continue to fly around before the start of the new year with the latest Galaxy S5 rumors pointing a whopping 4GB of RAM and a new Exynos processor, the latter of which could be introduced at CES 2014 in Las Vegas in January.
With a Samsung Galaxy S5 launch date rumored for February or later, Galaxy S5 rumors should continue to emerge at a mind boggling rate. Already, we've seen a ton of rumors land for interested buyers, teasing everything from the display size and resolution to the camera to its possible launch date and possible release date.
Thus far, rumors point to a 5.2-inch QHD display, a 16MP camera with Auto Focus, Android 4.4 KitKat which is Google's latest Android update, two possible designs including a metal design and a plastic design, 3GB of RAM or more, a Qualcomm Snapdragon 800 processor, and a launch date that could take place at Mobile World Congress in late February ahead of a release in March or April. Samsung itself has yet to confirm any of these details which means that Galaxy S5 rumors will wage on for weeks to come.
Today, new Galaxy S5 rumors have started to swirl, thanks to a bit of information from Samsung itself.
Samsung today announced that it has developed a new 8GB LPDDR4 chipset for mobile devices and that a "single 4GB LPDDR4 package can provide the highest level of performance available today." This new chipset could lead to new devices with 4GB of RAM in 2014. With reports suggesting that the manufacturing process will start in early 2014, many are speculating that the Galaxy S5, rumored for early 2014, could be the first Galaxy device with this kind of RAM on board.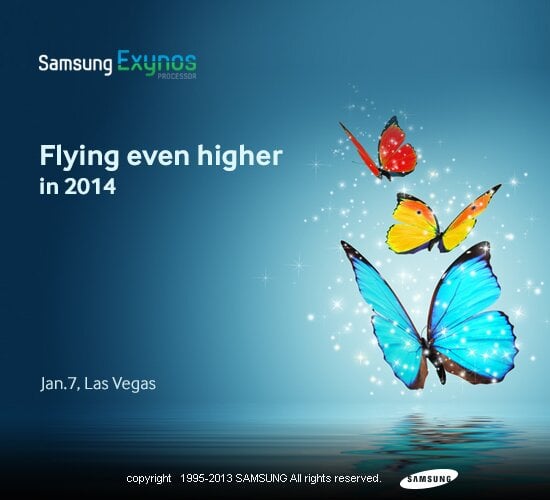 Furthermore, Samsung has teased an Exynos-related announcement at CES in January, fueling speculation that the Galaxy S5 could have a brand new processor on board. Samsung typically changes out the processor from year-to-year so a new chip would not be surprising.
Samsung's new chips will reportedly be a new Exynos 6 chip and a new Exynos S. The processors are said to be 64-bit in nature. Earlier this year, Samsung announced that it would be releasing 64-bit processing power to compete with the 64-bit A7 chip found in the iPhone 5s.
This year's Exynos 5 Octa, which was announced at CES 2013 in January, appeared in some variants of the Samsung Galaxy S4, the device that the Samsung Galaxy S5 will replace.
The Samsung Galaxy S5 isn't expected to land for several weeks at least but features should continue to firm up in the weeks ahead of its launch. Rumors have suggested that AT&T, a close partner with Samsung, has already begun testing ahead of the device's launch next year.

As an Amazon Associate I earn from qualifying purchases.