Galaxy S5 vs. Galaxy Note 3 vs. Note 2: 10 Things Buyers Need to Know
Thinking about upgrading from a Samsung Galaxy Note 2 to a Samsung Galaxy Note 3 or Samsung Galaxy S5? Thinking about buying the Galaxy Note 2, Galaxy Note 3 or Galaxy S5 to replace your current smartphone? If the answer is yes to either of those questions than you've come to the right place because here, we take a look at 10 key prospective buyers need to know about three of Samsung's top smartphones.
In late February, Samsung took the stage at Mobile World Congress and debuted its brand new Galaxy S smartphone, the Samsung Galaxy S5. The Galaxy S5 release will arrive in just a couple of days and when it finally does land on shelves, it's going to join a number of other Galaxy-branded smartphones.
Two of its in-house competitors will be the Samsung Note 3, Samsung's current Galaxy Note flagship, and the Samsung Galaxy Note 2, the device that the Galaxy Note 3 replaced at the tail end of last year. The Galaxy Note 2 may not be easy to find but it remains an option thanks to its powerful hardware and cheap price tag.
There of course will also be Galaxy Note 3 and Galaxy Note 2 owners thinking about making the switch to Samsung's new Galaxy S smartphone. Most Galaxy Note 2 owners won't come off contract until later this year but there are those that did not sign a contract that might be looking at an upgrade. There also might be Galaxy Note 3 owners looking to make an early switch.
With buyers in mind, we want to take a close look at the key similarities and differences between the Samsung Galaxy S5, Galaxy Note 3 and Samsung Galaxy Note 2. We can't make your next smartphone decision for you but we can perhaps help push some consumers further over the fence.
Premium Design
Before you buy a brand new smartphone, whether it's the Galaxy Note 3, Galaxy S5 or something else, we suggest going hands on first. It's an extremely intimate decision based on a number of different factors and there is no reason to make a hasty decision. We highly suggest going to your local store to spend some time with these devices before making a decision to buy or upgrade.
With that in mind, we want to take a look at some of the key similarities and differences between the Galaxy S5, Galaxy Note 3 and Galaxy Note 2 to help paint a picture for those that are intrigued by Samsung's crop.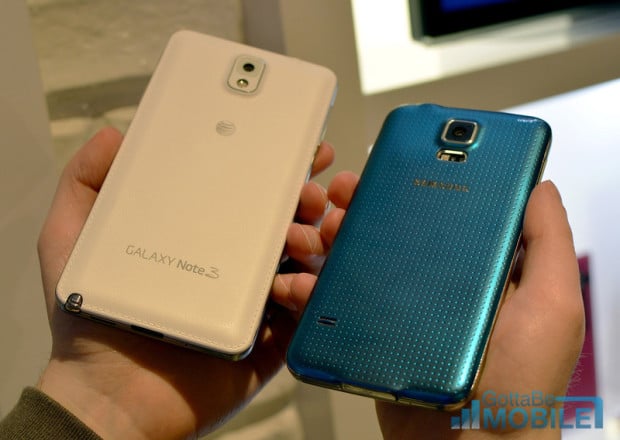 The Samsung Galaxy Note 2 uses a polycarbonate plastic design that is similar to the Galaxy S3 and Galaxy S4. While some like the look and feel, we were never fans. The plastic feels cheap and the glossy material attracts fingerprints. It simply does not feel like a premium smartphone.
With the Galaxy Note 3, Samsung changed things. Instead of a polycarbonate back, it introduced a faux leather plastic back that gave the Galaxy Note 3 a much more elegant feel. Some love the faux leather, others don't, but there is no denying that it's an upgrade over what the Galaxy Note 2 has to offer.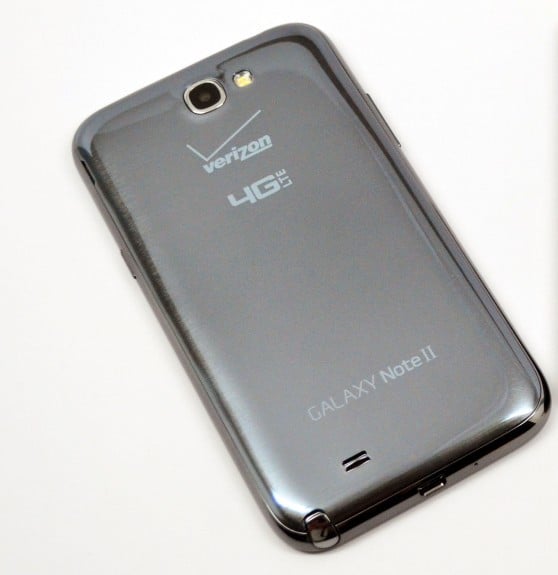 In our opinion though, the Samsung Galaxy S5 design trumps all three. The Samsung Galaxy S5's perforated matte design is better looking and better feeling than the glossy polycarbonate Galaxy Note 2 design. We also think that it's far less tacky than the faux leather plastic back found on the Galaxy Note 3.
Size Differences
The Samsung Galaxy Note 2 and Samsung Galaxy Note 3 are both larger than the Samsung Galaxy S5 and that's something that consumers should be aware of before jumping in with one of these smartphones. There are those, especially iPhone owners, that will find the Galaxy S5 to be a massive smartphone. Both Galaxy Note's are much bigger.
Here's how the dimensions between the three stack up:
Samsung Galaxy S5 Dimensions: 142 x 72.5 x 8.1 (Weight: 145 grams)
Samsung Galaxy Note 3 Dimensions: 151.2 x 79.2 x 8.3 mm (Weight: 168 grams)
Samsung Galaxy Note 2 Dimensions: 151 x 80.5 x 9.4 mm (Weight: 182 grams)
The Galaxy Note 3 and Galaxy Note 2 are taller, wider, thicker, and heavier than the Galaxy S5. The weight differences between the three are apparent and the extra weight might give some users trouble when trying to use the Galaxy Note 2 one handed. We found the Galaxy S5 to be much easier to use one-handed. Those will small hands will have some trouble with both Galaxy Notes.
The photo below shows the size difference between the Samsung Galaxy Note 3 on the left and the Samsung Galaxy Note 2 on the right. The Galaxy Note 3 is a little bit larger.
This next photo depicts the Galaxy Note 3 next to the Samsung Galaxy S5. The Galaxy S5 is noticeably smaller despite having a large 5.1-inch display.
Durability
All three are protected by Corning's Gorilla Glass in the front though the Galaxy S5 and Galaxy Note 3 both utilize the newer Gorilla Glass 3. The Galaxy Note 2 goes back a generation and uses Gorilla Glass 2. Corning says that Gorilla Glass 3 is up to three times more damage resistant than Gorilla Glass 2. Both should do the job for most people.
The Samsung Galaxy S5 does come with an advantage over the Galaxy Note models though. The new Galaxy S comes with an IP67 certification which means that it's water and dust resistant.
There are some limitations, users won't be able to take it scuba diving, but the protection that it offers is the equivalent of the protection that comes with expensive third-party cases.
Samsung Galaxy Note 3 and Galaxy Note 2 users looking for this type of protection will need to purchase a case. Rumors suggest that the Galaxy Note 4 will come with the same IP67 certification as the Galaxy S5 but those rumors remain unconfirmed.
Storage & Colors
All three of the devices come with a microSD card slot for expanded storage. All three are also compatible with the new 128GB microSD cards from SanDisk. Carriers continue to boast about the Galaxy S5's ability to offer 128GB of expanded storage but they aren't telling customers that older devices are compatible as well.
The three designs also come with removable backs for easy access to the battery. That means that it's easy to replace if something goes wrong. It also makes it possible to install an extended battery for more battery life. All three offer solid battery life but there will be those that need a little extra juice to get them through the day. The removable back makes this possible.
Of course, there are also some differences. The Galaxy Note 2 and Galaxy S5 both come with 16GB of internal storage space. We're still not sure if the Galaxy S5 32GB will arrive after April 11th so for now, it's 16GB only. Those who need to extra storage should wait a few weeks for the dust to settle, we should know for sure sometime after April 11th.
The Galaxy Note 3 comes standard with 32GB of storage space which means that it can offer users more overall storage. Most users won't need to take advantage of 160GB of storage but the Galaxy Note 3 is the only one of the three that currently offers that kind of space.
Galaxy Note 2 colors are limited in the United States, as are Galaxy Note 3 colors. The Galaxy Note 2 is available in gray and white while the Galaxy Note 3 comes in black and white. Verizon recently released a Rose Gold version of the Galaxy Note 3 but it's an exclusive and isn't found anywhere else.
The Samsung Galaxy S5 will arrive in black and white as well though there is a chance that we'll see other colors arrive in the future. Samsung announced a blue Galaxy S5 and a gold Galaxy S5 and we imagine that they will both land in the U.S. We just don't know when or where.
Displays
The Samsung Galaxy S5′s display is smaller than the displays found on the Galaxy Note 3 and the Galaxy Note 2. The Galaxy S5 utilizes a 5.1-inch display while the Galaxy Note 3 and Galaxy Note 2 use 5.7-inch and 5.5-inch displays respectively. The size difference, once again, is very noticeable. And so is the difference in quality.
While the Galaxy Note 2 display features 720 x 1280 pixel resolution with support for 720p content, the Galaxy S5 and Galaxy Note 3 come with 1080 x 1920 pixel resolution and full HD support, more commonly known 1080p. That means sharper looking movies and the resolution means better looking games.
As we've pointed out, it's hard to argue with DisplayMate when it comes to displays. It's the industry voice on mobile display quality. So when its says that "the Galaxy S5 is the best performing smartphone display that we have ever tested" and that "it has raised the bar for top display performance up by another notch," consumers should probably listen.
Potential Galaxy S5 buyers and Galaxy Note 3 and Galaxy Note 2 upgraders will be pleased to hear that the Adapt Display, Super Bright Mode, Ultra Dimming and other Galaxy S5 display features and options are more than Samsung gimmicks. DisplayMate's thorough report analyzes the performance of the Galaxy S5 display across all these modes and finds the performance to be impressive.
Those looking for the absolute best performance from their display will certainly want to take a close look at the Galaxy S5. Its display is phenomenal.
The Camera
The Samsung Galaxy Note 2's 8MP camera was solid in its day but the Galaxy Note 3's 13MP camera surpassed it with an improved camera sensor and a fully loaded camera application that improved on an application we consider to be best-in-class. The Galaxy S5's camera pushes the bar even further.
Samsung's new Galaxy S5 comes with a 16MP camera sensor. There are benefits to sensor sizes and megapixel counts but the Galaxy S5′s major advantage comes from other enhancements that Samsung has tacked on.
Its new camera comes with a faster auto-focus system. Samsung switched to a hybrid focus system that it says can focus as fast as 0.3 seconds. The Galaxy Note 3′s auto-focus isn't as fast as the Galaxy S5′s and neither is the Galaxy Note 2′s.
Other features include the ability to pick a point of focus after taking the shot. This allows uses to blur a background or foreground right on the phone. The Samsung Galaxy S5 can also show HDR previews live on the phone. These features not found on either of the Galaxy Notes. The Galaxy Note 3 can match the Galaxy S5 when it comes to video though.
Both the Galaxy S5 and Galaxy Note 3 can shoot 4K video. The Samsung Galaxy Note 2 is stuck with 1080p. Most people don't have 4K televisions or displays but those that do will thoroughly enjoy this feature.
Samsung's Galaxy S5 also comes with Samsung's fantastic camera application and one that has received several upgrades thanks to the company's new version of TouchWiz. We expect the Galaxy Note 3 and perhaps the Galaxy Note 2 to get some of these features down the road, but certainly not the whole feature set.
What all this means is that a gap between the Galaxy S5 and Galaxy Note 3 cameras exists but it's certainly not as wise as the gap between the Galaxy S5 camera and Galaxy Note 2's. Those jumping from the Samsung Galaxy Note 2 to the Galaxy S5 are going to see the biggest changes to the camera and its software.
Carriers
The Galaxy Note 2 and Galaxy Note 3 are only available on a few select carriers, namely, the five major carriers in the United States. Both are found on AT&T, Sprint, T-Mobile, U.S. Cellular, and Verizon, but are not found on smaller, regional carriers that dot the U.S. landscape.
Those looking for alternatives to major carriers will find them with the Samsung Galaxy S5. C Spire, MetroPCS, Boost Mobile, Virgin Mobile, and Ting will all carry the Samsung Galaxy S5 at some point in the future and we wouldn't be surprised if other pre-paid carriers like StraightTalk hop on board down the road.
S Pen
This is one of the biggest differences between the Galaxy Note series and the Galaxy S. Both the Galaxy Note 2 and Galaxy Note 3 come with a bundled stylus called the S Pen. We looks like a stylus and allows Galaxy Note users to write and draw on the screen but it's much more than the typical smartphone stylus.
The S Pen allows users to take notes, control apps and even create a small multitasking window. There are a lot of Galaxy Note 3 S Pen functions, but the one we use it for most is taking notes and drawing on apps that support it. The video below will give consumers an idea about how the S Pen works.
The Galaxy Note 3's S Pen feature set is a little bit different than the Galaxy Note 2's. For instance, the Galaxy Note 2 does not have the Galaxy Note 3's Air Command feature. Air Command allows for quick access to S Pen features. Think of it like a handy shortcut. Those that wish to see it in action can find it in the video below.
Longevity
The Samsung Galaxy Note 2 isn't getting any younger and Android 4.4 KitKat may be its last major Android update. Samsung typically stops supporting devices around their second birthday and the Galaxy Note 2 turns two later on this year. While there is still hope for the future, it's a powerful device, the end of the road is near which makes it a difficult device to recommend.
The Galaxy Note 3 recently received its Android 4.4 KitKat update, its first major update, and an update that will not be its last. The Galaxy Note 3 was only released a few short months ago which means that it has a long life ahead of it. We expect it to get updates well into 2015.
Samsung's Galaxy S5 is the newest of the three which means that it possesses the longest possible life. Like the Galaxy Note 3, it should continue to receive software upgrades for two years or so which means that it will likely get software features from Google and from Samsung itself.
Price
The Galaxy Note 2 is no longer sold in most retail locations which means that consumers are going to be limited to a few places. Fortunately, those places offer the former flagship for cheap.
Samsung's Galaxy Note 3 is still sold for $299.99 on-contract in some places though retailers have dropped their prices since its debut last year. Amazon, for instance, sells the Galaxy Note 3 for $150 on-contract.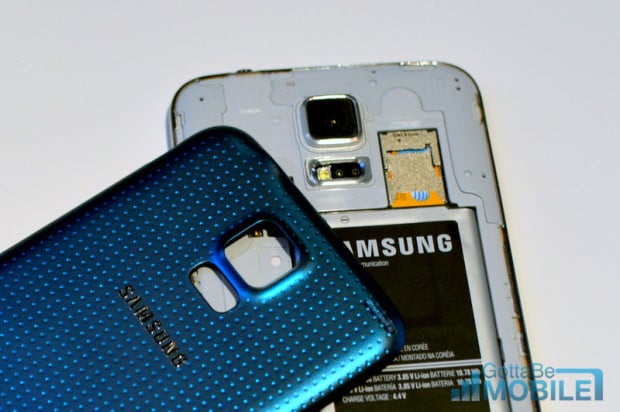 The Samsung Galaxy S5 stands at $199.99 on-contract across major carriers. Off-contract, it ranges from $650 to $660. This is standard for a brand new flagship smartphone.
We've already seen Target and Amazon push the Galaxy S5′s price down to $99 on-contract which means that the Galaxy S5, as new as it is, is cheaper than the Galaxy Note 3.