Galaxy S5 vs. Galaxy Note 4 Rumor Breakdown
Samsung still hasn't confirmed anything but it's clear that a new Galaxy Note will join the Galaxy S5 later this year. As Samsung Galaxy Note 4 rumors continue to swirl and firm up, we want to take an updated look at how the Galaxy S4 could compare to the Samsung Galaxy S5 when it arrives on shelves sometime this fall.
Back in February, Samsung took the stage at Mobile World Congress in Barcelona, Spain and introduced the Galaxy S5, a successor to the Galaxy S4 and a device that delivered a number of big time features including a new design, one of the best displays in smartphone history, updated software, a powerful camera, and more. Samsung's Galaxy S5 is considered one of the top smartphones on the market and a solid iPhone 5s rival.
It's not Samsung's only flagship though. No, the company also offers a Samsung Galaxy Note 3, a larger device that takes advantage of a bundled S Pen stylus. The S Pen is no ordinary stylus as it takes advantage of a number of unique apps that are only found on the Galaxy Note series. Like the Galaxy S5, the Galaxy Note 3 is is a top notch smartphone option.
And while the Galaxy Note 3 is holding its own, it appears that the device will be replaced later on this year by a brand new version of the Galaxy Note. Rumor has it, a Samsung Galaxy Note 4 is on the way and will join the Galaxy S5 in Samsung's fight against the iPhone 5s and the upcoming iPhone 6.
Samsung Galaxy Note 4 rumors have been rampant in recent months and thanks to a series of leaks, we now have a pretty good idea about what to expect from the company's brand new flagship. While we still don't have every piece to the puzzle, we think we know where many of them fit ahead of Samsung's official announcement.
These potential changes have tons of people intrigued and rightfully so. Samsung has a solid track record with the Galaxy Note series. While it's still not confirmed, there are enough credible rumors out to make an early comparison and breakdown the latest regarding these two flagship devices.
Here, in an effort to help prepare potential buyers, we take a look at the Galaxy Note 4 vs Galaxy S5.
Design
Every year, Samsung improves its Galaxy S design. Samsung's Galaxy S5 comes with a vastly different design than the Galaxy S4.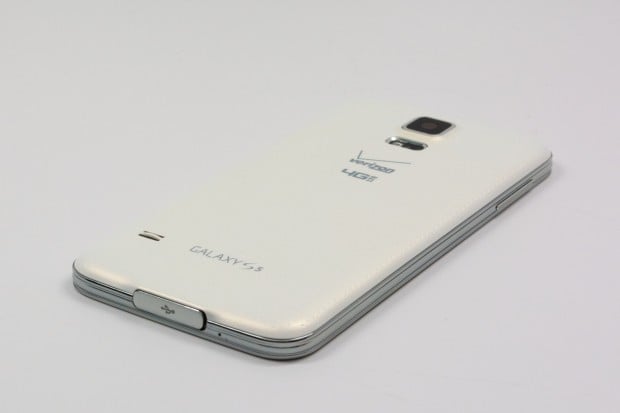 For those that haven't been hands-on with the Galaxy S5 or simply need a refresher course, here is what we found after going hands on with the device for several months:
A removable dimpled back cover made of soft touch material seals the internals of the phone so that it can survive for up to 30 minutes in three feet of water. This doesn't sound like much, but it means the sink, a toilet or a puddle will not break the Galaxy S5 like other smartphones.

Silver trim on the edge of the Galaxy S5 looks like metal, but it is actually plastic that can scratch and scuff. The Galaxy Note 3 features the same style silver band and after 9 months there is a chip out of it from a bump against keys or a rough surface.

The front of the Galaxy S5 looks beautiful with a slight etched design hidden behind a large span of strengthened glass. Thin bezels flank the sides and there are an array of sensors at the top of the device near a Samsung logo. There is a physical home button and two capacitive touch buttons on the bottom edge. The home button includes a fingerprint scanner that can unlock the phone, but it is not as reliable as the iPhone 5s' Touch ID feature…
The device looks and feels a whole lot different than the Samsung Galaxy Note 3 which does not have dust or water resistant technology, does not have a fingerprint sensor and features a faux leather plastic back that we did not fall in love with. Fortunately, it looks like the Galaxy Note 4 will feature something different and perhaps, come with some of the same design characteristics found on the Galaxy S5.
Galaxy Note 4 design rumors suggest that we'll see a fingerprint sensor, an IP67 certification (dust and water resistance) and the same four colors that debuted on the Galaxy S5 (blue, white, black and gold). The Galaxy Note 4's overall design, however, remains out of reach.
The device's build material remains a mystery at this point though rumors out of Korea continue to point to a metal design. There's no proof and we don't have any leaked images or schematics to draw from so we're skeptical. Samsung is well know for using plastic designs.
Unfortunately, we may not see the Galaxy Note 4 design emerge until the fall. Samsung almost always clamps down on its designs and very rarely do we see them emerge ahead of launch.
Here are the key takeaways for those interested in both devices:
Samsung's Galaxy Note 4 design may not leak out, as a whole, until just before its launch date. That means dimensions and build materials might be out of reach up until the announcement.
The Galaxy Note 4 will likely come with some of the Galaxy S5 design's core elements. A fingerprint reader seems all but confirmed and we would not be surprised if it came with some sort of protection against dust and water.
Display
Without question, the Samsung Galaxy S5's 5.1-inch display is one of the best that we've ever used. Its size, 5.1-inches, is perfect for gaming, browsing the web, reading, and taking calls and its 1920 x 1080 resolution makes sure that all of that looks and feels outstanding. Its better looking than the Galaxy Note 3's display but it's smaller.
Galaxy Note 4 rumors suggest that we'll see the same size difference between the Galaxy Note and Galaxy S but that the Galaxy Note will take a leap when it comes to resolution.
The Samsung Galaxy Note 4 is rumored to be coming with a large QHD (Quad HD) display. As we've pointed out, QHD resolution will offer higher resolution gaming, something that's key on a device of this size, and it will also sharpen the look of movies, television shows and other content. As we noted in our review of the LG G3, QHD is more than just a marketing gimmick.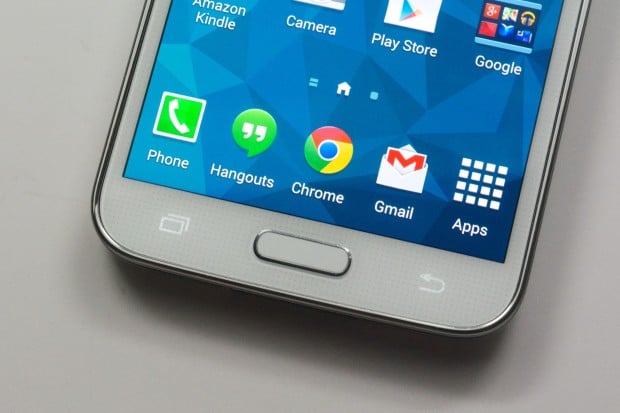 Here's what to make of all of this:
Given the mountain of evidence, it's pretty clear that the Galaxy Note 4 will have a better screen resolution than the Galaxy S5. This will help it keep pace with the LG G3 and perhaps, the iPhone 6.
It's hard to see a shift in screen size at this point. Everything we've seen points to 5.7-inches and with a 5.9-inch device on the way, there isn't much room for movement.
Yes, the Galaxy Note 4 will be a large phone, larger than the Galaxy S5. This is both a gift and a curse. Gift because it's great for movies, games and the S Pen, curse because the phone will likely be very large.
Specs
While the display and design will likely be in focus on the Galaxy Note 4, Samsung's new Galaxy Note release will come equipped with a number of other specifications to help bolster its spec sheet. Here, we put the latest rumors together. Keep in mind, this is a partial spec sheet but it should give you an idea about what to expect from the device when it arrives.
Samsung Galaxy Note 4
Android 4.4 KitKat/Android L
5.7-inch WQHD display
Fingerprint sensor/Retina scanner for added security
Unknown battery size
Samsung Galaxy S5
Snapdragon 801 quad-core processor (U.S.)
Android 4.4.2 KitKat
5.1-inch FHD display
16GB storage option
2.1MP front-facing camera
16MP rear-facing camera
2,800 mAh battery
802.11ac WiFi
Fingerprint sensor
NFC
Heart rate sensor
Key things to take away from this:
It's clear, from where we're standing, that the Galaxy Note 4 is going to come with the usual spec upgrades fitting of a device from 2014. Rumors have continually pointed to new processors and it looks like Samsung could split it into Snapdragon and Exynos chips once again. Look for it to outperform the Galaxy S5 in benchmarks.
Camera rumors continue to hint at the inclusion of OIS, Optical Image Stabilization, so it's possible that this will be a key feature on the Galaxy Note 4. The Galaxy S5 was also rumored to have OIS though those rumors did not pan out.
The Galaxy Note 4 is thought to have 32GB of storage though a microSD card slot has not been rumored. The Galaxy Note 3 comes in 32GB variants in the United States.
The Galaxy Note typically has a larger battery than the Galaxy S. The Galaxy Note 3 has some of the best battery life in the business. Given the likelihood of the QHD display, we're expecting a massive battery for the Galaxy Note 4. We would not be surprised if this was a focal point.
The UV sensor on the Galaxy Note 4 could be a nice addition. The Galaxy S5 does not have one.
Software
The Samsung Galaxy Note 4 won't have the same software feature-set as the Galaxy S5. Samsung always outfits its new devices with new TouchWiz software features and in the case of the Galaxy Note 4, we could also see it make some additions for its S Pen. The Galaxy S5 is not compatible with the S Pen.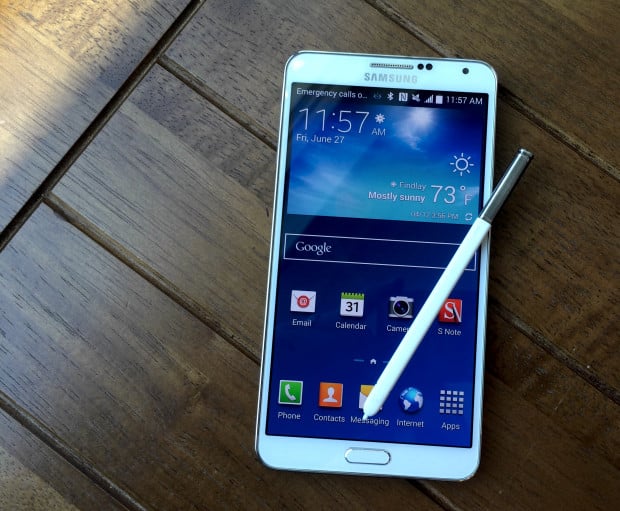 Here are a few of the rumored changes though these are old. We haven't seen any recent Galaxy Note 4 software leaks though we imagine a few will leak out as we get closer to its launch event.
Smart Fingerprint –  It wasn't fully detailed but it's assumed that it has something to do with being able to customize a fingerprint reader for certain actions.
Multi Network for Booster –  Could be similar to the Download Booster feature on the Galaxy S5 that combines Wi-Fi and cellular data for faster download speeds.
Swipe to Launch Motion Launcher –  Could be similar to Motion Launch on the HTC One M8.
Aqua Capture – Possibly similar to the Aqua Mode found on the Samsung Galaxy S4 Active. Aqua Mode allowed Galaxy S4 Active users to take photos underwater.
If Galaxy Note 4 does come with new software, it's possible that the Galaxy S5 will get some of the features in a later Android update. Older devices tend to get new software features. Just don't expect S Pen software features to magically appear.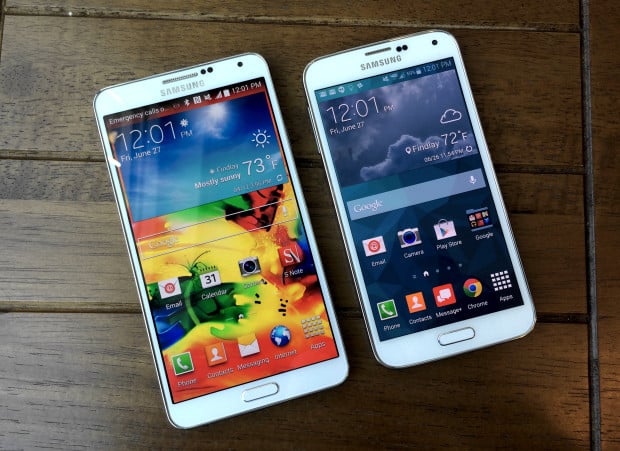 It's still not clear if the Galaxy Note 4 will run Android 4.4 KitKat or Android L though given the Android L release rumors, consumers should expect it to run Android 4.4 KitKat and perhaps, Android 4.4.3 KitKat or Android 4.4.4. The Galaxy S5 is currently on Android 4.4.2 KitKat.
Carriers
The Samsung Galaxy Note 4 is rumored for AT&T, Sprint, T-Mobile, U.S. Cellular, and Verizon. Same as the Samsung Galaxy Note 3. The Galaxy Note series is typically more limited than the Galaxy S which means that the Galaxy S5 could hold a little bit of an advantage here.
It's available on all five of those networks in addition to several other pre-paid and regional carriers including Virgin Mobile, Boost Mobile, Cricket and C Spire Wireless.
Release Date
Over the last few weeks it has become clear that the Samsung Galaxy Note 4 will launch in September. Every single Galaxy Note 4 launch rumor puts the announcement inside of September and more specifically, near IFA 2014 in Berlin, Germany. September 3rd has been rumored as a possibility though the specific date of Samsung's presumed Unpacked event isn't yet known.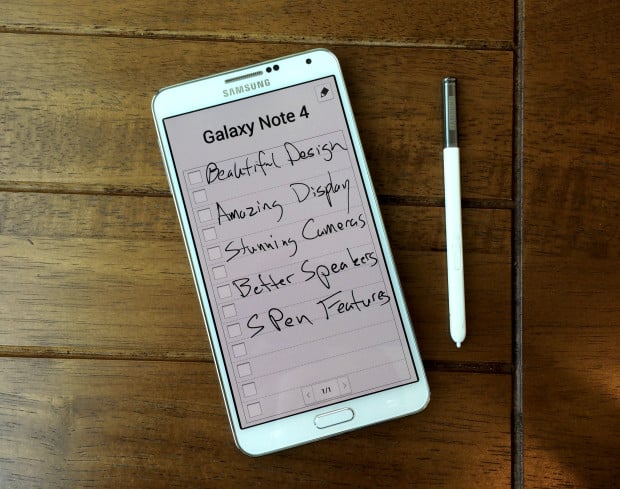 As for the Galaxy Note 4 release date, the Galaxy S5 could be joined in just a few short weeks. A recent report suggests that we could see a quick turnaround from announcement date to release date. Production will reportedly start soon and the device is thought to be coming out much sooner than the Galaxy Note 3 did last year.
Samsung's turnaround with the Galaxy Note 3 was about three weeks so it could be that Samsung gets the Galaxy Note 4 out within two weeks or less if the rumors are true. Given that the device is likely going to be up against the iPhone 6 in September, it's possible that Samsung will hustle to get the Galaxy Note 4 out on shelves.
Quick Advice
At this point, we're advising that you wait for the Galaxy Note 4 to arrive before buying either device. Both come with some charming characteristics and the Galaxy Note 4, in particular, could be the massive overhaul that many consumers have been waiting for.
Should the Galaxy Note 4 not live up to your standards, the Galaxy S5 won't be too hard to find. In fact, it's almost certainly going to be cheaper once the new Galaxy Note touches down. Right now it can be found for cheap but we wouldn't be surprised if the arrival of the iPhone 6 and Galaxy Note 4 knock it down even further.
So if you can, hold off. The Galaxy Note 4 looks like a solid Galaxy S5 rival.

This article may contain affiliate links. Click here for more details.