Galaxy S6 Edge Plus Hands-On & First Thoughts
Yesterday the highly anticipated Samsung Galaxy Note 5 was finally announced, but that isn't the only big phablet coming soon from Samsung. The company also revealed the eye-catching Samsung Galaxy S6 Edge Plus, essentially a bigger more powerful variant of the Galaxy S6 Edge that was released back in April.
Samsung's two new smartphones offer up some of the best hardware we've seen on any Android smartphone to date, and the Galaxy S6 Edge Plus brings its unique curved edges to a bigger 5.7-inch screen. Earlier this year the Galaxy S6 Edge was an instant success for the fancy curved edge on both sides, and now buyers have an even bigger option coming August 21st.
Read: Samsung Galaxy Note 5 Hands-on Video
After spending some time fondling and testing the new Galaxy S6 Edge Plus (name is a mouthful) at Samsung's annual Unpacked event we have a few thoughts on the device worth sharing with potential buyers. This phone offers a premium design, unique curves, a great camera, fast wireless charging and more. It's a big phone with big aspirations, and here's our thoughts.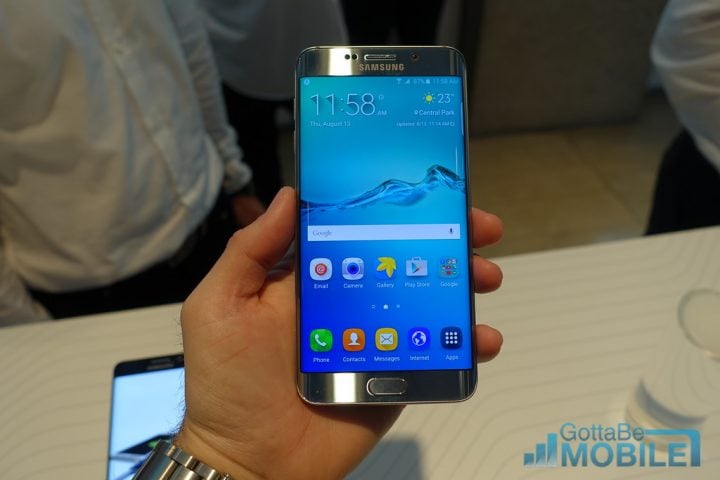 The Samsung Galaxy S6 Edge Plus is a handful, as is the name. This smartphone is simply big, but any Galaxy Note owner will feel right at home, as it's nearly the exact same size as the 5.7-inch Galaxy Note 4, and new Galaxy Note 5. Overall the design is a mashup between the Galaxy S6 released a few months back, and the Note 5. It retains the Galaxy S6 name, but gets some improved features that buyers will surely want to know about.
It's actually being called the Samsung Galaxy S6 Edge+ by Samsung, and for the remainder of this post we'll just call it the Edge Plus to make things easy. So what does this bigger Edge Plus have to offer over the original, and why should buyers care about it? Lets dive in.
There are hardly any differences in terms of hardware when comparing the new Edge Plus to the original Galaxy S6 Edge, aside from the size, and it looks quite similar to the new Note 5 too. It's what's under the hood, and the software, that makes this phone unique. Not to mention the Edge Plus doesn't feature the S-Pen stylus.
Buyers will get a huge 5.7-inch Quad-HD display that curves over the edges on both sides of the screen. This unique look and feature is eye-catching to say the least, has all the same functions and neat features as the original, but now it can do even more. Users will be able to swipe from the edge and get a quick look at recent contacts, and a second swipe brings up recent applications for easy access. Instead of just one of those with the original S6 Edge. Then of course setting glowing lights for contact notifications on the Edge, notification tickers, and everything else from the original is still included.
Read: Galaxy S6 Edge Review
So how does it feel? Big. The Samsung Galaxy S6 Edge was already pushing the limits with both sides being curved, as it's hard to use the phone with one hand. With the Galaxy S6 Edge Plus this is going to be even more of a problem than before. I had a hard time comfortably using the device with one hand, and now the curve just makes it that much more difficult. To be completely honest, while it's a beautiful looking phone and has blazing fast software and one of the best cameras I've ever used, it doesn't seem practical. The Note 4 Edge last year had a curve on one side, making it a bit easier to use, but this year both sides are treated to the same unique feature. Some called it a gimmick with the S6 Edge, and it'll probably get the same reaction this time around.
While it's nice to have some apps on the slide-out tray on the edge instead of only contacts, it's also repetitive as we have all those apps on the homescreen too. Hopefully more can be added as time goes on, because for now it's mostly Samsung apps. As far as hardware under the hood, the Galaxy S6 Edge Plus differs from the original Galaxy S6 Edge, and instead it's identical to the new Note 5. That means buyers will get a powerful 8-core chip, more RAM with 4GB, and a large 3,000 mAh battery. Here's the full details.
Galaxy S6 Edge Plus Specs
5.7-inch Quad HD Curved AMOLED Display
16MP rear camera / 5MP front-facing camera
Exynos 7420 8-core processor
4GB of RAM (Regular S6 Edge has 3GB)
32 or 64GB storage
Android 5.1.1 Lollipop with TouchWiz UI
Fingerprint scanner
3,000 mAh battery
Fast Wireless Charging
No S-Pen
As you can see above, the new Edge Plus offers more than just a bigger screen. The camera has been improved, it features 4GB of RAM for improved multitasking, a large 3,000 mAh battery, and also gets the same fast wireless charging as the Note 5, vs regular wireless charging on the original Galaxy S6 Edge.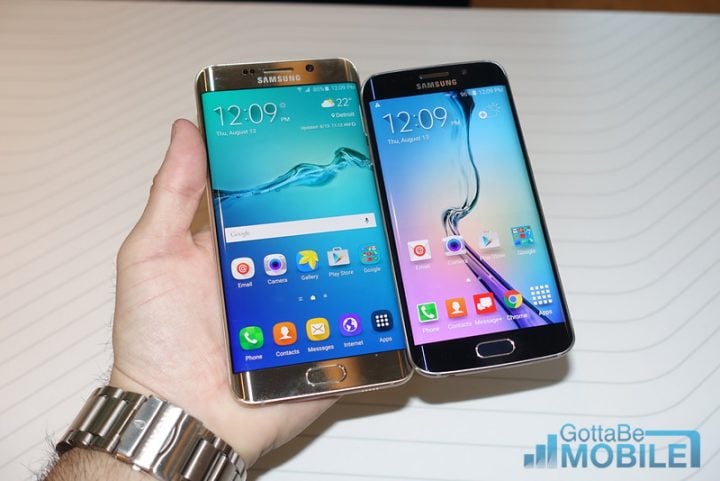 The S6 Edge Plus is actually only 12mm taller and 5mm wider, which isn't much, yet packs a huge 5.7-inch display. That means buyers can get substantially more screen real-estate without having a huge device in their pocket or hand. That said, as we mentioned above, it feels a bit impractical simply because of the size and it's still a big phone no matter how you look at it.
What it all comes down to is the fact that this is essentially the exact same device in terms of looks, as the Galaxy S6 Edge, but has been slightly improved under the hood and is a little bigger. That isn't a bad thing though, as the new design language is arguably Samsung's best yet, even if it means no micro-SD slot for expandable storage and no removable battery.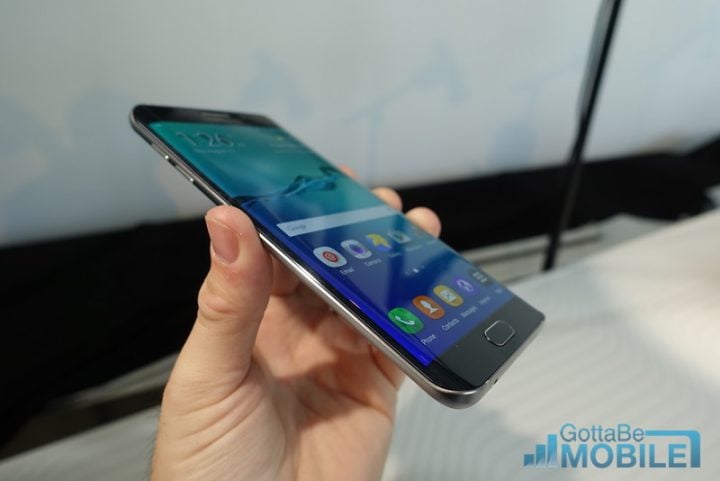 We will say that two of our biggest complaints with the original have been addressed with the new Edge Plus. Those being battery life, and actual uses for the Edge. Now we have "People Edge and Apps Edge" instead of just a shortcut to popular contacts being on the side of the curved display. Hopefully developers can tap into Samsung's API and add additional features, but so far it's still somewhat limited, and as we said above, sort of gimmicky.
Then of course with Android 5.1.1 Lollipop and an 8-core processor the smartphone seems extremely fast and stable, but with only a few minutes to test things out it's hard to say much more than that. The fingerprint sensor is the same as the Galaxy S6, which works great, and there's no S-Pen on the Edge Plus, so it's just a really, really big phone.
Samsung's new Galaxy Note 5 and this fancy Galaxy S6 Edge Plus will both come in 32 and 64GB of storage options, available from all major carriers in the United States, and are available for pre-order right now with the release date set for August 21st.
Our initial impressions are extremely favorable with the Edge Plus, but I can't help but feel like users would be better off getting the Galaxy Note 5 instead. It offers the same awesome experience, the S-Pen functions and more. Yes the curved edges are neat, but they don't feel too practical on a huge 5.7-inch display, don't offer much in terms of value, and will probably make the device more vulnerable to cracks while dropped. The new Galaxy S6 Edge Plus is a great phone, that's for sure, but it might not be a phone for everyone.
The Galaxy S6 Edge Plus comes in Black, White, Gold and a new Titanium Silver. There is a lot to go over when it comes to these new phones, and as soon as we get our hands on the new Galaxy S6 Edge Plus for a bit longer we'll have a full review. For now, drop a comment below with any questions, comments, or concerns.