Galaxy S6 Edge vs Galaxy S7 Edge: 5 Key Differences
Is the new Galaxy S7 Edge better than last years model, or does it just have a bigger screen? On February 21st Samsung announced two brand new impressive smartphones. The new Galaxy S7, and a bigger Galaxy S7 Edge. The Galaxy S7 Edge for 2016 has a bigger and beautiful Quad-HD display, more features, all-day battery life and an excellent camera. Here we'll go over everything that's new and different.
The Samsung Galaxy S6 Edge was a surprise device when it arrived along with the regular Galaxy S6 in April of 2015. Then a bigger 5.7-inch Galaxy S6 Edge Plus was released in August. However, most users have enjoyed the regular Galaxy S6 Edge for nearly a year, and now something bigger and better is here that's worth considering.
Read: Galaxy S7 Release Date, Specs & Videos
Buyers are getting the same excellent experience as the regular Galaxy S7, only bigger, better, and with extra features. The screen and glass actually bends downwards towards the back that turns heads when people see it, adds additional functionality, and can be customized as users see fit. Read on for five key things that separates the original Galaxy S6 Edge from the bigger, better, Galaxy S7 Edge that will be released on March 11th.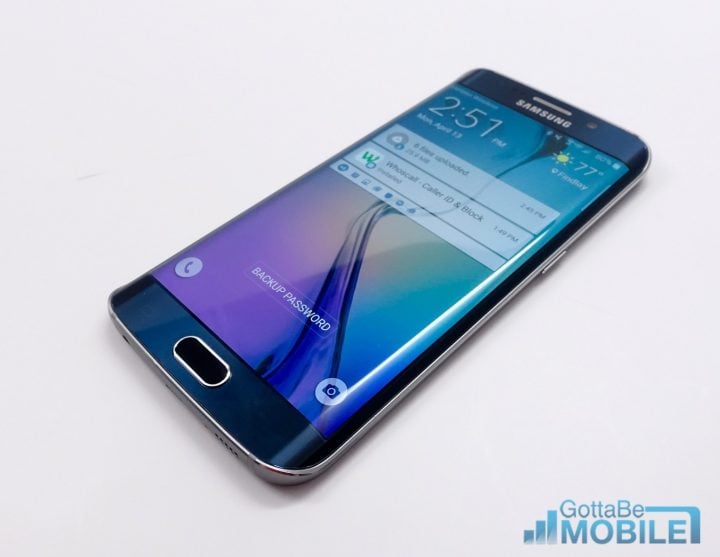 Last year the Galaxy S6 and Galaxy S6 Edge were impressive phones that arrived in April. They had a completely new design made entirely out of glass and metal, curved screens, a great camera, wireless charging and more. Samsung made their best and most premium phones to date, but that came with some huge compromises for buyers.
The result of a premium all metal design meant Samsung did away with the micro-SD slot to expand storage, and the phone no longer had a removable battery. This lead many to keep their Galaxy S5, or look elsewhere. That said, the amazing display, design, fingerprint scanner and camera that completed the Galaxy S6 and S6 Edge made it one of Samsung's best phones ever.
Looking at the Galaxy S6 Edge and the Galaxy S7 Edge users will barely notice anything different aside from the screen size. This year the Galaxy S7 Edge comes with a bigger 5.5-inch Quad-HD display. Not the same smaller size as the regular Galaxy S7 or the Galaxy S6 Edge. Samsung decided to make it bigger. However, there is a lot more than that going on here, so read on for all the details.
Galaxy S6 Edge vs Galaxy S7 Edge: Design
When it comes to the design, both devices sport identical design languages, aside from the obvious which is the much bigger screen. If you've used or seen the Galaxy S6 Edge from last year, you know exactly what you're getting. That being a beautifully made smartphone with glass and metal in Black, Gold or Silver. There's no White model for the US this year.
The bigger sibling and new Galaxy S7 lineup for 2016 retains the same excellent build quality, and a similar overall design. Samsung kept everything the same, but refined it a bit. The buttons are similarly located on the side, and there's a dedicated home button with a built-in fingerprint scanner for security.
Just like the original we have the 3.5 mm headphone jack, micro-USB charging port, and the speakers on bottom.
The biggest change aside from a bigger screen is the glass and back is now curved too. The Galaxy S6 Edge had a flat back, but the new S7 Edge is rounded on front and back. This keeps the beautiful and unique "Edge" and its features on front, but makes that back rounded so it feels thinner in your hand. The phone is actually a little bit thicker, to add a bigger battery and other feature's we'll mention in a moment, but the curve makes it actually feel thinner than before. Which is very nice.
Yes the Edge is sort of a gimmick, or something to show friends and family, but the bigger Galaxy S7 Edge has some new features and functionality, and is much more powerful than the Galaxy S6 Edge from 2015.