Galaxy S6 microSD & Battery Details Frustrate Buyers
The Samsung Galaxy S6 and Galaxy S6 Edge are confirmed for April and when they arrive, they'll be sporting a new design made of metal and glass. Samsung's new design language comes with a few tradeoffs and those tradeoffs, which include a missing microSD card slot and non-removable battery, are frustrating potential buyers.
Today, Samsung took to the stage in Barcelona, Spain to announce its brand new flagship smartphones. The Samsung Galaxy S6 and Galaxy S6 Edge are now official and both come with an impressive spec sheet of features. Samsung's tacked on a ton of new hardware including a Quad HD display, Exynos 7 Octa processor, 16MP camera, and a new design that features premium design materials. Previous versions of the Galaxy S were built out of plastic. The Samsung Galaxy S6 and Galaxy S6 Edge also come with some other features that buyers aren't too happy about.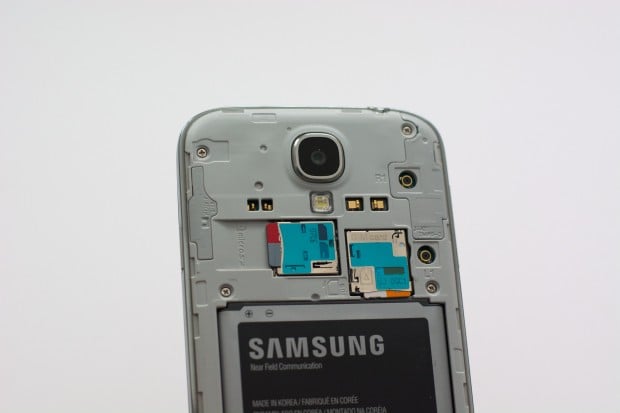 Samsung's plastic Galaxy S designs always featured a removable battery and a microSD card slot for expanded storage. The microSD card slot allowed Galaxy S users to expand their storage by up to 128GB. The removable battery allowed users to easily replace busted batteries or install an extended battery for more juice.
Samsung's Galaxy S6 Edge and Galaxy S6 don't come with a microSD card slot. This has left potential Galaxy S6 buyers fuming in the minutes after the Galaxy S6 launch:
@CNET not happy about no microSD card slot

— Dave Shannon (@DavidWShannon) March 1, 2015
Galaxy S6: No changeable battery and no MicroSD-Card slot. Samsung, are you kidding?

— Besim Karadeniz (@besim) March 1, 2015
No microsd card and no removable battery….Samsung users may revolt — K (@KGKRadio) March 1, 2015
No micro SD card slot on the new #GalaxyS6. The @HTC #M9 looking better this year. — HaHa Clint and Dix (@Phillycat) March 1, 2015
So I see @samsung @SamsungMobile released a pretty phone with the Galaxy S6. Nice to look at, not to use. No micro SD card slot?Uninterested — Kevin Turcotte (@kturcotte1980) March 1, 2015
As a Galaxy S4 owner, my initial reaction to S6: Beautiful phone, great camera, ok battery not removable, No MicroSD card? WTF? #GalaxyS6 — Dave Shannon (@DavidWShannon) March 1, 2015
In an attempt to appease buyers, Samsung's going to be offering six Galaxy S6 variants, three regular Galaxy S6 models and three Galaxy S6 Edge models. Instead of a 16GB base, Samsung will be offering a base 32GB model. It will also offer 64GB and 128GB variants for those that need more storage. The exclusion of a microSD card slot brings the Galaxy S6 closer together with Apple's iPhone 6 and iPhone 6 Plus and it will force some users to become more reliant on the cloud.
The other Galaxy S6 spec bothering consumers is the lack of a removable battery. The Galaxy S6 comes with a 2,550 mAh non-removable battery while the Galaxy S6 Edge comes with a larger 2,600 mAh battery. This huge change has led to initial backlash on social media from enthusiasts and those who currently own Samsung smartphones.
Bring removable battery and external storage back!!!! #GalaxyS6 — Korrakoch K. (@K_OrrAkoC_H) March 1, 2015
New Samsung doesn't have expandable memory or a removable battery? Is it really that hard to make the perfect phone?

— Amer A. Qaiyum (@AmerAQaiyum) March 1, 2015
Everything is amazing about it. But microSD ,removable battery and water proofing are some things they shouldnt have removed #GalaxyS6

— Gaurav Manna (@OldSchoolRock95) March 1, 2015
The new Galaxy doesn't have a removable battery or a micro sd slot? Samsung, what are you doing? — Cristian (@IPC_Shadow) March 1, 2015
If "premium feel" means sacrificing the removable battery and SD card slot, I would rather a cheap feeling phone thanks. #galaxys6#imho — xahldera (@xahldera) March 1, 2015
To offset the changes, Samsung's added a more efficient Exynos 7 Octa processor and faster charging. Real life battery results for the Galaxy S6 and Galaxy S6 Edge are currently unavailable though the company appears confident in its decision to ditch the removable battery. Some prospective buyers say that they can deal with the lack of a removable battery, just not the lack of a microSD card slot.
OK so the S6 is tempting, I can live without the removable battery, the microSD does hurt tho. The HTC M9 as alternative but not as good.

— Cristian Tamaş (@Trancez0r) March 1, 2015
Prospective buyers have several weeks to make a decision because the Samsung Galaxy S6 and Galaxy S6 Edge release dates are confirmed for April. Starting April 10th, Samsung will release the Galaxy S6 in a number of different regions including the United States where the device will land on AT&T, Sprint, T-Mobile, U.S. Cellular, and Verizon.
None of those carriers have confirmed specific Galaxy S6 release date details and it's not clear which Galaxy S6 variants they will carry. With a microSD card slot now out of the picture, consumers are hopeful that they offer all three storage sizes. If they don't, we could see pitchforks raised even higher ahead of the device's arrival.