Galaxy S6 Rumor Roundup: 5 New Things You Need to Know
This Samsung Galaxy S6 rumor roundup will take a look at the five most important details that have leaked out at the start of the year ahead of the highly anticipated Samsung Galaxy S6 release date.
As if on cue, Samsung Galaxy S6 rumors are starting to heat up ahead of Samsung's usual Galaxy S launch window and consumers are starting to take interest in the company's supposed Next Big Thing.
Samsung Galaxy S6 rumors first started at the tail end of last year, mirroring what we saw with the two most recent Galaxy S releases. Both the Galaxy S4 and Galaxy S5 rumor mills started to spark at the end of the year and they both started to pick up at the start of the year during CES in Las Vegas, Nevada. That's exactly what has happened with the Samsung Galaxy S6.
In December, we saw a few Galaxy S6 rumors emerge though the meat of them did not arrive until last week during CES 2015. Last week, an avalanche of Samsung Galaxy S6 rumors emerged highlighting a number of supposed features and details about the rumored Galaxy S6 release date. We don't have all of the details just yet but there is certainly a good foundation of information for consumers to stand on.
Samsung Galaxy S6 rumors have covered everything from the Galaxy S6 specs to the Galaxy S6 launch date to the Galaxy S6 release, right down to the carriers that will evidently be a part of what should be a widespread launch. It has been a lot to digest, especially for those that are just now tuning in to watch the Galaxy S6 rumor mill at work.
Today, we want to take a look at five of the latest Samsung Galaxy S6 rumors. We deem these to be the most credible Galaxy S6 rumors and the ones that buyers should absorb in the buildup to the Galaxy S6 release. This is our mini Samsung Galaxy S6 rumor roundup.
Samsung Galaxy S6 Launch Date
A recent report from Steve Kovach at Business Insider hints at the Samsung Galaxy S6 launch date also known as the announcement date. According to Kovach, the Galaxy S6 launch date will coincide with Mobile World Congress 2015, one of the largest technology trade shows of the year and the event that saw last year's Galaxy S5 launch.
This is said to be Samsung's current plan though there are a couple of holes here. First off, a specific date hasn't been nailed down, perhaps because Samsung is still trying to decide on one. Usually, Samsung's launch dates take place a day before the start of the show or on the first day of a show. MWC 2015 starts on March 2nd.
He also says that this timing is subject to change. It's a target but it's not set in stone which means that we could see fluctuation occur in the weeks leading up to MWC 2015. We've seen this happen before and Samsung's been known to hastily change dates.
What's important to note though is that all signs are pointing to an arrival in the beginning of the year. This new information backs up early Galaxy S6 release rumors and we're starting to gain confidence in a Q1 launch for the Galaxy S6.
Galaxy S6 Display
All along, Samsung Galaxy S6 rumors have hinted at the arrival of a Quad HD panel. The move makes a ton of sense given the shift that occurred on board the Galaxy Note Edge and Galaxy Note 4 last year. Both devices run Quad HD quality displays so it's only natural that the Galaxy S, Samsung's most popular smartphone, make the jump as well.
Benchmarks aren't the most reliable sources but User Agent Profiles typically are and that's what makes this supposed Galaxy S6 User Agent Profile string on Samsung's website so exciting.
An alleged Samsung Galaxy S6 User Agent Profile string has been discovered lurking on Samsung's website. The UA Profile is for an SM-G920A which has twice been confirmed as the AT&T Galaxy S6 model. As we've noted, "A" stands for AT&T and it's a letter that the company has used several times at the end of its Galaxy model numbers.
This User Agent Profile string suggests that the AT&T model has a Quad HD (2K) display which means that the Verizon model probably has one and the international variants heading out all over the world probably have one.
Galaxy S6 Edge
Samsung looks like its plotting to release multiple Galaxy S6 variants and rumors suggest that the other variant will be a Galaxy S6 Edge, similar to the Galaxy Note Edge that arrived last year alongside the Galaxy Note 4.
The Samsung Galaxy Note Edge is a concept but it's significant because it utilizes Samsung's flexible screen technology. The device offers a bent display that wraps around the right side of the phone. That's where the name "Edge" comes from. It looks like Samsung might do something similar with its Galaxy S6 release.
Kovach believes that there will be a Galaxy S6 Edge variant and says that it will be "like the one on the new Galaxy Note Edge that launched late last year." He does not back rumors that suggest that the device will offer two bent sides instead of one. So that, at this point, remains a complete mystery.
Galaxy S6 rumors do agree though that Samsung has at least two variants up its sleeve for 2015, and a potential "Edge" variant is far more exciting than a Galaxy S6 mini or Galaxy S6 Active.
Nexus-like Software?
One of the more recent Galaxy S6 rumors is in the running for the wildest yet. A new report from Business Korea asserts that Samsung is planning to make major changes to its TouchWiz user interface on board the Samsung Galaxy S6. The report claims that Samsung is looking to "reduce the capacity of system memory and greatly improve its function by strengthening core features and eliminating unnecessary ones."
It also suggests that the software on board could be close to the Android 5.0 Lollipop software found on the Nexus 6. There's absolutely no way Samsung will shift to pure vanilla Android for the Galaxy S6 but a toned down version of TouchWiz would probably satisfy more than a few prospective Galaxy S6 users around the world.
Now don't act surprised. Samsung's been tweaking and trimming TouchWiz over the past year. The software found on the Galaxy S5 and Galaxy Note 4 are examples of that.
Galaxy S6 Specs
Finally, a new report from SamMobile points to the arrival of a touch-based fingerprint sensor that's similar to the Touch ID fingerprint sensor found on the iPhone 5s, iPhone 6, and iPhone 6 Plus. If true, it would be a huge boost to the Galaxy S6 spec sheet.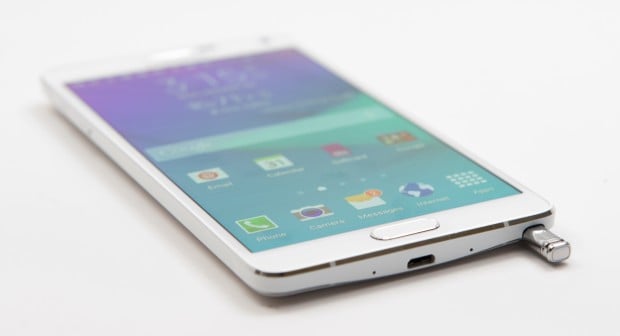 The swipe-based sensor Samsung used with the Galaxy S5 and Galaxy Note 4 was widely panned for its ineffectiveness. In our experience, the touch-based Touch ID is far more responsive than Samsung's standard. The change could come with one implication though. Here's how it could breakdown, according to the source:
The new touch-based sensor is built into the home button as well, just like its predecessor. However, we are told the Korean company has made the home button slightly bigger compared to the Galaxy S5 and Note 4, which makes the experience flawless. With the new touch-based sensor, you wouldn't have to swipe your finger on the sensor anymore; instead, you would just place your fingertip on the home key – at any angle – then lift it off, and that's it.
Galaxy S6 specs continue to firm up as we head deeper into Q1 and we expect to see several all but confirmed ahead of its debut on stage. The fingerprint sensor is just the start.

This article may contain affiliate links. Click here for more details.