Samsung Galaxy S6 Rumors Swirl
New Samsung Galaxy S6 rumors continue to swirl as the highly anticipated Samsung Galaxy S6 release date and CES 2015 inch closer.
As we push away from the start of the year, we're starting to more about Samsung's plans for 2015. And while most of those details are focused on Samsung Galaxy Android 5.0 Lollipop updates, we've also begun to see Samsung Galaxy S6 rumors outline Galaxy S6 specs, the Galaxy S6 design and the Samsung Galaxy S6 release date. The Galaxy S6 rumor mill is expected to pick up the pace in the weeks ahead and four days into 2015, we're already seeing new details emerge.
Samsung's Galaxy S6 is entrenched in the rumor mill but we've seen a number of credible pieces of information emerge in the past few weeks. Today, a new leak from Nowhereelse shows what could be a piece of the elusive Galaxy S6 design while a rumor from SamMobile suggests that Samsung is showing off the Galaxy S6 during CES 2015 in Las Vegas.
SamMobile claims that the company will be showing off the Samsung Galaxy S6 during CES 2015 though it will not be shown off to the press or consumers attending the show. Instead, the company is expected to show it off to selected partners, perhaps carriers with a vested interest in the Samsung Galaxy S series. This is nothing new.
Samsung Galaxy S5 release rumors started to churn after CES 2014 where Samsung supposedly showed it off behind closed doors. It's not clear if the same will happen here with the Samsung Galaxy S6 though with Samsung's typical Galaxy S release window coming up quick, we could see Galaxy S6 rumors start to pick up steam in the days after Samsung's meetings with its various partners.
The publication expects there to be at least two versions of the Samsung Galaxy S6 though it's not clear if the other variant will be a curved "Edge" variant like early rumors suggested. Samsung's well known for releasing various offshoots of its flagship products, the most recent being the curved Samsung Galaxy Note Edge, a concept version of the Samsung Galaxy Note 4.
A new leak from French site Nowhereelse shows what could be a piece of the Samsung Galaxy S6's design. The photos, which allegedly depict the Galaxy S6, show an all-metal chassis with a slot for a camera. Galaxy S6 design rumors have hinted at a major change from the Galaxy S5 and a possible switch to a metal design to better compete against HTC and the iPhone 6.
Part leaks are hit or miss and Samsung's known for clamping down on its Galaxy designs ahead of launch. Very rarely do we see its finalized plans leak ahead of an announcement.
It's still not clear when Samsung might release the Next Big Thing though Samsung Galaxy S6 release date rumors have suggested that the company might look to release it a bit earlier than the Galaxy S5. HDBlog believes that Samsung's Galaxy S6 release date will land sometime in the second quarter which extends from April to June. This could explain why Samsung is at CES 2015, one of the world's biggest trade shows, showcasing its next device.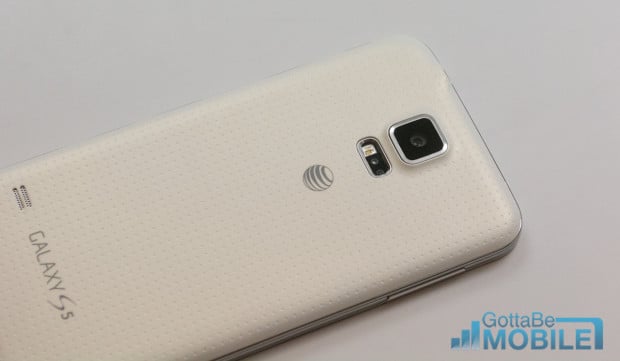 Samsung Galaxy S6 rumors continue to point to a premium phone and one that competes with the top devices on all levels. Galaxy S6 specs are said to include a large Quad HD display, a Snapdragon 810 processor, a 16MP-20MP rear camera, an upgraded front-facing camera, three storage options including a 128GB model, and a release on AT&T, Sprint, T-Mobile, U.S. Cellular, and Verizon in the United States.
Look for Samsung Galaxy S6 rumors to hint at additional release information and specs as we push deeper into the new year.

This article may contain affiliate links. Click here for more details.