Galaxy S6 vs Galaxy S6 Edge: 5 Things Buyers Need to Know
The Samsung Galaxy S6 and Galaxy S6 Edge release dates are finally official for the U.S. and you can pre-order both of these phones on all the major U.S. carriers including Verizon, T-Mobile, Sprint & AT&T. Here are five things that buyers need to know about how these two phones compare in several important areas so you can decide which one you should buy.
You might be surprised to know that there are many similarities between the two devices, but after all these are both Galaxy S6 phones at the core.
g
In this comparison we'll look at the Galaxy S6 vs Galaxy S6 Edge differences and what the two devices share so you can decide if it is worth spending the extra $100 or the extra $4.15 a month on payment plans to get buy the Galaxy S6 Edge or if you should save that for accessories.
After spending a short amount of time with each phone there is definitely a wow factor to the Galaxy S6 Edge, but for some users that is all the curved screen offers.
Read: Which Galaxy S6 Color Should I Buy?
You don't need to wait for the Galaxy S6 release date to check these devices out in person. You can go to many Best Buy and carrier locations to see the Galaxy S6 and Galaxy S6 Edge in person now and compare them for yourself. if you can't do that yet, here are the important things you need to know about the two devices.
Galaxy S6 vs Galaxy S6 Edge Price
The biggest difference between the Galaxy S6 and the Galaxy S6 Edge is the price. If you want to carry around a phone with a curved edge on both sides of the display it will cost you another $100 if you buy on contract. If you choose a Verizon Edge, AT&T Next, Sprint Unlimited Plus Lease or T-Mobile Jump plan the cost is easier to handle. Here's a breakdown;
| Carrier | Galaxy S6 Contract | Galaxy S6 Edge | Galaxy S6 Monthly | Galaxy S6 Edge Monthly |
| --- | --- | --- | --- | --- |
| Verizon | $249 ($50 MIR) | $349 ($50 MIR) | $24.99 | $29.16 |
| AT&T | $199 | $299 | $22.84 | $27.17 |
| Sprint | $249 ($50 MIR) | $349 ($50 MIR) | $20.00 | $25.00 |
| T-Mobile | NA | NA | $28.33 | $32.49 |
The Galaxy S6 and Galaxy S6 edge prices vary from one carrier to the next, but overall the total cost is similar. Sprint includes a $20 credit with the monthly options, but on AT&T and Verizon you can also score a $15 to $25 discount on your bill if you use the monthly payment plan options. Check out the comparisons below for more details when you pick your carrier.
Choosing the right plan and method of buying either phone can save you hundreds of dollars, so make sure you look at the details for the carrier you choose.
Galaxy S6 vs Galaxy S6 Edge Displays
The Galaxy S6 and Galaxy S6 both use a 5.1-inch display and both offer a 2,560 x 1,440 resolution. The left and right edges of the Galaxy S6 edge curve down to the edge of the phone. It is similar to the Note Edge that arrived last year, but there are not really special features like widgets that work with it.
The curved Galaxy S6 Edge screen looks incredible in person and it takes some getting used to when holding it. This curved edge includes part of the actual screen, not just curved glass edges like on the iPhone 6. The Galaxy S6 includes a thin bezel that instead of the curve.
When face down the edge of the Galaxy S6 Edge can show notifications with a color for different callers, show you the time while you lay in bed or deliver fast access to contacts from your home screen.
5 Galaxy S6 vs Galaxy S6 Edge Differences
Aside from the curved screen there are several other small,. but important differences that buyers should know about. We mention these because shoppers will notice the differences, and might read too much into the changes.
Dual Edge Screen
Galaxy S6 Edge Battery is Bigger
Galaxy S6 is thinner
Galaxy S6 Edge is lighter
Galaxy S6 is bigger
After you hold both devices, many of these differences disappear and even though a sales person might try to sell you on a lighter Galaxy S6 Edge with a bigger batter it is only 6 grams lighter ands only offers a 50mAh larger battery. Neither of these differences is a reason to spend the $100.
At the same time the Galaxy S6 is not much taller or wider, and unless you hold them side by side you won't notice it.
Galaxy S6 vs Galaxy S6 Edge Specs
As you can see in the Galaxy S6 and Galaxy S6 specs listing below, the phones share a lot of features. The $100 premium for the Galaxy S6 Edge does not add more storage, a better camera or other incredible upgrades from the Galaxy S6.
5.1-inch 2560×1440 Super AMOLED display with 577 ppi
Exynos Octacore processor, 3GB LPDDR4 RAM
32/64/128GB UFS 2.0 internal storage
Android 5.0
F/1.9 16MP rear camera with optical image stabilization and live HDR
F/1.9 5MP front camera with live HDR
Category 6 LTE with 300 Mbps down/50 Mbps up max theoretical speeds
Wi-Fi 802.11 AC with HT80 MIMO
Bluetooth LE
NFC
IR blaster
2,550mAh battery – Galaxy S6
2,600mAh battery – Galaxy S6 Edge
Galaxy S6 – 143.4 x 70.5 x 6.8mm – 138g
Galaxy S6 Edge – 142.1 x 70.1 x 7.0mm – 132g
Both phones will work with Samsung Pay and include a new fingerprint reader that is easier to use. Wireless charging works on both devices and they share almost all software features.
Galaxy S6 vs Galaxy S6 Edge Cases
There are many Galaxy S6 cases, but we are seeing fewer Galaxy S6 Edge cases and accessories. Some accessories will work with both devices, like wireless chargers and Bluetooth accessories. Here are a few limitations we've seen so far.
We are seeing many companies adopt a wait and see approach for the Galaxy S6. If the device sells well we could see more options appear, but in the short-term you will find more cases and accessories for the Galaxy S6.
9 Exciting Galaxy S6 Cases
OtterBox Galaxy S6 Cases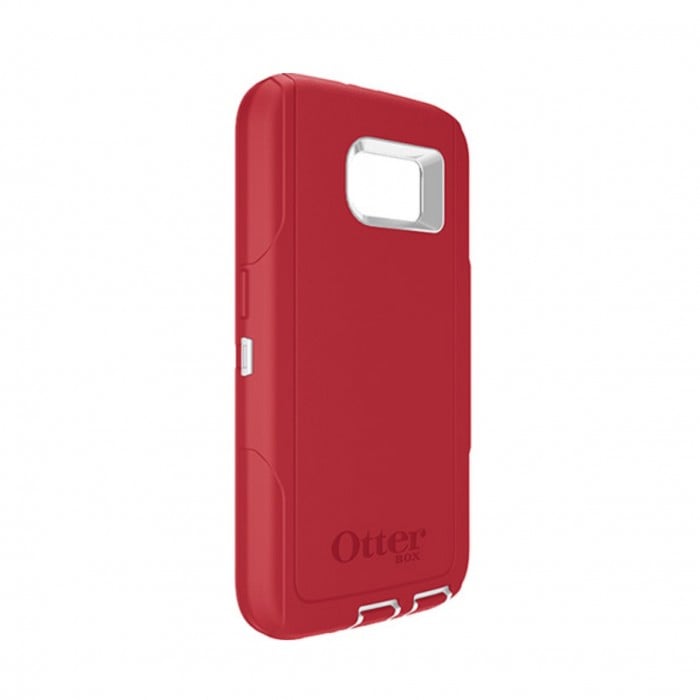 Users that need a lot of protection should check out the Galaxy S6 OtterBox cases including the Defender and Commuter series that offer a lot of protection for the device.
OtterBox Defender Galaxy S6 cases come in seven colors for the shell and seven for the cover, allowing users to combine to get the color scheme they want. The case is $49.95 and there are higher-priced options with RealTree camo and with sports teams on the back. This case includes a screen protector and port covers to keep dust out of the ports. OtterBox Defender Review.
The OtterBox Galaxy S6 Commuter case is slimmer with less protection, but a more pocketable size that appeals to many users. The dual-layer protection can absorb drops and it includes a stick on-screen protector. This case is $34.95 with the same variety of color options. OtterBox Commuter Review.

As an Amazon Associate I earn from qualifying purchases.