Galaxy S7 and Galaxy S7 Plus Rumors Emerge
As 2015 comes to a close we're starting to see more and more rumors about smartphones of next year. From a new LG G5, the HTC One M10 to the all-important Samsung Galaxy S7. Samsung's important Galaxy S7 has been rumored a lot lately, and this week we received our first early renders and additional details about what's being called the Samsung Galaxy S7 Plus.
Early Galaxy S7 rumors started to emerge in September, just after the launch of the popular Galaxy Note 5, and now we're slowly learning more and more as 2016 nears. Lately leaks have suggested two different sizes for the Galaxy S7, the Edge phones being their own line completely, and the Galaxy Note 6 is still likely on track as well.
Read: Early Galaxy S7 Release Rumors Emerge
Recently Korean Times, which has been accurate in the past, suggested the Galaxy S7 won't look too different visually, as Samsung wants to focus on the display, software, and groundbreaking features like Samsung Pay and Fast Wireless Charging, not design changes.  At the same time, this week we received what could be our first glance at the Galaxy S7, and it's bigger "Plus" sized brother.
A set of early design renders that are reportedly the real thing have been found by GSMArena, but they're only renders. Real leaks will likely surface eventually, and these only paint a small picture of what could be coming. That said, it shows a very similar design language to what was released with the Galaxy S6, which matches the Korean Times report earlier this month.
The more exciting aspect of the leaked images above and below are the sizes. According to their sources we'll get a similar 5.2-inch Galaxy S7 in 2016, but also a massive 6-inch Samsung Galaxy S7 Plus. Similar to the regular iPhone and iPhone 6 Plus launch by Apple. This means in 2016 Samsung may launch two versions of the Galaxy S7, a Galaxy Edge of some sort, and later the Galaxy Note 6. Three different flagship lineups, along with all their budget and mid-range phones.
The first phone's dimensions are almost identical to the Galaxy S6, but the Galaxy S7 Plus comes in much bigger, with details that suggest it will have a 5.9 or 6-inch screen. We could see Samsung push to a 3 or 4k resolution, or stick to the same beautiful 2560 x 1440 Quad-HD screen from the Note 5 and Galaxy S6, but we'll have to wait and see.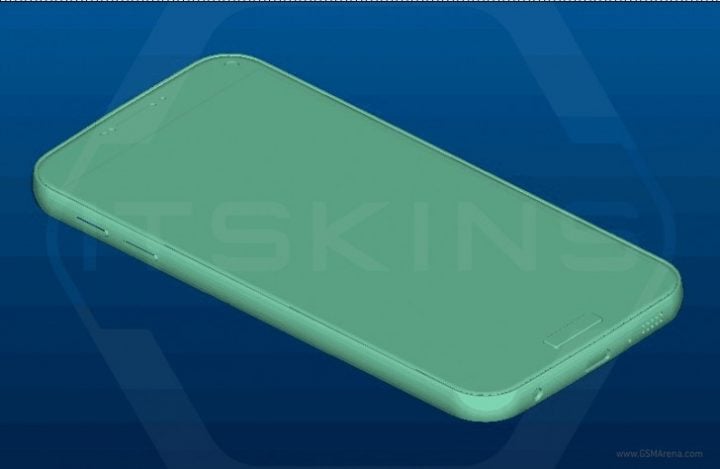 Looking at the photos we see a very familiar design overall. A few noteworthy potential changes are the rounded edges of the rectangle home button missing, which here are shown as very square buttons. This could be an even better fingerprint scanner. There's also the SIM slot moved to the side, rather than up top, which could give it more room to be longer and double as a micro-SD slot all-in-one. A move we've seen from others like the Moto X sim slot and micro-SD tray.
Recent reports suggest the new Samsung Galaxy S7 will be released months earlier than any Galaxy S before it, and potentially unveiled at the end of February, with a mid to late March release date. If that's true these final designs could be accurate, with a few small changes and looks being different based on materials and finishing touches. Or they could just be fake leaks. Something that also happens often, and we'll have to wait for more evidence. All said and done, if a February announcement is accurate, we'll be hearing and seeing a lot more about the Galaxy S7 throughout December, and in early 2016. Stay tuned for more details.