Galaxy S7 Edge Release: Everything We Know So Far
Lately the Samsung Galaxy S7 and Galaxy S7 Edge rumors have been arriving at a fast pace, especially after confirmation of a February launch date. Buyers will have a tough choice to make soon. With that in mind, here we'll be rounding up all the rumors to paint a better picture of what could be coming early next month.
The current Galaxy S6 and Galaxy S6 Edge were revealed in March, and hit the market on April 10th. They're still great phones, but something better is coming soon. The Galaxy S7 Edge is on a lot of buyers radar, and here's what we know so far based on countless rumors.
Read: Galaxy S7 Edge Release Rumor Confirmed
We recently explained why no one should buy the Galaxy S6 right now, and that's because some great new phones are coming in the near future. And none has higher hopes and expectations than the Galaxy S7 and its Edge sibling. Most of the attention has been on the Galaxy S7, but the Edge model could be the best Galaxy to get in 2016.
The first Galaxy S7 rumors started to appear in September, even before the Galaxy Note 5 was released. However, it wasn't until December that they really picked up. At first reports were all over the place talking about four devices, different screen sizes and more. Everything has settled down now, image have leaked, and we know nearly exactly what to expect.
At this point we know almost certainly that the Galaxy S7 and Galaxy S7 Edge will be announced on February 21st in Spain, and quickly released after. The past 2-3 weeks have been very telling. From leaked benchmarks, images, renders from case manufacturers, to leaks from highly reputable sources like The Wall Street Journal, famed and retired leakster @evleaks, and even the Korean Times.
What this all amounts to is a huge amount of information nearly a month ahead of the official Galaxy S7 Edge release. With that out of the way, below are five things that everyone needs to know about the Galaxy S7 Edge, what it has to offer, features, design, release date and more.
Galaxy S7 Edge Design
The new Samsung Galaxy S7 Edge for 2016 will look almost exactly the same as last years Galaxy S6, but with some small key changes. It was an award-winning design, so Samsung is keeping it for another year to refine things, round the edges and make it better than ever.
We can expect nearly the exact same overall look and feel, but there are a few noticeable changes based on leaked information, and from images recently acquired by @evleaks. The corners have all been rounded off, and the back won't be flat either. Like the Galaxy Note 5 the back will be rounded, making it easier to hold, with a smaller camera bulge due to improvements in the camera department. Below is the most up-to-date leaked image of the rear. Showing both phones that will be announced and released.
There are only two. Samsung won't be releasing a slew of device and making things complicated. There will be a 5.1-inch Galaxy S7, and then a bigger 5.5-inch Galaxy S7 Edge. No smaller or bigger model will be announced in February. At least according to rumors.
Users can expect the same all glass and aluminum design with the power button to the upper right side, volume controls on the left, a micro-USB slot on bottom with Quick Charge 3.0 for charging (no USB Type-C, from what we're hearing) and a micro-SD slot will be on this release. That's huge.
To make things better, this sleek and all aluminum premium handset will be IP67 dust and water resistant. Like the Galaxy S5 from 2014. We're a bit worried about the durability of all rounded edges on the Galaxy S7 Edge, or how easy it will be to hold, as the edges were a bit pointy last year. hopefully they round off the aluminum finish.
Galaxy S7 Edge Release Date
So far all signs are pointing to February 21st for the unveiling, and an early March release for both phones. The Galaxy S7 and Galaxy S7 Edge will both arrive at the same time, but like last year, the Edge model will be priced higher and probably run out of stock fast.
Here's a teaser trailer for Samsung's event. It doesn't reveal much, but we know this is the stage that the Galaxy S7 Edge will be unveiled on.
https://www.youtube.com/watch?v=3g3O94WALV8
For months we've been hearing different information, but it's all started to settle down as of late. The Galaxy S7 Edge recently cleared the FCC, which is a final hurdle before any release date, and that filing even confirmed some important details we'll mention below in terms of battery life.
With the phones already finished, being tested, passed the FCC and more, the release date shouldn't be too far behind. A few of our sources suggested March 4th was the release date, and @evleaks recently said a week later, on Friday March 11th is when buyers can expect the Galaxy S7 and Galaxy S7 Edge to be available in the United States. It could hit international markets on the 4th, then the US a week later. We'll have to wait and see.
Galaxy S7 Edge Specs
We all know nothing is official until Samsung takes the stage on the 21st of February and confirms it, but we've received enough leaked information to have a pretty good idea of what's coming.
This year the Galaxy S7 and Edge will be the most powerful, feature-packed, and complete Samsung Galaxy ever. Keeping the same awesome design from last year, making it bigger, and improving important aspects. Samsung is returning two key features the Galaxy S6 Edge was missing. Here is the latest information.
Galaxy S7 Edge Specs (Rumored)
5.5-inch 2560 x 1440 Quad-HD AMOLED Display (no 5.1 or 5.7-inch model)
8-core Qualcomm Snapdragon 820 processor with 4GB of RAM (Samsung Exynos outside the US)
32/64GB of storage with a micro-SD slot for user-expandable storage
Android 6.0.1 Marshmallow with Samsung TouchWiz UX
12 Megapixel f/1.8 Aperture camera, optical image stabilization, 5MP front camera
Fingerprint Scanner in front home button (Iris scanner rumored)
IP67 dust and water resistant
3,600 mAh battery
Quick Charge 3.0 technology, Wireless Charging, Fast Wireless charging
Samsung Pay
more
An FCC filing this week confirmed the 3,600 mAh battery, which is the biggest we've seen in a Galaxy device. As a comparison the bigger 5.7-inch Galaxy Note 5 is only 3,000 mAh. Meaning the Galaxy S7 Edge has a smaller screen, is more efficient in every aspect, while having a huge battery that recharges fast. It should be extremely impressive.
With the Qualcomm Snapdragon 820 processor it will have Quick Charge 3.0 technology. This will recharge the phone from 0-80% in 35 minutes, and fully recharge the phone in just over an hour. Nearly 75% faster than older phones. This means a bigger battery, and one that charges extremely quick. So there's no need for a replaceable battery.
The two noteworthy additions will be the micro-SD slot for expandable storage that wasn't in the Galaxy S6, which was a huge complaint for owners. Samsung will also make it IP67 resistant, like the Galaxy S5. Two things people loved, but were missing in an effort to improve the design last year.
Read: Galaxy S7 Leak Brings Rumors to Life
There is a chance we will see an Iris eye scanner for enhanced security, a pressure sensitive display like Apple's 3D Touch, as well as a USB Type-C reversible charging port, but we'll have to wait and see.
Samsung's Galaxy S7 Edge could be one of the best phones of the year, even if the curved screen isn't all that important. It's neat though, that's for sure.
Galaxy S7 Edge Camera
This year the Galaxy S7 and S7 Edge will reportedly have a smaller but better 12 megapixel camera. This may sound like a downgrade, going from a 16MP camera to only 12, but it won't be.
Megapixels aren't everything, and mostly contribute to the size of the images, not the quality. Instead of more pixels, we're getting a better, faster, bigger sensor that's only 12 megapixels. This is exactly what Google did with the Nexus 6P, which beat the Galaxy S6 and iPhone 6 cameras in reviews. Showing that a 12 megapixel camera can be great.
Apple did the same thing with the iPhone 6s, and we're hearing HTC has something similar planned. See a pattern? This year the Galaxy S7 and Galaxy S7 Edge will have a bigger sensor that captures more light, shoots faster, and is more accurate. It will be better in low light, have less blur or distortion from hand-shake, and take amazing photos and video.
Leaks confirm it will have an f/1.7 aperture lens, which is the fastest Samsung's ever released. This is faster than the f.1/9 in the Galaxy S6, and the f/1.8 in the LG G4.
The new Galaxy S7 Edge camera should be better than last year in every aspect. The physical size isn't as big either. Meaning a smaller camera bulge on back, and more room for the larger 3,600 mAh battery mentioned above. It's a win-win for everyone.
Galaxy S7 Edge Colors
Every year Samsung shows off the Galaxy device in multiple colors, but typically only two come to the US. Even the Note 5 was shown in Blue, White, Silver and Gold, but only Blue and White hit the US. Eventually the Gold model was made available, but months later.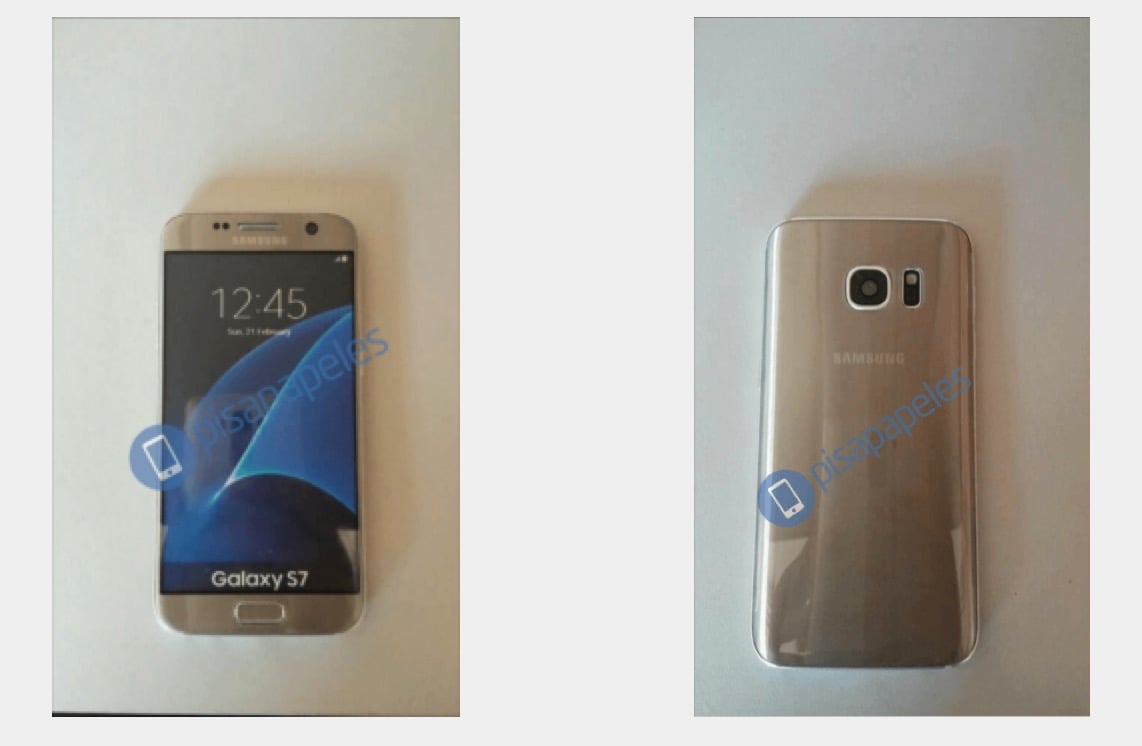 It looks like something similar could happen this year, but we could see them all be available. Leaked images of the actual phone has surfaced for the Galaxy S7 and Galaxy S7 Edge in a Blueish Black color, silver as shown above, and even a Gold Galaxy S7 appeared this week. All four colors could be readily available in the US, but we'll have to wait and see.
Final Thoughts
If everyone plays out like we've been hearing, the Galaxy S7 and Galaxy S7 Edge will be two great smartphones available within the first few weeks of March. Meaning we have roughly a month before they're for sale, and only a few weeks before we know all the details officially right from Samsung.
This year the devices are being released earlier, have the same award-winning design, key features that were missing from last year, improved battery life, the latest Android 6.0.1 Marshmallow release and more. The Samsung Galaxy S for 2016 should be another excellent phone worth considering.
We could still see a bigger Galaxy S7 Edge+ later in the year along with the Note 6, but that's only a guess. Stay tuned for more details, as Samsung will unveil it all come February 21st in Spain.