Galaxy S7 Release: 3 Exciting Features Revealed
With just a few days left before the Samsung Galaxy S7 release and launch event, the details are still slowly piling up. Today Samsung themselves, along with some leaked photos, have confirmed three very exciting Galaxy S7 features ahead of the release date. Below is everything we know so far, and three things buyers should be excited about.
Last April, the Galaxy S6 was released after being announced at Mobile World Congress in Spain.  This year they'll be doing something similar on February 21st, but the phones have major new additions we've been able to finally confirm.
Read: Galaxy S7 Release Date: 10 Key Details
While the Galaxy S7 and Galaxy S7 leaks have been at an all-time high lately, today two more surfaced that are very important. We now know almost 100% that the Galaxy S7 and Galaxy S7 Edge will each have a huge battery, be IP67 (or 68) dust and water-resistant, and thankfully have a micro-SD slot for expandable storage. Read on for all the details.

Last year the Galaxy S6 and Galaxy Note 5 both were two of Samsung's best smartphones ever released. They had stunning Quad-HD (2k) resolution screens, excellent cameras, wireless charging and a new all aluminum premium design. They were the best looking Galaxy phones to date.
However, the changes to the design came at a huge compromise for buyers. The Galaxy S6 and Note 5 didn't have a micro-SD slot to expand storage, which was a first for Samsung that left many buyers extremely frustrated. Some kept older Galaxy S5 or Note 5 smartphones, simply for that feature alone. The design was good, but it also took away the water-resistance of the Galaxy S5, made the battery internal and not removable, and they were so thin that Samsung actually went backwards in terms of battery life.
The Galaxy S5 had a 2,800 mAh battery, and the Galaxy S6 only has a small 2,550 mAh battery. That isn't an "improvement" in any way, shape or form. Samsung heard our complaints and have returned everything buyers love, except the replaceable battery. Here are three very exciting features we can now officially confirm.
Galaxy S7 Micro-SD Slot
Multiple leaks and rumors have somewhat confirmed that this year Samsung is returning back to micro-SD cards. This allows owners to get a 32GB smartphone, then add a 64, 128, or even a 200GB micro-SD card with as much storage as they need. This is a huge feature that Samsung ditched last year, and received a lot of negativity over.
As a result the new Galaxy S7 and Galaxy S7 Edge will both have a micro-SD slot in the same tray as the SIM card. We've heard this time and time again, but today AndroidAuthority received actual photos and videos to confirm it.
Shown above is the 5.1-inch Samsung Galaxy S7 with a micro-SD slot. This essentially confirms all the rumors, and should have potential buyers extremely excited that this important feature has been returned in 2016. Amazon currently has the 200GB SanDisk Micro-SD on sale for $89 (usually nearly $200) so get one today while they're still available, just in time for the Galaxy S7 release.
There is some bad news though, this leak also claims the Galaxy S7 will only have a 2,800 mAh battery. While that's bigger than last year, it isn't as big as the rumored 3,000 mAh battery we've heard time and time again over the past two months. We'll have to wait until February 21st to know for sure, but every other report suggests a larger 3,000 mAh battery will power this phone.
Even if the Galaxy S7 only has a 2,800 mAh battery it still has Android 6.0.1, a more efficient 8-core processor that has battery saving features, an improved and more efficient screen, and tons of optimization that will allow it to last much longer than the Galaxy S5, Galaxy S6, or most other Samsung smartphones. So this isn't too much of a concern.
Galaxy S7 Dust and Water Resistance
In 2014 the Galaxy S5 was IP67 certified which meant it was dust and water resistant. This was a great feature, but made the design ugly and covered the micro-USB charging port with a flap to seal the phone.
In 2016 Samsung has made significant changes and will release the Galaxy S7 and Galaxy S7 Edge with a similar beautiful design as last year made entirely out of glass and metal, but it will be water resistant. They've managed this by using a nano-coating on the inside to prevent water from actually hurting the device, and the ports won't be covered by rubber flaps either. Similar to how Sony achieves this.
Change your idea of what a phone can handle on 2.21.16. #TheNextGalaxyhttps://t.co/saU2TutJ5T

— Samsung Mobile (@SamsungMobile) February 17, 2016
We've heard this in leaks, but today the official Samsung Twitter account somewhat confirmed it. Posting a video teasing the Galaxy S7 launch event on February 21st, and showing a girl dropping a smartphone in a pool. Telling buyers to, "Change your idea of what a phone can handle". Taking the hint here, the Galaxy S7 and S7 Edge will be able to handle a drop in water, and will be IP67 or IP68 dust and water resistant, but still look great.
Excellent Battery Life
And last but not least, the third exciting feature that has been confirmed is battery life. As we all know, last year the Galaxy S6 had abysmal battery life, to say the least. This year Samsung is making major changes to improve how long the phones last, offer a bigger battery, and fast charging along with fast wireless charging.
Rumors suggest the Galaxy S7 will have a large 3,000 mAh battery with Quick Charge 3.0 technology, and the bigger 5.5-inch Galaxy S7 Edge will have a massive 3,600 mAh battery. That's a smaller screen than the Note 5, but a much bigger battery. That should have all buyers excited, as that's even bigger than the Note 4 battery.
Last week the Galaxy S7 and S7 Edge cleared the FCC and went through a round of testing. Typically most of the important information is left out of these reports, but this latest filing revealed the Galaxy S7 Edge will have a huge 3,600 mAh battery inside. As a comparison, the Galaxy S6 is only 2,550 mAh. The report didn't confirm the regular Galaxy S7 battery though. We have conflicting reports that claim 2,800 mAh, and others suggest 3,000 mAh, so we'll have to wait and see.
What all of this means is the Samsung Galaxy S7 and Galaxy S7 Edge should be two of Samsung's best smartphones to date. Amazing screens, powerful 8-core processors, super fast charging, improved cameras, micro-SD slot to expand storage and more. We'll find out everything for sure come February 21st, so stay tuned. In the meantime, check out seven more exciting specs and details below.
7 Exciting Samsung Galaxy S7 Specs
Galaxy S7/Edge Display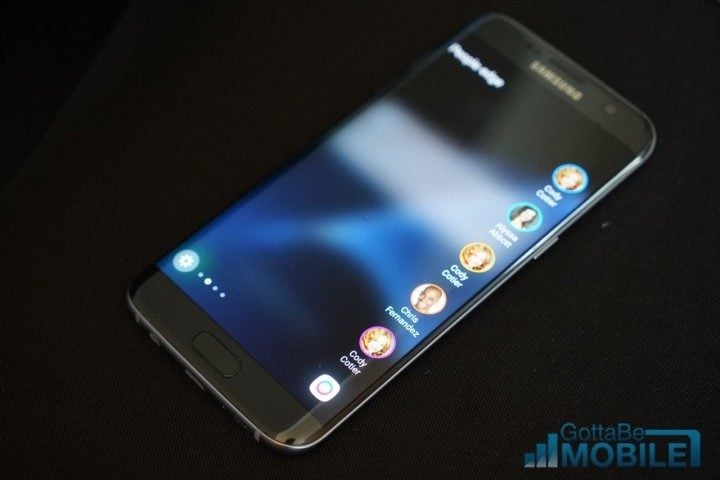 Like every year, Samsung introduced an even better display inside its latest and greatest smartphones. The Samsung Galaxy S7 sports the same 5.1-inch 2560 x 1440 Quad-HD S-AMOLED screen, and it's winning awards already.
However, one big change this year is with the Galaxy S7 Edge. It isn't small, it's big. Rather than releasing a curved edge phone that's the same size, Samsung is giving buyers a choice. Get the smaller Galaxy S7, or get a 5.5-inch Galaxy S7 Edge in Black, Silver or Gold. It isn't as big as the Note 5, but not as small as the Galaxy S6 or Galaxy S7. A perfect middle ground.
So far our early thoughts on the Galaxy S7 are extremely positive. The screen is amazing, crisp, and bright. Are you buying one?